There are so many options here in London... you can choose not only the cuisine you want, but also pick a restaurant dependent on (a) how much you are willing (able?) to spend; (b) how close or far you want to travel; and (c) how much or how little you want to dress up... Are you in the mood for a pretentious and overpriced meal or are you looking for a quick grab and dash? Is it that time of the month where you're flush with cash or do you feel like you need to save up for the next paycheck?

My wife and I have been on a bit of a culinary tour of London, trying to cover all these options. Some of our choices are based on the "what's hot in London" lists and others are based on word of mouth recommendations; we've done the pricey and pretentious and we've also done the fast and cheap. This Friday evening it was going to be the local Indian favorite, Trishna. Well, when I say local, England's colonial and imperial past means Indian food has almost become local... so much so that naan and chicken tikka masala are considered the national dishes of the UK. But this 'local' Indian curry house here in London is one of the few that boasts of a Michelin Star.
Having been to its namesake in Bombay - a veritable seafood lover's heaven - I was keen to visit the one here. I was always under the impression that it would have a similar menu, with similar flavors, smells and choices just transported to another continent... And maybe refined slightly for an international palette. Well, we were in for a few surprises this evening.
You could smell the curry and the flavors from a mile away as you turned on to Blandford Street in London's Marylebone area... You would be drawn to it like a mouse to cheese and all you had to do was follow the smell to this neatly hidden-away restaurant. Not brightly lit or overly visible under the construction scaffoldings, you could easily miss the restaurant if you were busy on your phone, texting, tweeting or just not paying attention to your surroundings. As you enter the wide glass doors, you're ushered into a dimly lit, crowded room. There are tables on both sides of a narrow row, creating little walking room in the middle... Aha! So it is a bit like its namesake in Bombay - a small and crowded Indian restaurant, big on flavors (and noise), but small on space (of course, there is more space in an adjoining room which probably seems less crowded, but we didn't have the pleasure of that opportunity).
And then came the surprises... We were quick to learn that London's Trishna actually had no relation to the one in Bombay. Hopes shattered of a meal reminiscent of India, I still hold out hope for a well-cooked and presented meal, because I soon learn of surprise 2, that despite not having an affiliation to my favorite restaurant in Bombay, Trishna in London still carries with it some pedigree and the genetics for good food - it is owned and managed by the same family that owns London's hottest restaurant currently - Gymkhana. This should be interesting, we think. And as the menu makes its way to our table, you can see the similarities to the one in Gymkhana. There's Indian food and then there are ingredients you would never see in Indian cuisine (there may be purists out there who would consider these ingredients an affront to the traditional Indian meal) - you have duck seekh kebabs, lasooni scallops, Chettinad rabbit, salmon tikka... and so on. But then, they're in London, they have a Michelin Star to hold up and a broad pallet to cater to, so they have to be a little different. What we were worried about though was whether like their highly rated and reviewed cousin around the corner, Gymkhana, the chefs at Trishna too had got a little carried away with the whole theme of adventure and fusion.
Once seated on a cozy table for two, we were presented with a basket of pappad and some well-baked (or were they fried?) crisps. My wife and I debated through the night as to what the ingredients of those were... Potatoes? Flour? Wheat? No idea... Irrespective, they were a good opener and when dipped in the mix of the sweet, spicy and shrimp chutneys, they were just delectable. For a hungry soul whose last meal was almost six hours ago, that was just the perfect setting to get the juices flowing. That basket was accompanied by a well spiced and blended Desi Mojito (essentially a mojito muddled with some Indian spices including pepper and cumin, from what I could detect) from the drinks menu... If this was just a precursor of what was to come, then I was a happy chappy and excited to dig into what lay ahead.
As I browsed the menu, I wanted to try it all. It all looked so good, but we had to manage this situation where tonight my eyes were bigger than my stomach. And, of course, we had to pick a menu that was palatable to both, my wife and me. We also didn't want to get carried away, as we did at Gymkhana, and try something just for the sake of it - some things were just not meant to be a part of Indian cuisine. We opted for a mix of two starters and two mains. Our appetizers were the Tandoori Shakahari (a vegetarian platter) and the Lasooni Scallops (garlic scallops). Of the two, the vegetarian platter emerged as the clear winner. It comprised a mix of stuffed peppers, a baked potato with spinach and a cottage cheese sandwich with a beetroot filling. Not your traditional Indian appetizer, but all beautifully prepared and presented. In this case, the adventure had worked! Interestingly though, like at the Gymkhana, the vegetarian options were the stars (at least so far). Maybe it runs in the family; maybe the chefs were just better versed at handling the vegetarian food and ingredients... Maybe we should have continued with an entirely vegetarian menu.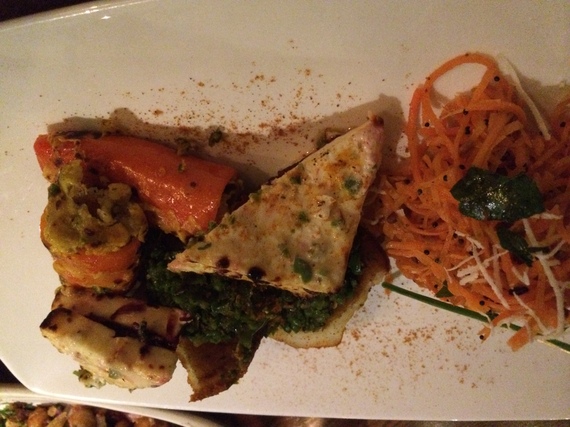 The Lasooni (literally translated as garlicky) Scallops were good (Note: not great). Coated with some sort of an herb and chilli paste, the scallops were layered over a bed of spicy chickpeas and cloves of garlic. The chickpeas were beautifully cooked and flavored, and the spice in them complimented what we thought were bland pair of scallops. Again, it was the vegetarian bits that were proving to be the standouts.
On to the mains, which I hoped would be the show stealers, we opted for an all-seafood meal. Were we still heading down the wrong path? Had we not figured it out yet or were we just hopeful? I was still under the spell of the Bombay Trishna. Probably a mix of it all; with that muddled mindset, we went for the Dorset Brown Crab in a butter, pepper and garlic sauce and the Caldine Jheenga Curry, a traditional prawn curry made with a coconut base and bold south Indian flavors.
For anyone who has been to the Trishna in Bombay, you know the Butter, Pepper, Garlic crab is their specialty; in fact, if you haven't ordered that, you have surely missed a trick. And so out of habit, that's what we went for. There was the choice of getting a bread basket of assorted Indian breads, or a Duck Keema Naan, which actually sounded very tempting, but instead we opted for a bowl of plain basmati rice to accompany the curry. We lucked out... Only half the way though. While many people would say 1 out of 2 isn't that bad, I would tend to disagree, especially if you're shelling out a lot of money for a nice meal and have come with a lot of expectations. The crab was deeply disappointing. I don't know if it was the crab or just the way it was cooked; there was no flavor... no butter, no pepper and definitely no garlic. The crab was presented in a bowl which could have been mistaken for canned tuna and no flair at all... far from the beautiful presentation style at the Bombay namesake. If there was anyone there who was filming on taking note of my expressions, I am sure they would have seen the disappointment in my face as I saw the served put that bowl of tuna... sorry, crab down on our table!
The Jheenga Curry was a complete contrast. It was absolutely delightful... Where the crab had failed, the curry more than made up for it. Four large and succulent pieces of jumbo prawns were immersed in a rich coconut curry. Accompanied with the basmati rice, the curry could have been cooked at any one of India's famous south Indian joints - it could have been cooked by a South Indian mom using home ground spices and a recipe passed down through the generations (because we all know moms are the best cooks) - and you would not have known... It was so good, that it more than overcame the disappointment of the crab; it was so good in fact that I mixed the crab into that curry and ate it with rice. What did you think? Not one for wasting (food or money), I was not going to leave either the crab or the curry.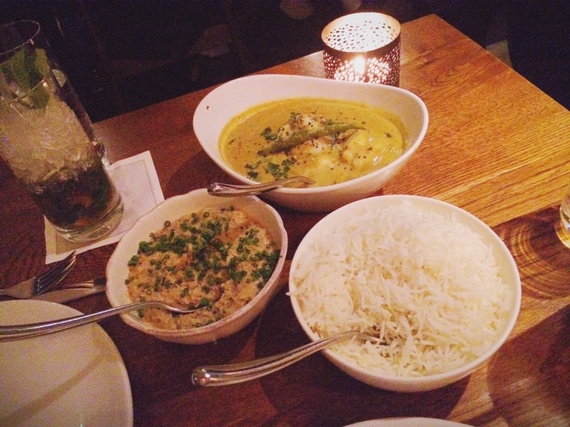 All in all, it was a reasonable evening with a diverse menu and a range of options to choose from. Parts of the meal we ordered were simply splendid - items we least expected stood out and the ones we were keen on were let-downs - the staff was extremely attentive and friendly, but there is definitely room for improvement in the overall quality of the food. Like our experience at the Gymkhana¸ we thought the chefs may have been a bit carried away with the spices and flavors and could possibly have missed a trick. Alternatively, maybe cooking meat and seafood just isn't their forte, and an all-vegetarian menu option may not be such a bad idea. I for one would certainly pay to go and have an all-vegetarian meal at this establishment (just as I would at Gymkhana), but only after having exhausted all other options in London.
P.S. These guys are on top of their social media and well aware of any tags and comments made regarding the restaurant. Within a minute or so of tagging ourselves at the restaurant and commenting on the noise levels, we had the manager at our table who was profusely apologizing for the surrounding noise. Interestingly, he wasn't shy about blaming our neighbors, a group of Europeans who obviously had been there for a while and had started to feel the effects of the wine pairings! So, as the saying goes, "If you have nothing nice to say, don't say it at all", especially if it is about Trishna London... If that is indeed the case, I wonder how quickly this post will generate a response!