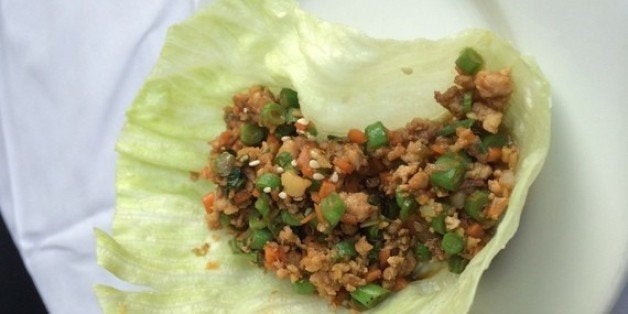 This was going to be restaurant weekend. We were short on time and in a hurry to get in as many as we could. So the day after a heavy dinner at Trishna, we booked ourselves for lunch at the aptly named Chinese restaurant Hunan. This tiny spot, located in the uppity and trendy Sloane Square was recommended by a fellow foodie. "Go with an open mind and an empty stomach", was all we were told. I guess when someone tells you that, you're not sure whether to view it as a warning or as something to look forward to. We took his advice and on a cold, crisp February morning, we made our way out to Sloane Square. I could say we were being culturally aware and opted for this restaurant as the perfect location to celebrate Chinese New Year, but it was nothing more than a coincidence that we were there... And so we welcomed the year of the Goat with an open mind and an empty stomach.
It was a bright and sunny day, a day where you were better served enjoying the sun from indoors than outside. And so it helped that we were seated at a comfortable table of two by large bay windows; it provided us with ample lighting and a view of life outside. We watched, gossiped and chatted about the people that came and went, those that passed by our window during the course of our two hour stay at Hunan. Those two hours, and the price paid, were well worth what was to come. As we were seated at the table, we were presented with two customary menus - one for food, and the other for drinks. The drinks menu offered up a selection of beverages you would find in just about any half decent restaurant, with an elaborate selection of reds, whites, and other alcoholic and non-alcoholic beverages. The food menu was interesting... The left-hand page pretty much said, "We do not have a menu; if you're adventurous and happy for us to do it, we would recommend you leave the ordering and selection to us." (or something along those lines). The right-hand page was a dinner menu, so irrelevant for us. With no choice but to surrender to the will of the chef, we let the staff know that's how we would proceed. We were asked about dietary restrictions, which we promptly communicated - no beef for me (as a good Hindu) and no seafood for my wife; everything else was fair game.
Little did we know though that as a sharing menu, if you opted out of one of the ingredients, it meant that all participants on that table had to opt out of it. So, as much as I wanted seafood, and my wife beef, we had to make those sacrifices during the course of this meal (I guess, that's what all good marriages are based on, right?)
What followed was a steady flow of food... 13 courses of delightful flavors, tastes, sights and smells. We were treated to a trip across not only the length and breadth of China, but also across the chef's imagination and sense of creativity. Where the chef lacked in presentation skill, he/she more than made up for it in taste. Our first course was a pork and bamboo soupy dish that was presented in a long bamboo cylinder. Probably the best presented dish of the afternoon, it was a perfect start to what was to follow; it was also the perfect warm-up on a cold, cold London day. Next out was minced chicken mix in a lettuce wrap, delicately flavored with a soya sauce. Used to this as something that mom made at home, I was turned off by the simplicity of it... "So easy", I thought. "Why would they bother serving something as simple as this, at such a restaurant?" The first bite shut me up; literally and figuratively; beautifully cooked, delicately flavored and bundled up in a crunchy lettuce wrap, this was nothing like what we were used to eating at home. This truly was quality food that was being served up and now I was keen for more.
That was two down and there were 11 more courses to go... They kept coming, and with each round came a new flavor, a new ingredient and a new style of presentation. There was sweet, there was spicy, there was fried and there was grilled... The chef was showing us there was nothing he/she couldn't do, and there was no ingredient that he/she couldn't master. We had chicken, we had beans; there was pork and there were aubergines... And it kept going and going. At the end of it all we were asked if we would have any main course - the choices were Peking duck or a grilled sea bass - tough choices both. Given what we had tasted thus far, we were keen to go for both; I mean, who wanted to miss out on anything this chef had to offer? We opted for a special fried rice and pan fried noodles with pak choy to accompany our Sea Bass. The downside of this was that while we waited for the sea bass to be caught (or grilled, I am not sure), our rice and noodles were gone... We were that hungry! Or the food just that good. When the Sea Bass did finally make its way over, it was filleted and deboned before being brought to our table. Cooked in a light soy, lime and ginger sauce, it was beautifully done. The flavors were not overpowering and the chef had allowed the fish to remain the star of this dish.
Speaking of stars though, for me, the two stars of this two-hour marathon were dishes five and six (or was it dishes eight or nine)... The sequence doesn't matter here; what matters is the fact that these dishes were so good that I would go back to Hunan just for these two. One of the courses was a sesame seed duck pancake. The pancake was beautifully cooked, crispy enough on the outside with a beautifully flavored duck filling. The duck was so good that my wife, not the biggest fan of duck turned to me with wide eyes and a full mouth... "Uh-oh... This could be trouble; she probably wants to throw up now", was what I thought. Instead, what she was trying to say was, "You have to try this; you will love it... It is a work of art!" I didn't need a second invitation and my chopsticks were on it right away... The only regret with this was that the pieces were too small and there was no second offering of the pancake. Not the best presented dish, on a bed of lettuce and tomatoes, you would be forgiven for not viewing the dish very favorably when it is first put down on your table. But, as I said before, what the chef lacked in presentation skills more than made up for it with the taste of his/her food.
The next course that stood out for me was a grilled aubergine stuffed with chicken in black bean sauce. Minced chicken, again, I'm thinking... This chef needs to diversify a bit more... But once more I was proved wrong and left wanting more. The aubergine is a difficult vegetable to master; if you don't get the timing right, it is easy to undercook it. Not this chef, no... Not only had the chef got the aubergine right, but he/she had also got the combination with the black bean chicken perfectly. And this dish for me not only brought out the qualities and skill of the chef, but also showed us the versatility of Chinese cuisine.
We wrapped up our two-hour sojourn with an 'oh so sweet' dessert of toffee banana and vanilla ice-cream. We could have opted not to have the dessert and would not have missed much, but again given the journey we had just been through, it was an offer we could not resist. All in all, it was a culinary adventure we will repeat in the future for sure. A little heavy on the wallet, but well worth the visit if you have the time and are a fan of Chinese food... Hell, even if you aren't a Chinese food lover, and have an open mind and an empty stomach, make the trip out to London's Hunan!