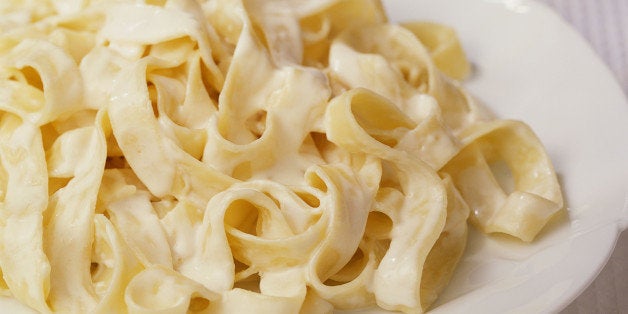 When your stomach aches, your mom may have offered you saltines or plain toast -- something light that wouldn't aggravate your tummy. In Italy, this same principle applies, but with pasta.
In 1914, one particular upset stomach originated what we now know as fettuccine alfredo. Alfredo di Lelio ran a restaurant on the Via della Scrofa in Rome. His wife Ines was pregnant with their second child, and the pregnancy caused her terrible nausea. Unable to keep much down, Alfredo made Ines a dish of plain pasta, pasta in bianco, or white pasta. He tossed the fresh-made pasta with butter and Parmesan.
Ines ate this dish regularly, with whatever happened to be the fatte in casa ("made in house") pasta. Alfredo added it to the restaurant's menu. While on their honeymoon in 1920, Douglas Fairbanks and Mary Pickford, two famous American actors of the silent movies, were in the restaurant and tasted the simple pasta -- that day, fettuccine. They asked for the recipe, and brought it home to the U.S.
To express their gratitude to Alfredo and his restaurant, the couple sent a gift of silverware and a photo of the two of them in the restaurant. The gold fork and spoon were engraved with the words, "to Alfredo the King of the noodles" and their names. Reporters wrote about the gift, touting "Alfredo's fettuccine" to the Hollywood elite. Many of them visited on subsequent trips to Rome, adding more photos and cachet to the restaurant. Crowds would gather whenever there were rumors of famous actors eating there. Alfredo's restaurant became a popular tourist destination.
In 1943, di Lilio sold the restaurant to a new owner, who kept the restaurant's name (Alfredo alla Scrofa), menu, and all the photos on the wall. In 1950, Alfredo and his son Armando opened another restaurant, Il Vero Alfredo, "the true Alfredo," which is now managed by Alfredo's grandchildren. Both restaurants claim to be the originator of the dish.
In 1977, di Lilio and a partner opened another Alfredo's near Rockefeller Center in New York City. A third Alfredo's opened in Epcot at Disney World, but closed in 2007. Together, these restaurants popularized and made ubiquitous "alfredo sauce," which has been varied with chicken, shrimp, assorted cheeses, and different ratios of flour, cream, or milk.
Back in Italy, however, the only place you'll find alfredo sauce is at the competing Alfredo restaurants, where the fettuccine alfredo is mixed tableside, often with the Pickford and Fairbanks golden fork and spoon (each has a set they claim to be the original). Singers serenade tourists as they feast. Elsewhere, you'll have to ask for the dish by its other names, including fettuccine al burro, fettuccine burro e parmigiano, or pasta in bianco. No one will know what you're asking for if you ask for fettuccine alfredo.
Kimberly Kohatsu is the Managing Editor of the Menuism Dining Blog, the educational arm of Menuism.com, a popular website where a passionate community of foodies rate their favorite dishes and comment on restaurants they've visited. Kim is also a freelance writer and marketing consultant, whose recent dining adventures revolve around ramen, cheeseburgers, and fried chicken.
Support HuffPost
A No-B.S. Guide To Life
Related
Popular in the Community