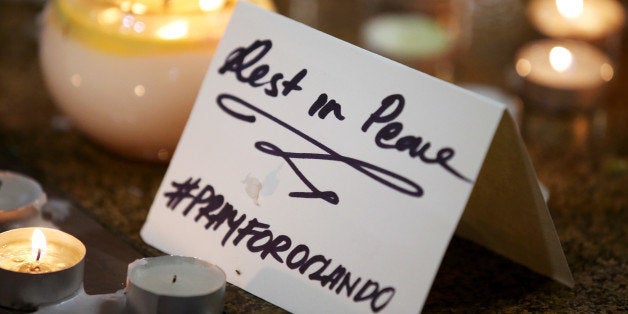 Something tragic, unnerving, and terribly terrifying happened in our own backyards this weekend. Over 50 lives taken, countless more innocent party-goes injured, and I'm deeply disturbed by the reality of it all.
In the early morning hours following the attack, as news of the event began to break, Rep. Alan Grayson, of Florida's 9th District, said during a news conference that the attack was ideologically motivated. "It's no coincidence the attack took place where it did and when it did," he said in reference to the fact that Pulse nightclub, where the shooting occurred, was indeed a gay nightclub.
In the same report, a mother of a man who was not yet accounted for in the club, cried hysterically as she begged, ""Please, let's all try to get rid of the hatred and the violence."
I am not here to tell you my opinions on gun control or lack there of. I am not here to tell you I shed tears for people I don't even know when waking up to the news of the Orlando shooting. I am not here with a solution to put an end to this madness.
I am here, as a mother, to share my utter disgust and horror for what I constantly see blaring across my news feeds. I am here, as a mother, with a heart broken for all of the mothers who had to receive the news that their child is now dead. I am here, as a mother, with the same fear that the rest of you moms and moms-to-be have. I am here, as a mother, filled with the consistent disappointment by the behavior of others, in the world I have now begun to raise my daughter in. The fact that even today, in 2016, in a society more accepting of one anothers differences than ever before, a slaughter like this can even occur.
I have news for you people. News that this event, and the mother desperate to find her son, has made abundantly clear. There is still an intolerable amount of hatred left in our "modern" society. There is still an underlying feeling of "you can be who you want to be but it may make others so upset that they'll kill you." There is still a feeling that even though we are years past the historical events in history that seemed as if we could close the chapter on hatred of particular groups forever, that the hatred I was hoping to shelter my daughter from is still very much a part of our society as Americans today.
It makes me feel as if all of the efforts to parent my child as a kind and accepting-of-all-humans type of person are a waste. I feel as if putting all of my time and energy into raising my daughter to feel accepted and loved regardless of whom she chooses to love, defend, or befriend will get me nowhere. I feel as if the fact that bullies, killers, radical-groups, and EVEN political candidates are still using their hatred to make a statement -- all because the world is telling her something else.
It has always been my dream to raise a daughter that felt empowered by her beliefs. I have always stood true to the notion that if your beliefs do not hurt anyone else, they are just fine with me. I have longed for the day that I can help shape my child's life to help her see that whatever it is that makes her feel unique, alone, or different, are really the best parts about her. I have always known that I would be a parent that accepted my child's choice of whom to love for the simple fact that her happiness would be my own And now, I am reminded, that this task will be much harder to accomplish.
When will it end? When will I stop feeling like a freak of nature for believing that I can raise a kind and loving child, one who accepts herself for who she is, in this world that seems to grow colder and more angry every day? Clearly the answer is as unclear for me as it is for everyone else who shares my thoughts -- but I wish for some clarity soon.