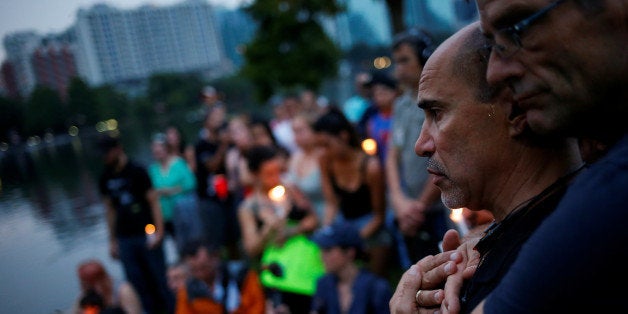 Fifty people were killed and another 53 are reported injured by gunshots at the Pulse in Orlando. But the math is different for the LGBT community, as we have now directly entered the terrorism dialogue. The physical and mental health of every LGBT person, even mine as a white cisgender lesbian in NYC, is unquestionably affected by the hatred and discrimination that happens to all members of our community. The murders of the predominantly Latino gay men in Florida is in our bodies now, even if we don't see the impact on our health immediately. The massacre injured all of us.
I am heartbroken. I am enraged. I am afraid.
Beyond my grief over my dead brothers and sisters, I am heartbroken that the massacre invaded a sacred space for our community. Pulse was not a bar. It only looked that way on the outside, to outsiders. Pulse considered itself a "gay sanctuary" and hosted events for community groups, including breast cancer awareness. We have always gone to bars to connect, to counteract the isolation and rejection we often feel outside. It is not coincidental that the modern LGBT rights movement began in a bar, my local Stonewall Inn. Our president understands this. In his compassionate speech yesterday he confirmed that LGBT nightclubs are "a place of solidarity and empowerment where people come together to raise awareness, speak their minds, and advocate for their civil rights."
LGBT people have long been attacked as we leave the bars, but inside we were supposed to be safe.
This one's not going away so fast. Long after the bodies have been removed from Pulse, long after the national attention has moved from gun control and terrorism back to the presidential race, LGBT people across the country will be silently and often unconsciously processing the massacre of our people.
The impact of these murders is in our bones now and affecting our immune systems. I cried all day yesterday and slept poorly last night. That is just the beginning. There is a well-documented relationship between LGBT discrimination and our long-term health. It is not just those who have experienced hate crimes who are more likely to have a serious physical illness within the next 12 months. The research shows that LGBT people experience a rise in mental health disorders as a result of policies and events in other states.
I'm angry that we were shot but we could not donate blood to the fallen members of our chosen families who needed it. While the FDA loosened its policy on blood donation, any man who has had sex with another man in the last year is legally banned from giving blood.
Finally, I am also afraid. I fear that people cannot see that homophobia, biphobia, transphobia, racism and Islamophobia are all connected. The hatred that was used against us cannot now be directed at others, not Muslims and not the presumptive Republican nominee. We must turn towards each other.
What should we do about this? I don't know yet. I am still too brokenhearted to think well. But I know that we will do something different than has been seen so far. We are the community that created Act Up and Queer Nation in response to the AIDS epidemic. We will address terrorism and hatred in a new way. We will use art, we will be loud, we will change lives. In the meantime, stay connected. Reach out to all the LGBT people you love. We need it now.
Calling all HuffPost superfans!
Sign up for membership to become a founding member and help shape HuffPost's next chapter