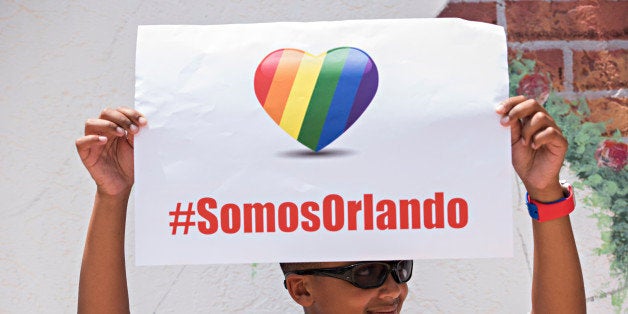 It is understandable why most early news coverage of the massacre at the Pulse nightclub in Orlando characterized it unidimensionally as a massive anti-LGBT hate crime. Reports were that the popular gay nightclub was the site of the deadliest mass shooting in United States history. A terrorist act executed by a deranged shooter motivated, his father surmised, by his disgust at seeing two men kiss in public in Miami some weeks earlier. A revulsion that later accounts tied to the shooter's own apparently repressed homosexuality.
Early reactions from some Republican politicians failed to acknowledge the LGBT connection to the massacre, opting instead to generalize the event as an apparent incident of domestic terrorism. Some in the media also seemed intent on minimizing or ignoring the gay angle. Nevertheless, the antigay character of the story was clear from the start. And the particular terror it visited upon lesbian, gay, bisexual, and transgender people of all ethnicities and races in Orlando, across the U.S. and around the world, was unquestionable.

I'm a Cuban-born gay man, an immigrant. These were my hermanos y hermanas.

But then, yesterday evening, the full list of those who were slain was released. Some anchors and reporters opted to read their names on the air. Sotomayor, Martinez, Velasquez, Rios... Most of the surnames had something unmistakable in common. Guerrero, Torres, Rosado, Perez... This was not solely a mass shooting that slaughtered 49 young LGBT people. Fernandez, Flores, Barrios, Ayala... Each name hit me like a body blow, knocking the wind out of my gut. I'm a Cuban-born gay man, an immigrant. These were my hermanos y hermanas. This was a massacre of mostly Latino/a LGBT people, at what the Pulse nightclub called its regular "Latin Night."
Why should this additional nuance matter? And why is it important that the Latino/a angle to the story not be erased?
Nightclubs and bars have long figured prominently in the lives of LGBT people of all racial and ethnic backgrounds. The Stonewall Rebellion of 1969, marking for many the start of the modern LGBT rights movement, took place at New York City's Stonewall Inn - a gay bar. As Richard Kim eloquently observed, "Gay bars are therapy for people who can't afford therapy; temples for people who lost their religion, or whose religion lost them; [...and] homes for folk without families." Gay bars and nightclubs are all of these things for LGBT Latinos/as too. And much more.
For LGBT people of color, and Latinos/as especially, gay bars and nightclubs -- and particularly Latin nights in these spaces, like Saturday night at the Pulse -- have figured prominently as safe havens, as spaces for creative expression, and as refuges from a hostile world.
Latino/a LGBTs are a minority within a minority, doubly disadvantaged and especially vulnerable. To many of us, coping with alienation from our own intersecting and often conflicting minority communities is an everyday reality. We are pushed out for being "too Hispanic" by our fellow LGBTs, and ostracized for being "too queer" in our Latino communities and even our own birth families.
Whereas we are equipped by our parents with the tools for coping with discrimination aimed at us for being Hispanic, and while our birth families typically are havens from Anglo bias against our ethnicity and culture, these same families prove often to be hostile and toxic territory for those of us who are LGBT. Higher rates of religiosity among Hispanics, and especially adherence to faith traditions that are particularly intolerant of homosexuality and gender non-conformity, have exiled countless LGBT youth from our own birth families.
In addition, for many LGBT Latinos/as new to the United States, English is still too foreign and confusing a code to decipher -- nevermind speak confidently -- and immigration status a topic too dangerous to disclose or even discuss in mixed company.

In the wee hours of Sunday morning, what was a precious sanctuary became a site of torture and mass murder.

To these LGBT Latinos/as, gay bars and clubs are sanctuaries of safety, understanding and fellowship with people who look and sound like us, and who live with many of the same challenges that we do. They are havens from harm, and safe harbors from the storms and dangers of an intolerant and often dangerous world. They are spaces for political and social organizing. They are catalysts of identity, of dignity. And they are fertile spaces of freedom and of creative license. Voguing, a decidedly Black and Latino gay artform, was born of the gay dancehall.
These spaces provide a very special kind of safety, and a very precious and rare kind of comfort, of comunidad. For many of us, these spaces are home.
In the wee hours of Sunday morning, what was a precious sanctuary became a site of torture and mass murder. It became a place of danger. It was desecrated.
This is why the erasure of the Latino/a angle to this story misses much of it. It grossly underestimates the destruction, and understates the harm caused by Omar Mateen -- both to the scores of victims he tortured, killed or injured, and to the countless people he traumatized and terrorized across the U.S. and around the world.
The Latino/a angle to the story not only informs its assessment and magnitude, but also should educate our response as Americans. It should impel us to double down on efforts to make our families, our schools, our workplaces, our communities, and our nation as a whole safer for all lesbian, gay, bisexual and transgender people -- regardless of race or ethnicity. It should urge us to protect, preserve, and recognize the value of community spaces like Pulse, in Orlando and in all locales.
It should encourage us to recognize the special burdens borne by Latino/a LGBT youth, and to do what we can to lessen the trauma that this horrific act no doubt has thrown against the psyches and souls of these already vulnerable and already multiply traumatized people. And, for the sake of all of us as a nation, it must spur each of us to do what we can to ensure that the 49 people who lost their lives on Sunday morning, so violently, viciously and needlessly, did not die in vain.
CrowdRise has listed a number of ways to help. Donate here or through the widget below.
Popular in the Community