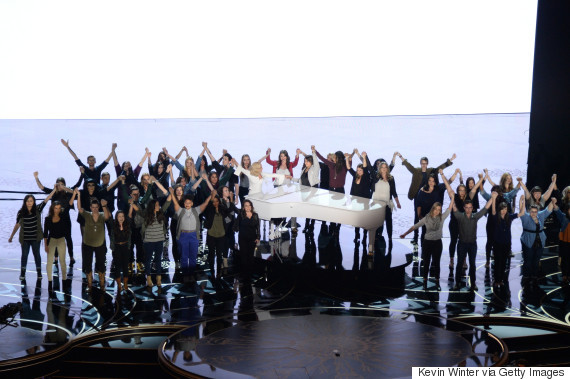 But so what?  The Oscars were so last week, and media attention has since moved on. And with so many celebrities championing pet political issues -- from Chris Rock's take on race to Leonardo DiCaprio's inevitable climate change outcry to Sam Smith's misinformed comment on LGBT winners, does it really matter that a few well-dressed Hollywood players decided to make sexual assault THEIR issue at a red-carpet event?
Speaking as a survivor of rape, I'll tell you, yes it matters. Because even if the rest of the world may have forgotten that image of Lady Gaga surrounded by 50 survivors, many of us haven't.
When a celebrity decides to champion the issue of sexual assault, it shines a spotlight on a topic which is often associated with shame, secrecy and silence. Public figures like U.S. Vice President Joe Biden and the Duchess of Cornwall both advocate on behalf of sexual abuse survivors. Musicians like Lady Gaga and Tori Amos have incorporated their experiences as survivors into their art.  Madonna and Joan Collins have spoken about their experiences of rape, although Helen Mirren has done so more problematically.  Most recently, U.S. musician Kesha's accusation of sexual abuse by her producer -- and her legal situation which locks her into a contract with him -- has sparked the #FreeKesha campaign in social media.  While some may claim that sending tweets is a lazy form of activism, it's important that these celebrities are visibly engaging with an issue which for so long was seen as taboo, something to sweep under the rug. This also acts as a counter-balance to that other narrative of celebrities and rape culture -- the one of entitled men using their fame and power to get what they want sexually. It's not just celebrities who potentially perpetrate sexual abuse (Bill Cosby, Roman Polanski, Adam Johnson etc.) -- it's also celebrities who suffer as victims and survivors of abuse. And who aren't ashamed to speak out about it.
These actions bridge the gap between what the general populace sees and hears on screen in the media, and what we experience in our everyday lives.
For the many survivors in our population (an estimated one in five women will experience some form of sexual violence), having the issue centre stage at the Oscars, spoken about, sung about, explored through Best Picture-winning films, legitimizes it as an issue of utmost importance. Unlike the spectres of American slavery (re:12 Years a Slave or Django Unchained) or the Holocaust (re: Schindler's List and multiple other films), sexual abuse is not something of the past -- it's a widespread human rights issue that continues to negatively impact the lives of millions of people. And thus, it's an issue whereby change still needs to happen. When U.S. President Joe Biden stepped on stage at the Oscars to introduce Lady Gaga and America's #ItsOnUs campaign, that created a direct link from the stories of sexual abuse told through art and film to the audience's collective action and potential change. 
This need to foreground the voices of survivors is something we've also seen in the recent Oscar-winning films. The journalists in Spotlight depended on a network of victims to tell their stories, often reluctantly, before being able to piece together their expose on the Boston Catholic Church. Room brought the story of a rape survivor to heartbreaking life, depicting both her strength and her day-to-day struggle. Both films are to be commended for portraying the long-lasting impact of sexual abuse on individuals: the survivors in Spotlight are still traumatized by their abuse decades later, and when Brie Larson's character finally escapes her perpetrator in Room, we realize that is only the beginning of a long and difficult process of recovery for her. Along with Girl in the River and The Hunting Ground these films all testify to the importance of survivors to bear witness and tell their stories.
In essence, this has been the ideal role of the media all along -- to bring attention to untold stories and to expose the injustice that's out there in the world. So when 50 survivors -- 50 normal, ordinary people who aren't celebrities -- can step on stage at the Oscars, with words like 'Survivor' and 'It's Not Your Fault' written on their arms, and prompt the support of Hollywood celebrities, that means something.  That means our everyday, lived experiences as survivors of sexual abuse don't need to be hidden anymore.  And we no longer have to be ashamed. 
Calling all HuffPost superfans!
Sign up for membership to become a founding member and help shape HuffPost's next chapter