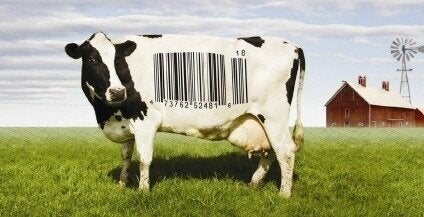 The Oscar nominations are in, and we're happy to see Food, Inc. and The Cove are among those honored. Both are up for best documentary, and each brings necessary attention to weighty green messages.
Food, Inc. chronicles the dark side of agricultural food production in the U.S., giving a horrifying look at the food we put in our mouths without a second thought. It's been hailed as a film that must be seen -- It's received major critical praise and was one of the most talked about films among HuffPost's Green bloggers ever. Check out this roundup what our bloggers had to say. Oprah recently featured the film on her show and called it "thought-provoking and eye-opening."
"There is a growing movement for change," Director Robert Kenner said in his blog for The Huffington Post. "And the food companies are starting to take notice. Since Food, Inc. opened in theaters, I've been invited to sit down with the very same companies that once refused to appear on camera."
The Cove examines the secret, annual dolphin slaughter in Taiji, Japan, where fisherman trap schools of dolphins and sell their meat dishonestly as whale meat, even though the meat contains high levels of mercury. It's the kind of film that begs the phrase, "I can't believe this is really going on."
"It's not just that these filmmakers expose vicious, inhumane and ecologically dangerous practices, apparently sanctioned and covered up by the Japanese government and its media," film critic Marshall Fine said. "But the filmmakers have done it while risking their freedom -- even their lives -- for the cause."
Oscar buzz is sure to bring additional, well-deserved viewership to both films, and ideally reviving two crucial dialogues.
Popular in the Community