 Every year Hollywood Boulevard is dressed in its best for cinema's biggest night of self-congratulations, but just down the street iO West presented their fantastic Oscars Improvaganza. A night of such exuberant extravagance is ripe for parody, and three improv teams delivered. Each team was given a limited amount of time to improvise three Oscar nominated flicks. Three teams. Three films (per team). Three minutes (per film). Just like the Academy's ceremonies, this improv show had an internationally famous host. Bennet Jones portrayed the dim-witted yet witty pop star, Bene'.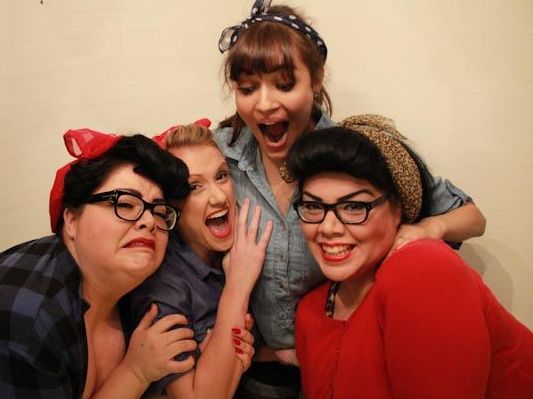 Photo courtesy of Micah C. Gardner
The first team to take on the award hopefuls was M'Lady. This all female group is a group of ladies to watch. With all the energy of the riot grrrl movement, these four women bring something special to the stage. These girls exude excitement and enthusiasm for performance. Delightfully playful, but not without edge, this estrogen-charged force is an absolute treat. Perhaps the best moment of the night was when Maria Lopez portrayed the "beast" from Beasts of the Southern Wild. And her teammates, one by one, attempted to climb on her back for a ride, culminating in a dog-pile in the middle of the stage. The moment was reminiscent of playing with friends as a kid, which is a great way to describe M'Lady. Going to their shows is so much fun. That feeling of fun is something that is often missing in Oscar-nominated entertainment and often missing in adult-life, in general.
Comrade was next to blissfully bastardize three critically acclaimed films. They left everything on the stage. In an ebullient display of theatrics, the team ignited an uproar of laughter in all onlookers. Life of Pi was never so full of life. They stayed in the East lampooning Zero Dark Thirty and then traveled to the South for Django Unchained. Comrade really made their mark though their exciting brand of impromptu comedy. It is interesting to see is how different teams work together in different ways. This is an extraordinarily supportive team, ready to catch each other and jump fully into anything at a moment's notice. The sheer velocity at which they improvise is an exhilarating experience. They were truly cohesive and unshakable throughout.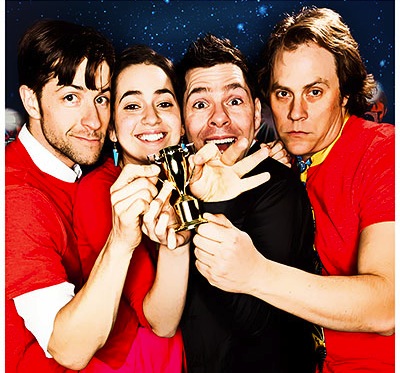 Photo courtesy of POLITE IN PUBLIC, INC.
King Ten is a powerhouse mainstay of the LA improv scene. At the Oscars Improvaganza they were a stripped-down, much more intimate three-person version of the team. Their shining moment was when they performed Amour entirely in French-accented gibberish, looking through the forth wall every so often in French art film, forlorn fashion and simultaneously whispered, Amour. It is always a pleasure to witness a King Ten show in any configuration.
The evening culminated with all three teams coming together to perform an audience suggested movie, which ended up being 20,000 Leagues Under the Sea. It was wonderful seeing all the teams combine efforts to form a magnificent mosaic of improvisers. Ultimately, it was an award worthy evening.
Related
Popular in the Community