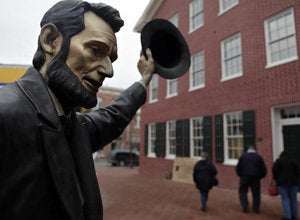 The recent HBO movie Grey Gardens has been justly praised for its depiction of the squalid lives of "Big Edie" Beale and her daughter, "Little Edie," the eccentric aunt and first cousin of Jacqueline Bouvier Kennedy Onassis. The movie fleshes out the brilliant 1975 film made by the Maysles Brothers, generally regarded as one of the greatest documentaries ever made.
But did you know there was another Grey Gardens? This mansion was called Hildene, and another great American family owned it -- the descendants of President Abraham Lincoln.
Lincoln's son, Robert Todd Lincoln, built Hildene in 1903, in Manchester, Vermont. Robert Lincoln had served as secretary of war and minister to the Court of St. James. He made a fortune, as a lawyer and then as president of the Pullman Company.
Hildene had twenty-four rooms. Lincoln called it his "ancestral home," but as his father had been born in a log cabin in the backwoods of Kentucky, people wondered what ancestry Robert Lincoln was referring to. But that was Robert Lincoln.
Robert Lincoln and his wife, Mary Harlan Lincoln, lived in high style at Hildene. In its heyday, there was a permanent domestic staff of three maids, a butler, a valet, chef, chauffeur, groomsman, coach and a private secretary. Lincoln died in his bed at Hildene in 1926 at the age of eighty-two. Control of Hildene passed on to Robert's wife, and when she died, her daughter, Mamie Lincoln Isham. When Mamie died, it was bequeathed to Mary Lincoln Beckwith, known as Peggy, the great-granddaughter of President Lincoln.
Peggy Beckwith was an odd loner whose devotion to animals, some would say, was so extreme it bordered on lunacy. Like the Beales of Grey Gardens, Peggy ran Hildene into the ground.
She had a pet Angora rabbit she let roam Hildene to its heart's content. She gave two raccoons the full use of an entire bedroom on the second floor. The stench of urine and feces coming from the room was so overpowering, even for Peggy, she had to install a dozen deodorizer lights to deal with it.
One day, a friend of the Lincoln family was invited to tea at Hildene. She could not believe the deterioration that had befallen Robert Lincoln's mansion. Raccoon claw marks were scratched all over the beautiful wood paneling. The carpeting was soiled. The visitor was taken aback when she saw a raccoon climbing the mantel.
In the old days, a magnificent Aeolian pipe organ -- one of the largest in private possession in the world, with 1,000 individual pipes -- sent orchestral music resounding through Hildene. Now the network of pipes hidden within the walls of Hildene became a nesting place for a horde of mice.
Peggy was a pack rat -- she kept everything. Piles of newspapers and magazines cluttered Hildene.
Peggy was truly unconventional, but a lot less entertaining than the Beales of Grey Gardens. Like her great-grandmother, Mary Todd Lincoln, she had the temperament of a hellcat. Lincoln scholars loathed her because she refused to give them access to Hildene's treasure trove of Lincoln history. In 1963, at the height of the civil rights struggle, she bewildered the nation when she denounced Attorney General Robert Kennedy's policies on racial integration.
"People and animals just don't like strangers," she explained. "When strangers are suddenly thrown together, people and animals alike bristle."
Peggy Beckwith died of colon cancer in 1975, at age seventy-six. A private appraisal conducted at the time valued the mansion at just one hundred thousand dollars, shockingly low even by 1975 standards. Decades of neglect had finally caught up with Hildene.
Peggy left Hildene to the Christian Science Church, which in 1978 sold it to a private organization, The Friends of Hildene.
Fortunately, the Friends of Hildene have restored the estate to its former glory -- the same consideration and sense of history shown by the current owners of Grey Gardens, Ben Bradlee and Sally Quinn.