"Weed." "Pot." "Marijuana." The answers began pouring out. College kids are familiar with the five-leaf hemp plant, but only as a drug. The "other" hemp, I informed them, was what I was there to speak about.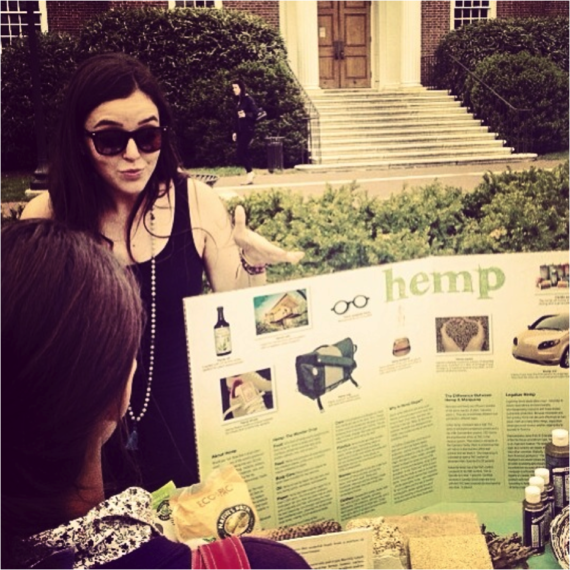 I just spent six weeks on the road, crisscrossing the country with visits at 17 college and university campuses to raise awareness about conscious lifestyle choices and environmental sustainability. I was evangelizing eco goodness with our Teens Turning Green: Conscious College Road Tour, pushing heath and happiness upon any and all students who came within earshot. The fly-drive journey sought to inspire, inform and mobilize a powerful demographic -- my peers -- to transition their lives and schools from conventional to conscious through safer and healthier practices and products, as well as advocacy campaigns. We hosted Town Hall Meetings, bringing together students, faculty and school leaders to discuss and develop specific, relevant, actionable sustainability projects with a diverse collective of stakeholders. Our Conscious Information Station, the main daylong event in the heart of each campus, focused attention on seven key categories with an interactive tabling display, info boards, product sampling, hands-on demos, activities and in-depth conversations: organic food, whole body, green clean, zero waste, non-GMO, ethical style and hemp. Let's talk hemp...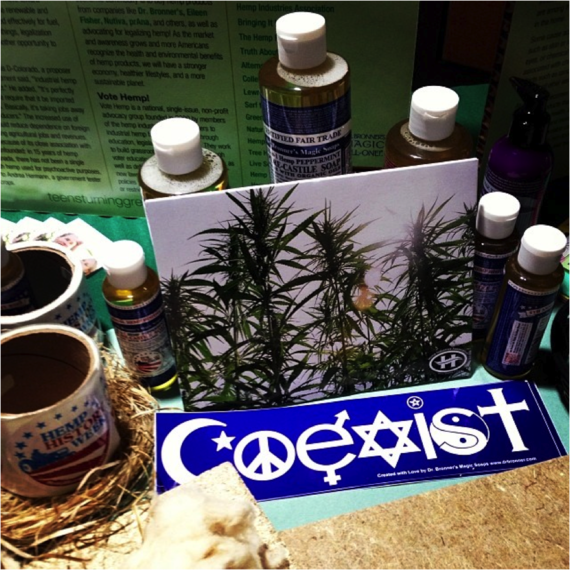 This is the image I showed to tens of thousands of college students across the U.S. Some laughed, others went silent, a couple looked dumbfounded, many looked shocked, but few were willing to say what they thought without my "It's okay; I am not here to get you in trouble," disclaimer.
Marijuana and industrial hemp are scientifically different varieties of the same plant species (cannabis sativa L.). Marijuana has a high THC content and low CBD level, producing the psychoactive effect; the drug is cultivated to have a THC content of 3-22 percent whereas industrial hemp is less than one percent bred often to have 0.3 percent. You can't get high off of industrial hemp if you tried, so take the drug question off the table.
Hemp is the most versatile crop on earth -- with over 50,000 uses ranging from food to clothing, plastic to fuel, building materials to cars and more!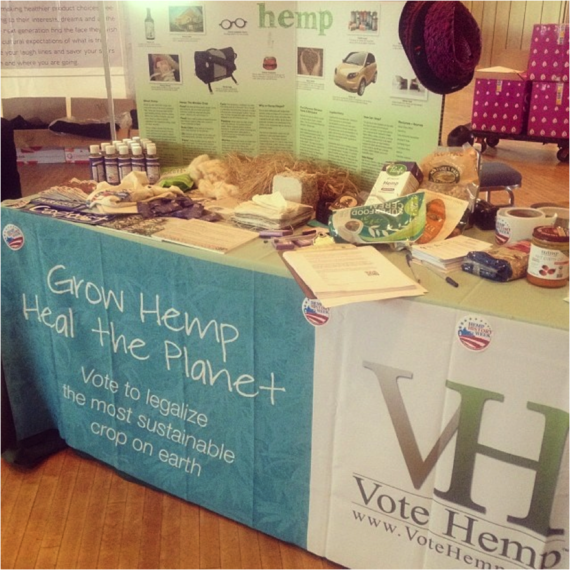 The seed is delicious and nutrient-packed, an amazing source of protein and healthy omegas that I toss in smoothies, on açai bowls and atop salads all the time. You can extract the oil from seed and use it as a less-drying petroleum alternative as the base for body care and soap, like my go-to, Dr. Bronner's castile liquid. Henry Ford's vision for the first flex-fuel vehicle was actually to run on hemp ethanol!
The stalk can be dried and used for hempcrete, an incredibly durable and breathable building material (that's carbon negative!) It can also be spun into a fiber and woven into any number of textiles, from roots-y to supremely soft silky varietals. A highly sustainable and efficient crop, one hemp t-shirt requires 500 less gallons of water to produce than its cotton counterpart - and it's largely pest-resistant, most often grown without herbicides, fungicides or pesticides. In the late 1800s, about 80 percent of the world's paper was made of hemp; in fact, the Declaration of Independence was signed on hemp paper!
A self-identified hemp activist, I can proudly whip out all sorts of pro-hemp facts! "Grow hemp, heal the planet" was written across the Road Tour table where I spoke with thousands of students about the supercrop and signed letters to government officials.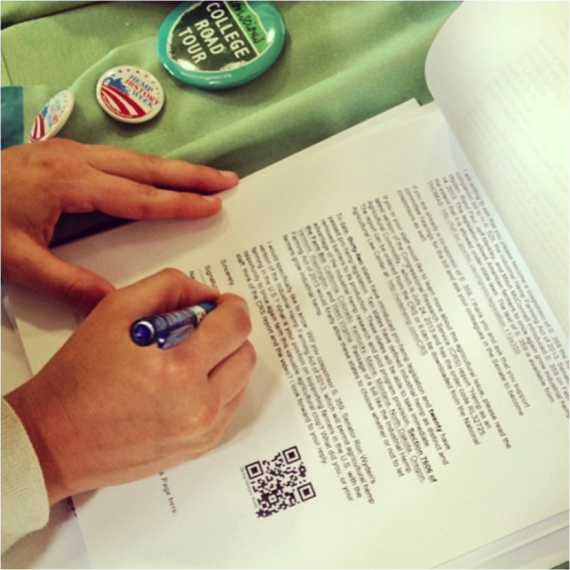 Why then is industrial hemp illegal to cultivate in the US? Because outdated, misguided federal policy from the 1930s. The highly sustainable, versatile, useful crop poses a threat to corporate strongholds, leading powerful industries -- like petroleum, plastic, paper and cotton -- with a financial interest in the prohibition of hemp to invest money, time, and energy in the lobby. Beginning in the 1920s, big business began to confuse the public and turn people against hemp by associating it with marijuana and its dangers or loss of morality. To note, hemp has been legal for over 15 years in Canada and there has not been a single problem with use for psychoactive purposes according to government crop testing.
Students then probed into how we could have hemp products out on display. Therein is a troubling contradiction: hemp is not illegal to import, process or sell in the U.S. -- only to grow. This means that we are passing up a huge domestic economic opportunity for our farmers and producers, one which could also reduce our dependence on non-renewable, rapidly-disappearing, unsustainable resources.
So what can YOU do? Buy hemp products and advocate for legalization!
Companies like Dr. Bronner's, Nutiva, Nature's Path, Manitoba Harvest, prAna, and many more produce an increasing amount of amazing hemp-based goods, demonstrating the ever-expanding market and awareness. The Hemp Industries Association is a leading force in education, industry development, and expanding the global supply and demand for hemp.
It's time to grow! Dozens of states have pro-hemp legislation in the works. Join "Vote Hemp" and partners to send a letter to congress and the Obama administration to encourage a change in federal policy. Let's bring hemp home -- which is the title of a brilliant documentary on industrial hemp, healthy homes, and a greener future for the U.S.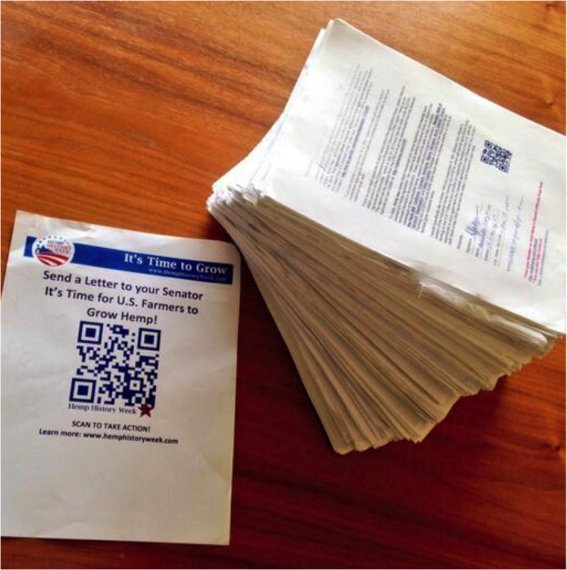 We are thrilled to host a free film screening of Bringing It Home at The Ecology Center in Orange County this Saturday, June 7th to celebrate Hemp History Week. In Southern California? Join us! There will be hemp samples, foods, prizes, and a talk by Vote Hemp Director, Steve Levine. Elsewhere? Check out one of the thousand events taking place during the 5th annual national grassroots education campaign all this week. Take action!
As more people recognize the health, economic, and environmental benefits of industrial hemp, we will have a stronger economy, healthier families and farmers, and more sustainable planet. Here's to hemp!
Related
Popular in the Community