FROM HIDDEN FIGURES TO LEGO FIGURES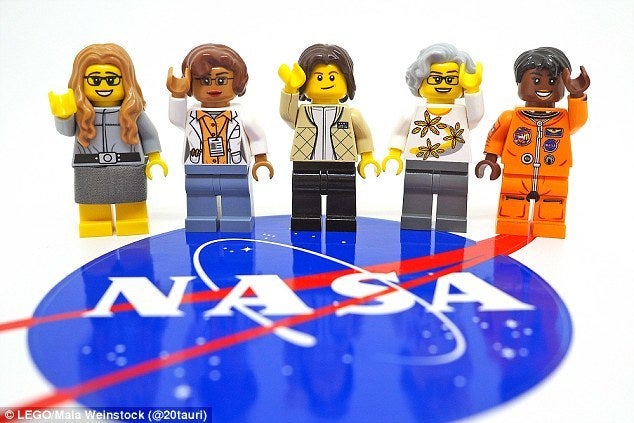 The Oscars present an annual public forum to address gender discrimination and note "First Female" and historic milestones cracking the cellulloide ceiling in Hollywood. Females accounted for 37 percent of major characters in the 100 top-grossing films of 2016. But the number of characters in major and minor speaking roles dropped to 32 percent. Speaking of women's roles, did you listen to hear that Randy Thomas was the Oscars announcer this year? 
Women are more likely to be featured as protagonists if there are women directors and writers. "Hidden Figures" was the only one of the nine films nominated for Best Picture, which was written by a woman. 
Viola Davis, 51, became the seventh Best Supporting Actress, for "Fences," and most nominated African-American actress, with her third nomination. She made history as the first African-American (and 23rd) actor to achieve the triple crown for acting, with Oscar, Emmy and Tony. African-American actresses dominated the category, with three of the five nominations. Davis was the first African-American female to win a lead actress Emmy in 2015, in "How To Get Away With Murder."
Behind the screens, only 20 percent of non-acting Oscar nominees were women. "Moonlight" producer Dede Gardner became the first female producer to win two Oscars. Joi McMillon made history as the first African-American woman nominated for Oscar of editing, on "Moonlight."
FROM "HIDDEN FIGURES" TO LEGO FIGURES
A highlight of the Oscars ceremony this year was the real Katherine Johnson, 98, joining the cast of "Hidden Figures" on stage, to a standing ovation. One of the three NASA women mathematicians portrayed, she was recognized for her more than 30 years of service.
Lego just announed a new set of "Women of NASA" figures, including the now not-so "Hidden Figures" of Johnson and computer scientist Margaret Hamilton. Johnson was awarded the Presidential Medal of Freedom in 2015. A new building was named for her at Langley Research Center in 2016.
"Hidden Figures" is a big box office surprising success, outpacing Best Picture "LaLa Land." Its domestic box office total has surpassed long-running blockbuster franchises, earning almost $163 million to date, on a $25 million budget.
OSCARS AD CELEBRATES FEMALE SCIENTISTS AS CELEBRITIES
Do you remember the GE commercial during the Oscars featuring Dr. Mildred Dresselhaus, 86? The TV ad posed the question, "What if female scientists were celebrities?" 
The "Queen of Carbon Science" was imaginatively featured on magazine covers and to great pop culture public adulation more suited to the Kardashian klan. The recruitment ad was created to encourage young women to study science, technology, engineering and math fields. Women comprise less than 25 percent of STEM positions in the largest tech companies.
Dr. Dresselhaus was the first female full and tenured professor at MIT in 1968 and was a faculty member for 50 years. MIT was one of the few institutions willing to hire married couple scientists. She mentored students and professiors. Women make up about 22 percent of the MIT faculty today. She was the first female to win the National Medal of Science for engineering in 1990 and received the Presidential Medal of Freedom in 2014. Ironically, she died the day the Oscars aired. Many readers of her obituary recognized her from the Oscars ad.
Do you sometimes wonder why you aren't familiar with remarkable women until their obit appears? Studies show that women received significantly fewer and shorter obits, if featured at all. If women's achievements aren't noted during their lifetime, they may also be omitted or devalued after their death.
ACCOUNTING FOR WOMEN'S ADVANCEMENT
The modern "Hidden Figures" Women's History Oscars story was lost in the winning envelope escapade. But the notable presence of a woman partner in one of the Big Four accounting firms is indicative of the advances women have made in the profession. Women have represented about 50 percent of new Certified Public Accountants since the late 1980s. Today women account for 24 percent of partners in CPA firms nationwide. 
NEW "F-RATING" FOR "FEMINIST" FILMS  
The Internet Movie Database (IMDB) has added the "F-rating" to its list of search options to highlight women on screen and behind the camera. The rating will designate films that are directed and/or written by a woman, feature significant women in their own right, or combination of the aforementioned.
REAL LIFE. REAL NEWS. REAL VOICES.
Help us tell more of the stories that matter from voices that too often remain unheard.
This post was published on the now-closed HuffPost Contributor platform. Contributors control their own work and posted freely to our site. If you need to flag this entry as abusive,
send us an email
.