Next week, Bibi Netanyahu will be celebrating his first (and may it be the last) anniversary of his February 10 election victory.
After one year in office, Bibi's got reasons to be fairly pleased with himself. Security-wise, 2009 was the quietest year in the past decade.
Diplomacy-wise, he's staved off pressure from a once-adored President Barack Obama to permanently freeze settlements (instead, he "gave" Obama only 10 months - and yet still, while the clock ticks, the building goes on), and he's managed to stall the peace process long enough for Republicans (his ole' buddies in Congress) to get back into business in D.C.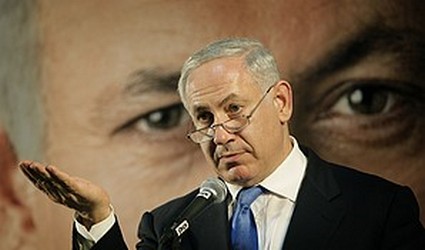 Even economy-wise, things are looking up; the Governor of the Bank of Israel, Stanley Fischer, is getting tonnes of kudos worldwide - even from the IMF itself - for getting Israel through the financial crisis practically unscathed.
In addition, a recent poll shows that although Netanyahu himself has lost some altitude among the public, his Likud party has gotten even stronger and would win a few more seats in the Knesset if elections were held today. Something he can definitely live with.
Meanwhile, Israel's critics overseas have continued, and rightfully so, to denounce it's continuing occupation of the territories, particularly the siege on Gaza. But what seems to have slipped under the radar overseas is a siege of a totally different kind: the siege on Israeli democracy itself.
Last year it began with full-blown Liebermanism (after Israel's Foreign Minister, Avigdor Lieberman) - most notably with the "Loyalty Law." Mr Lieberman of the Yisrael Beitenu party has done much damage to Israel on so many fronts, especially the diplomatic one, but if this law passes, MKs, who take an oath at the beginning of each Knesset term, will have to pledge allegiance to the State of Israel as "a Jewish democratic state", instead of the usual "State of Israel and its laws." That could pose a bit of a problem for, hmmm, let me think... MKs who aren't Jewish?
But if January and the beginning of February 2010 are any indication, Israeli democracy will have taken a much more dangerous turn for the worse.
It is now official: Israel 2010 is a place where it's dangerous to be a leftist, because you'll probably be arrested for voicing your opinion in public; it's a place where reporters and editors apply self-censorship at unprecendented levels; a place where government funding for culture is cut off if it doesn't fit the government's agenda; and last - but not least - a place where the second biggest (on its way to being THE biggest) newspaper is basically an extension of the ruling party.
Here are just a few examples of what has taken place in Israel in one month alone, January 2010. All of them are worth a blog post in themselves, but since events are happening so fast on the ground (as they usually do in Israel), I've decided to give you a quick wrap-up:
Growing Self Censorship In early January, two major newspapers inexplicably shelved two stories.
* Ma'ariv wihtheld an interview with Mohamad Bakhri, the director of the controversial movie "Jenin, Jenin". Bakhri made the movie after the bloody battle in Jenin during Operation Defensive Shield in 2002, where dozens of Palestinians and Israeli soldiers were killed. He was later sued for libel for how he portrayed the IDF, and has since been practically ostracized by Israeli Jewish society. Apparently Ma'ariv decided it would be better not to allow Bakhri to speak in its pages.
* Yedioth Ahronot completed an investigation into procedures of opening fire on Palestinians during Operation Cast Lead, and apparently found evidence that these procedures were considerably lax. But Yedioth never published the story, and eventually the British Independent got hold of it and did it for them...
Sheikh Jarrah Protests Over the past few weeks, left-wing protesters have demonstrated in this East Jerusalem neighborhood against the outrageous, insensitive eviction of Palestinian families from their homes and replacing them with Jewish settlers.
Police showed a strong reaction to these protests, some say much stronger than they normally show during settler or Haredi protests. Also, police arrested dozens of peace activists claiming the protests were illegal to begin with, although the courts have decided (twice!) that this is incorrect.
The police handling of the protests is widely viewed as a severe infringement on freedom of speech in Israel, and the debate that ensued was reported extensively in Israeli media - especially on the net. Unfortunately, the debate over freedom of speech has recently overshadowed the real reason for the protests - the Jewish takeover of East Jerusalem.
Yisrael Hayom and Sara Netanyahu The free daily newspaper, Yisrael Hayom, has long been considered by most in the Israeli media as a "Bibi-ton" (a mash-up of Bibi Netanyahu's name and the word "iton", which means "newspaper" in Hebrew). Founded by Jewish billionaire Sheldon Adelson, who has had a long and close relationship with Netanyahu, the paper is no less than Israel's version of Fox News. "Fair and Balanced"? Yeah, right...
Since its foundation, the founder and staff have constantly dodged claims of favoring Netanyahu, but when word about the Prime Minister's wife being sued by her maid was published in the main rival, Yedioth Ahronot, well, Yisrael Hayom didn't even try to hide it. There was no question about who's side they were on anymore. Anyone who still had doubts - especially after reading the headlines and analyses of reporters, going out of their way to protect the First Lady - had to be blind. Did I hear "Pravda"? Cultural Boycott In Israel 2010, if you don't make movies like the ones the government wants you to make, forget about any kind of funding. In his excellent blog "Promised Land", Noam Sheizaf wrote last week about the sad story of an Israeli film called "Lipstikka":
Lipstikka was originally planned to deal with director Jonathan Segal's mother's experience in the Holocaust. Later on Segal decided to move the plot to Ramallah, and to tell the story of two girls struggling to end the Israeli occupation. Like almost all Israeli films, Segal received financial support for his film from the Israeli Film Fund (IFF).

Last Friday, Israel's most popular columnist - and Channel 2 News anchorman - Yair Lapid quoted in his weekly column in Yedioth a passage from a pre-production brochure advertising Lipstikka, which compared Israeli occupation to the Nazism. As a result, Minister of Culture and Sports Limor Livnat (Likud) contacted the IFF, which immediately decided to freeze all support for Lipstikka. Director Segal claimed later that the brochure was written by a British PR woman who was sacked from the production two years ago - and that Lapid never contacted him to get his comment on the issue - but at this point, nobody really cared to listen.

Basically, what the IFF and the Minister for Culture did was little more than censorship. It is important to understand that it's almost impossible to produce a film in Israel without the IFF's help. Allocating funds according to the political message of films means that from now on only certain views will be allowed to be shown.
Deportations * Jared Malsin, a Jewish reporter who was the English Editor of the Palestinian news agency Ma'an, was deported on January 20 after 8 days in police custody. He was arrested at Ben Gurion Airport for allegedly not cooperating with immigration officers' questioning. But reports have since surfaced that Malsin was questioned about his critical reporting of Israeli policies in the West Bank.
* The notorious Oz unit of the immigration police, used on a daily basis to round up and deport foreign workers, went all the way to Ramallah on January 11 to grab Czech pro-Palestinian activist Eva Novakova and deport her to Prague.
The New Israel Fund This is the biggest story in Israel for the past week or so. Israeli newspapers have run huge ads paid for by Im Tirzu, a right wing movement, claiming that NIF and its Chairman, Prof. Naomi Chazan, support Israeli NGO's responsible for feeding Judge Goldstone false information and, basically, making us look bad abroad.
The caricatures in the ads of Chazan remind most people of dark times in Europe, and have really brought down the level of debate over Goldstone's report to the UN. As a result, left-wingers have stooped down to their level and are now calling Im Tirzu activists "fascists". What leftists should really be asking their opponents is: "Why is it OK for Americans to fund settlements, but not Israeli NGOs that do a lot of good for the country"?
Meanwhile, on Thursday Chazan was notified by Jerusalem Post editor, David Horovitz, that she will no longer be writing her weekly column in the paper, after 14 years. Which leaves Larry Derfner and Gershon Baskin as the last voices of the left in that publication.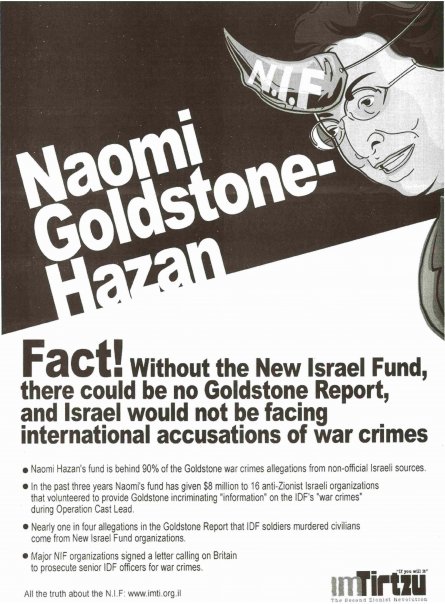 American media has over the years shown interest in violations of human rights in China, in North Korea, in Putin's Russia and more. There are enough foreign journalists in Israel to cover any story they want - it's time they started reporting on the other, just as dangerous, siege taking place in the MidEast.
Calling all HuffPost superfans!
Sign up for membership to become a founding member and help shape HuffPost's next chapter