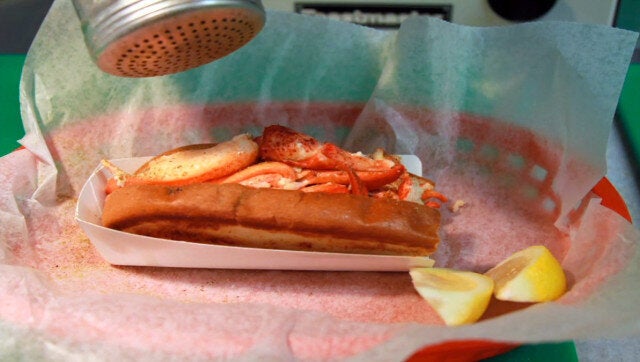 If you ask those Americans who are aware of "the lobster roll" -- which would leave out large swatches of population in the middle of the country -- the image that comes to their minds is pretty uniform: a griddled hot dog bun heaped with a cold lobster salad, made with chunks of fresh-cooked lobster swaddled in mayonnaise.
These Americans would likely go on to identify Maine as the epicenter of the lobster roll -- both as the place in which it was born, and the place one would go to today on a lobster roll hunt.
Intriguingly, however, if you dip into the history, Maine gets short shrift in the lobster roll records. Furthermore, many other New England states today specialize in lobster roll stands and restaurants.
In fact, the lobster roll may well have been invented not in Maine at all, or in Massachusetts, but in Connecticut. And along the southern rivers and inlets of the Nutmeg State, the standard-issue, mayo-drenched cold salad is a flat-out anomaly!
For Connecticut is the home of the steamy-hot lobster roll, also on a hot dog bun, but dressed with nothing other than melted butter. And is it ever delicious ... very likely the most delicious lobster roll of all. It usually comes as a big surprise to those accustomed to cold lobster rolls with mayo.
There are many theories as to the origins of the lobster roll in general, most concurring that it has its roots in uptight 19th-century New England hostesses who thought the consumption of a whole lobster was a bit messy for elegant dinner parties. Lobster salad grew in popularity from the 1850s on, leading to our first record in print of lobster salad being served with toast, which comes from the New York Evening Post Cookbook in 1908.
But lobster salad with toast doth not a lobster roll make. One of the lobster roll's essential elements -- the griddled hot dog bun -- could not have been added to the dish before the first manufacture of soft, yeasty hot dog and hamburger buns in 1912.
We then come to a gap in the lobster-roll record of about ten years ... before the Connecticut lobster roll, apparently the first roll of all, explodes onto the scene. According to John Mariani's Encyclopedia of American Food and Drink, the lobster roll "may well have" originated at a restaurant named Perry's, in Milford, CT. As the Mariani account goes, the restaurant's owner, Harry Perry, "concocted it for a regular customer named Ted Hales sometime in the 1920s" -- hot lobster meat on a soft roll drenched in butter.
It is highly likely that this hot lobster roll later migrated to Maine, where various old-timer's accounts recall the hot lobster roll appearing after World War II. It would seem that the Downeasters were still not eating cold, mayo-based lobster rolls at this time ... not until a restaurant on Long Island stepped up to the plate.
Again, according to Mariani, "about 1966-67 Fred Terry, owner of the Lobster Roll Restaurant ... in Amagansett, New York, produced a recipe containing mayonnaise, celery, and seasonings, mixed with fresh lobster meat placed on a heated hot-dog roll that has come to be known as the "Long Island (New York) lobster roll."
No one can be sure of these historical things, of course, but this cold, mayo-based lobster roll, originating in the Hamptons, appears to have caused a sensation in the 1960s, with restaurants throughout New England and up the coast of Maine adopting it as their "primary" lobster roll. It makes sense: the cold lobster roll is a convenient use for left-over lobster from the day before; the hot lobster roll is made from lobster cooked five minutes ago, which can be an inconvenience at a busy road-side restaurant.
Today, it's a patchwork quilt of rolls throughout New England. Yes, the cold roll reigns supreme, but there are places all over Maine (like Red's in Wiscasset), and elsewhere, that serve only the hot lobster roll. And there are geezers who claim it's the original one, and the best one.
There's only one certainty in this game: the southern coast of Connecticut, where the hot lobster roll was putatively born, is the fortress of hot lobster rolls. At many of the scores of places that dot this pretty coast along the Long Island Sound, ONLY hot lobster rolls are served. Happily, these restaurants are fairly close to each other ... so a pleasant couple of hours on a sunny summer day can be spent driving from one to the other in buttery pursuit.
This is exactly what I did last weekend, stopping in at three of the Connecticut classics. Here they are in chronological order of visit, driving west to east ... which also happens to be the rising order of quality:
The Lobster Shack is the simplest operation I saw: a small trailer car, right near a parking lot, right near a group of tables on the water. But they have a big reputation for their hot, butter-only lobster rolls. Anticipating a long day, we cut our lobster rolls in half at this first stop:
This was one of the best pieces of bread we had, with a lovely exterior char, and the right amount of butter inside. The lobster itself, unfortunately, seemed a little bland; they seem to concentrate the butter on the roll, not on the lobster, which makes the meat a little dry. They do add a squeeze of lemon as compensation -- but it's a flavor that leads me in a different direction.
One thing I would NOT recommend doing is going to Bill's Seafood on a beautiful Sunday afternoon; it is a mob scene at these times and, though this rather large place has the facility to handle the crowd, the experience is not a gracious one. Nevertheless, if you score a table on the terrace, right next to a pretty duck-populated inlet that flows under the "singing bridge" right next to the restaurant, you are in good field position for one of the better lobster-pilings you'll ever have.
I found the meat here to be very lobster-y, suggesting the lobster tastes and tenderness you get when a fresh lobster comes freshly out of a lobster pot. The downside, for me, was the roll-and-butter treatment: not enough griddle, not enough butter.
I saved the best for last. Yes, Captain Scott's is a bit inland from the coastal road ... but it is sure worth the brief detour! The scene is not unlike the Bill's Seafood scene, but it seems calmer, better managed, more relaxing. And the hot lobster roll! This one features the best and sweetest lobster of all, with a beautifully griddled bun touched with the right amount of butter. (If it's not the right amount for you, you can order "extra butter" at 25 cents the container!) A big lobster-roll criterion is the "fall-together" -- and this one, without doubt, falls together best of all.
Intriguingly, you can also get a damned good cold lobster roll at Captain Scott's; in these parts, such a creation is not called a lobster roll at all, but a "lobster salad roll." Order away, if ye wish: I contend you'll never have a better lobster roll than the steamy masterpiece available here on the southern Connecticut coast, its proper home.
Related