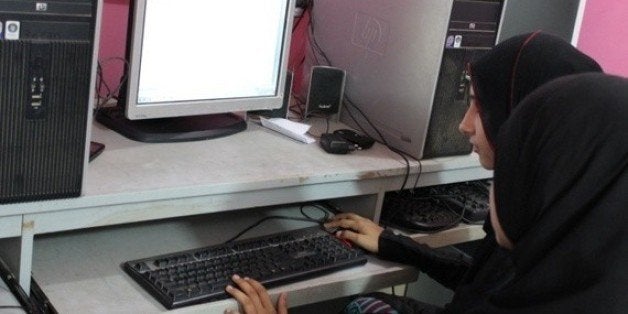 Malala Yousafzai, at 17, has become the world's advocate for girls' education. Recently awarded the Nobel Peace Prize, she said she receives it on behalf of the voiceless. Malala is truly a voice of the voiceless; millions of girls and women without access to education in both the development world, and yes, even in the West. However, there are those among the voiceless who have dared to give themselves a voice. Maria Taqdees, also from Pakistan, having been denied an education herself, has been educating girls and women in basic literacy and computer skills.
Maria's story is also one of her courage and bravery, facing challenges in her society and in her own family who did not understand her and her insistence to teach girls around her. In 2005, when Malala was 8 years old, Maria returned home to Karachi from the United States after a year as a high school exchange student through the Kennedy-Lugar Youth Exchange and Study (YES) program funded by the U.S. Department of State. She returned, as most people do from an exchange experience, transformed. Maria said, "That year was living my dream, learning so much in school and about American life." She was 15 and excited to finish high school.
She could not. She was to be married. Those of us with an understanding of traditional conservative Muslim societies understand that while she may not have had any other choice, respect and love for one's family and societal concerns obliged her.
Maria said, "I married into an under resourced family. My father-in-law was a rickshaw driver." She moved to Baldia Town, among the poorest of Karachi's slums, to live with her husband in a one room home. "I was miserable. I couldn't believe that I was an educated girl; I knew English and had studied in an American high school, and all the girls and women around me were almost illiterate. There was no access to computers and to the world. I did not fit in." After three years of feeling alienated and unhappy, Maria said she woke up to realize that she could do something about it.
"I realized I was educated; I was fluent in English, I had used computers. And although I did not get a chance to finish high school, I could teach something to these girls around me."
Maria looked around for help and resources. She begged her husband to help her buy a computer to start a school. With no other options, Maria sold her wedding ring and invited girls to the Community Learning Centre; her bedroom converted in a school during the day. Since 2008, there have been over 300 women and girls who have graduated from the certificate program she created. Maria explained, "To create the curriculum I used all the resources I had from my high school in the U.S. I had brought everything back with me."
Maria learned that while many of the girl students were actually attending school, they were learning very little and part of her Centre became an after school program. The adult women had different needs: "They wanted practical education such as being able to read the signs on the bus or the roads."
From the beginning the local community did not accept her efforts. They were suspicious of her, an outsider whose ideas were pushing societal norms for girls to move freely, go into other people's homes, choose what they wanted to do. She said, "The mosque behind my home would announce on the loudspeaker; "Do not send your girls and wives to this woman, she is an 'American agent'." Maria was patient. "I was patient with everyone because I knew they did not understand and I knew that was really the only way." The mosque now tells the community to send their daughters to her Centre so they can learn and grow.
I have had the opportunity to speak with Maria many times and follow her, an alumna of the YES Program. I have watched her blossom into a confident young woman who has earned her place as a leader. Maria's success comes from approaching her work as a labor of love. Against the odds she has proceeded with the most limited funding; a couple of donated computers and, just recently, a small grant from the YES Program which allowed her to add other aspects to the Centre. Maria learned that although many of her students have ambitious goals, such as to study medicine and law, they also need to help support or supplement their families. Most did not have skills and most cannot go and work outside their homes. Thus Maria added women's vocational skills training. She has brought in other women to teach sewing and handicraft construction.
The Community Learning Centre now has volunteers; other youth who also consider themselves lucky enough to have an education, including those with an American education through the YES program. However, even with the help, Maria is struggling to grow the Centre to attend to the many needs of girls and women in her community.
I hope that the Nobel Peace Prize to Malala will get the world's attention for girls' education. However, I am a believer in grassroots activism; the people on the ground educating girls in difficult circumstances. It's what gets things done and slowly changes a community. Maria is my heroine. I realize the hard work it takes day in and day out to live a dream to change the world, changing her world. Maria's patience and long term vision serve her well. A mother of three, who relishes her role as mother and wife, she says of her husband who is 14 years her senior, "My husband is my best friend. He has supported me all these years even when he did not understand what I was trying to do. I am so grateful to him."
There are many Maria's out there; walking the walk. These are the women that need our help to build their capacity. With funding and resources their struggle can be even more impactful.
Related