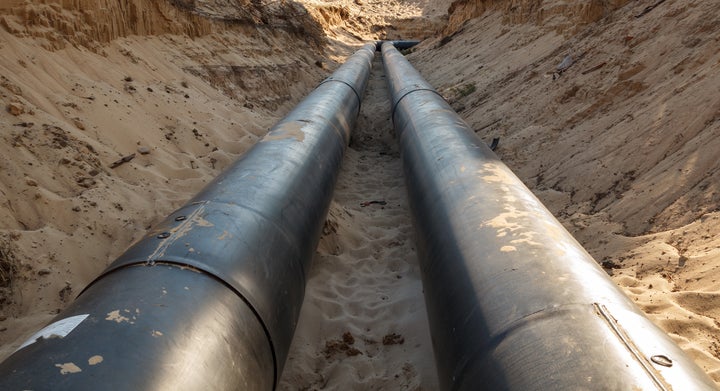 "Mni Wiconi," or "Water is Life," has become the rallying cry for thousands in North Dakota and around the world in a struggle that is simultaneously about one North Dakota oil pipeline, and all oil pipelines. In Arkansas, that cry took on additional meaning in light of the revelation that the Plains All American Diamond Pipeline decided to route their 440 mile, 20" crude oil line within a half mile of the water intake valve for almost thirty thousand Arkansans.
For a moment, I'd like us all to put aside the usual arguments we get stuck in when we try to talk about oil pipelines: fossil fuels vs. renewables, jobs, what constitutes "safe" transport, and climate change, and bring our attention to one fact: Diamond Pipeline LLC did not know that the water intake was there.  
Whether you are for or against the oil industry, the fact that a company could finalize plans for a pipeline of this magnitude, obtain the necessary easements, and apply for the few necessary permits yet miss such an important part of the process should be deeply disturbing at a minimum. Diamond's lead engineer, Stephen Lee, said the intake valve, along with two watersheds, were overlooked because they weren't on the maps they used to plan their route, and so the City of Clarksville and Clarksville Light & Water had to threaten Diamond with litigation and intervention in their permitting process with the Arkansas Public Service Commission to acquire any kind of mitigative relief. That is horrifying. Why does a private, for-profit pipeline company running a line through our state have greater siting authority than the local governments of the communities it runs through? For the same reason that "All pipeline companies operating in this state are given the right of eminent domain" per section 23-15-101 of the Arkansas Annotated Code and the only state level permits required are for navigable water crossings. Simply put, our laws are insufficient.
There is no excuse for the failure of communication that led to the situation in Clarksville. No valid reason exists for pipeline companies not to be required to submit their projects to greater public scrutiny before the routing process is finalized. Especially in situations like this, where the line is so extensive and crosses multiple state borders. Local, state, and community governments and agencies like the Arkansas Department of Health – which expressed significant concerns on the line's route but was powerless to change it – deserve a substantive voice in a substantive process, as does the public at large. Why is there no requirement that a company like Diamond prove through a regulatory process that their project is in fact necessary before they are given the people's right to eminent domain? Forcing landowners to participate in infrastructure development through the granting or taking of easements by way of eminent domain surely demands a level of transparency and accountability not evidenced by the current legislation.
As we move into a new legislative session, the General Assembly has another chance to right a wrong that affects Arkansans across the political spectrum. To empower local governments instead of permitting a situation that makes them subservient to the interests of out of state investors. To say that we will no longer allow companies without a real stake in our communities to take land from our taxpaying residents.
I encourage every Arkansan to reach out to his or her elected representatives and tell them it is high time they take a second look at this situation and at the incredible breadth of authority we give to private pipeline companies. Sign this petition asking Arkansas Governor Asa Hutchinson to intervene by way of Executive Order and ensure the environmental concerns surrounding this pipeline are adequately addressed. We need him to send the message that, as the nation stood with North Dakota, they will stand with Arkansas. To show them all that we are one.
Calling all HuffPost superfans!
Sign up for membership to become a founding member and help shape HuffPost's next chapter
BEFORE YOU GO