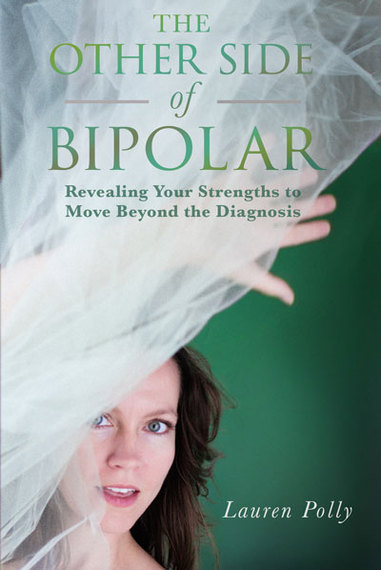 I found this book to be very heartwarming, inspirational and motivational. Packed with effective tools, techniques, and strategies, and a touching story, filled with faith, courage, wisdom, strength and hope derived from the author Lauren Polly's rocky journey in life as she battled harrowing events in her life. Polly was able to take the traumatic obstacles that crossed their life path and use them as a motivator to grow and create positive change in her life. The Other Side Of Bipolar: Revealing Your Strengths to Move Beyond the Diagnosis is filled with fabulous insight and inspiration on how to cope, overcome and turn your life around including great advice on how to recover and move on with your life after you have battled with a forever life changing condition such as bipolar.
In the introduction, Polly opens up and lets you into her world sharing touching moments from her life journey. She shares heartwarming memories from her own life including when she was first diagnosed with bipolar and how she struggled coping with her illness, including the medications she was forced to endure that shortchanged her life in her childhood years and compromised her creativity, productivity, emotional stability and most important her physical health as she shares some memories of life-threatening moments caused by bipolar.
In The Other Side Of Bipolar, Lauren Polar helps you understand with her words of wisdom that a journey of awakening does not require a traumatic event to occur in order to experience a rude awakening. Her teachings in the book give the reader an understanding that as long as you are open for change and healing then change and healing will make its way into your life. Polly gives you the opportunity to renew your relationship with bipolar as she provides excellent guidance on how to cope with bipolar or any related illness in her astonishing book, The Other Side Of Bipolar: Revealing Your Strengths to Move Beyond the Diagnosis.
In The Other Side Of Bipolar is packed with magnificent advice, tools, techniques and strategies, which teaches readers how to heal and discover the magic and beauty of who you are. This book gives the reader the ability to love themselves and gain back control in their lives, so they can experience happiness and live a healthy and productive life without having to depend on over prescription drugs.
The author Lauren Polly provides brilliant insight on how to transform your life including fabulous advice, plus a wide range of recommendations and tips on how you can achieve a better and more fulfilling life with bipolar, so you are able to achieve your goals in life, create a phenomenal life and reconnect with your inner beauty.
Throughout the book, Lauren Polly provides a vast array of traditional and alternative modalities that helps readers acknowledge the vital importance of creating a productive lifestyle change and how it plays an essential role in people's mental and physical health. One important factor I acquired from reading this amazing self-help book on bipolar was that it's crucial for individuals to maintain a healthy diet and incorporate exercise into their daily regimen. Creating a healthy lifestyle, exercising, meditating and eating right can help enhance your quality of life and improve your overall health.
A healthy lifestyle is not only necessary for well-being, but it is vital for each individual to live a positive lifestyle that enforces overall positive well-being, so they can function well. Sadly, most people do not live healthy lifestyles or receive the support they need from their friends and loved ones. The trick is how do people cope with a mental disorder or disability and transform their lives so they can have a life filled with happiness and productivity. Lauren Polly teaches you in her book how to turn your life around with the tips, tools, strategies and techniques that are easy to incorporate in your life and very self-rewarding.
Polly not only discusses how to cope with bipolar, she also helps you realize that you are not alone that millions of others worldwide are suffering from the same illness and battling with the same obstacles in life. She shows you how to transform your entire life as you read this astonishing life changing book.
Lauren Polly's approach to bipolar helped me realize that WE control our bodies. We can change the way we look, think and feel by making productive lifestyle changes.
In addition, through reading this book I realize no matter what age you are you can transform your life and create the life you always wanted for yourself. A life filled with happiness, inner peace, good health and strong inner strength that can lead you to endless opportunities and the ability to reach any level of success you desire.
I highly recommend this book for anyone interested in coping with bipolar and improving their overall health and well-being. Lauren Polly book is excitingly packed with outstanding advice, tools and techniques and I find The Other Side Of Bipolar: Revealing Your Strengths to Move Beyond the Diagnosis a rewarding, motivating, inspiring and an enjoyable read.
Related
Popular in the Community