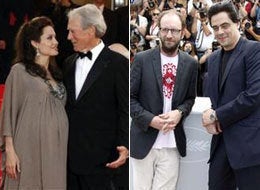 Under false pretenses, I was corralled into the red-carpet pre-event to the Madonna/Sharon Stone gala charity event for AmfAR. All in favor of the event itself, which raises millions each year at Cannes for AIDS research (AmFAR's biggest fundraiser), but I was told that this would be a chance to pose questions to Madonna as she walked up the carpet.

Instead, this was a celebrity-sight-seeing event for fashion journalists and professional paparazzi, all of us squooshed behind silver bars alongside the non-red carpet, tiptoeing on pieces of paper that bore our publication name.

Next to me was a fashion journalist scooping for the LA Times.
"This is a nightmare," I said, as the first of three hundred guests began to arrive in evening gowns, traipsing in fashion-show languorous pace, the photographers screaming: "On the Dot! On the Dot!"

"Why a nightmare?" the earnest young Brit said. "It beats watching paint dry."

"Does it?"

"Yes, we get to have conversations with the stars as they walk by."

"Really, what kind of conversations?" I had just come from an hour discussion about loneliness and how off sounds/music can be used to capture subjective solitude, with director James Gray, and wondered how, grabbing Madonna's arm, next to 200 hundred flashing cameras, we could achieve the same calibre.

"Oh you can ask all sorts of things! What kind of dress they are wearing. And to XXX, I am going to ask how she is dealing with the break-up with her boyfriend!"

"Here in this line?"

The biggest problem with the event was not the sexism (why do older women with unfortunately un-model bodies have to wear cleavage strapless evening gowns which everyone laughs at while their men can decorously stride by in tuxes?) but the fact that I was trapped behind the bar, and could not -- I was informed -- leave until it was all over.

One by one the women hip-pivoted by: Diane von Furstenberg, Natalia Vodianova, the top model married to Justin Portman, son of a viscount. And yes, it was true, the journalists next to me swung a few conversations.
Vodianova and husband Portman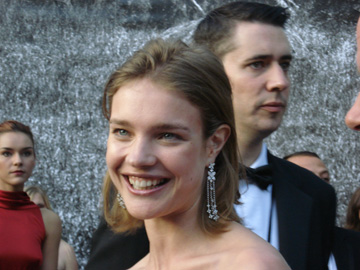 Have you ever wondered at the origin of those celebrity papers you see at the check-out in supermarkets?

"Hey Ginny!! Ginny!"

A young tall blonde woman (stereotype true: many old ugly men with tall blonde girlfriends) sidles over.

"Yes?"

"Tell us! How do you keep your lovely figure?"

"Oh, I drink lots of water and manage to eat right. And I simply must eat vegetables."
"How about exercise?"

"Oh I detest it! But I do exercise everyday. I walk. I love to walk. I walk oh yes hours and hours a day. Simply love it."

This was intriguing. I imagined Rilke's reveries of a solitary walker, Strindberg's haunting traipses through Paris. "Do you walk hours in the city?" I said. "Or are you speaking about the country?" I was also imagining melancholic reveries along the forests of the Lake District, musings on death ...
"Oh, both, of course," the woman said. "I live in both the city and the country."

The most stunning dress: Georgina Chapman's, wife of heavyweight producer Harvey Weinstein (who was spotted the night before on the terrace of the Majestic, screaming at his assistant: "You're fired!! You're fired!"). The skirt was yellow and black feathers, with a black corset, and she was wearing an amazing silver loop up her forefinger.
Chapman's Dress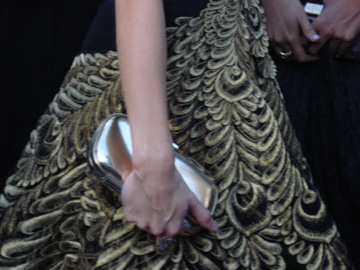 "Georgina! Georgina! I love your dress. Can you tell us what it is?" the British journalist gushed.
Would she? Would she?

Gorgeous Georgina, hair in Cinderella pin-up, exposing a long neck and her youthful skin (she is thirty years younger than mega-billlionaire Harvey) sidled up with princess poise. "It's Marchesa," she winked. "Of course." (She designs for the company).
I noticed that once the flourish of the catwalk ended, the no-longer-in-the-spotlight guests, including the ravishing Georgina, would mill by the front door of the villa and look slightly depressed, hands at their sides, trying to converse or at least stand still. One family, mother and daughter in white gingham, looked as bored as I did, silently staring ahead, as they too waited for the hours and hours of guests to walk down the aisle.
Suddenly, my chance.
All the photographers screamed and jumped down from the bandstand and pressed against the rails; hundreds of journalists left their assigned slots of paper and ripped to the finish. There she was,
that one journalist complained she had already worn to the press conference. Near her was beaming Sharon Stone!
Sharon Stone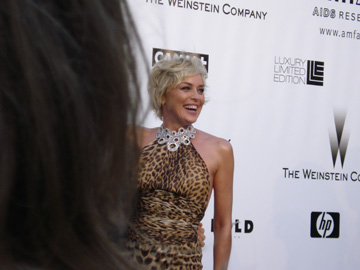 I broke through the cameraman and crawled under a tripod, and dashed up the bandstand. "Hey where are you going?" yelled a cameraman as I knocked against his equipment. "Escaping," I said.
The bandstand was empty (the men dashed below) so I made it to the top, jumped down into a rose flower bed, and headed home-free down a cobblestone path ... there, the chauffeured cars awaited.
Two other journalists had also escaped: a Chilean and Mexican who later explained how much they appreciated their lives, this chance to be out of a developing country and watch films all day long, and go to the press room and use computers. We went off and had dinner in a Lebanese kebab joint.
Calling all HuffPost superfans!
Sign up for membership to become a founding member and help shape HuffPost's next chapter