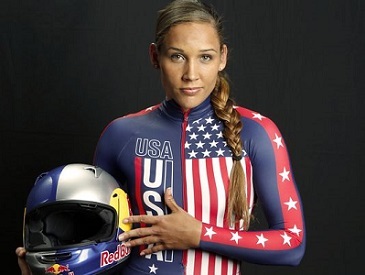 Just like every other human being, Lolo Jones isn't perfect, and she isn't always going to make the best decisions. The only difference between her and the rest of us is her mistakes and missteps play out in the glare of the spotlight because of her status as a public figure, but I am of the opinion that the level of backlash and the attacks she receives are unwarranted.
I will be the first to admit that Lolo sometimes cracks jokes that are not exactly funny, and even I am sometimes left scratching my head over some of the things she says. Nevertheless, I do not believe the things she says and does are said and done with malice or with the intent to offend.
For those of you who may not be familiar with some of the Lolo-isms that have landed the 31-year-old athlete in hot water, go no further back than the George Zimmerman trial in June. During the testimony of Trayvon Martin's friend Rachel Jeantel, the star witness for the prosecution, Lolo compared the 19-year old to Tyler Perry's infamous "Madea" character. "I know my heart; I know I'm not trying to offend people," Lolo told me during a recent phonecall. "I'm just trying to make people laugh or just show them a glimpse of my world." In spite of her intent, the comment immediately made headlines everywhere, and resulted in another round of vilification for Lolo.
Most recently, Lolo was back in the spotlight after a fan dressed up as Lolo on Halloween. When the fan posted a picture of herself dressed in the getup, Lolo responded in a tweet that the fan needed a relaxer to complete the look, saying "I haven't rocked curls since h.s." The backlash was immediate, with many accusing Lolo of disrespecting women with natural hair. Knowing how people react to the things she says, I was a little surprised Lolo did not err on the side of caution by simply thanking the fan for paying homage. Do I think, however, the tweet was a jab against women with an affinity for natural hair? Of course not. I took the tweet exactly how she put it -- that she has not "rocked" curls since high school, nothing more, nothing less.
With her name constantly embroiled in controversy, however needlessly, it is sometimes easy to forget Lolo is a gifted athletic competitor in both track and bobsledding. Having recently been named as one of nine women chosen for the U.S. bobsled national team, Lolo is one step closer to the 2014 Winter Olympics in Sochi Russia. "I am a dual sport athlete; I'm the only one doing both," said Lolo. "They're not competing with each other season-wise. Bobsled is a different season from track, so I'm allowed to do both, and I thought that doing bobsled would give me a chance to step away from my fall training for track, but yet I'd still be getting in shape with pushing a 400 pound bobsled."
Conscious of the issues facing the world around her, when she isn't practicing or competing, Lolo busies herself with the foundation that bears her name -- The Lolo Jones Foundation -- which aims "to empower and inspire individuals who face the most socio-economical hardships to realize their full potential through engaging community programs and initiatives". Under the umbrella of the foundation is Hurdles of Hope, a program that targets the challenges faced by children with a parent who is incarcerated, something Lolo is all too familiar with. "I grew up with a dad that was in and out of jail, and it was such a taboo kind of subject to talk about," Lolo revealed.
"Growing up, kids would always ask where my dad was, and most of the time we'd just say he was in the army so that I wouldn't have to be embarassed over the fact he was incarcerated. My mom was a single mom raising five kids, so around the holidays, it was really hard for her to get Christmas presents, so we relied heavily on contributions from other charities where I would get free Christmas presents and stuff like that," explained Lolo. "So, I'm hoping to help kids out."
Lolo and Hurdles for Hope will take their philanthropic efforts to Lolo's hometown of Des Moines, Iowa for an event over the Christmas holiday during which 500 pairs of shoes will be given out to those in need in the area.
I could go on and on about how there is more to Lolo Jones than a quirky sense of humor and the occasional questionable comment, but in the end, it's doubtful I am able to alter your opinion of her or stop the extremely harsh criticism she receives on Twitter or on the blogs, a point that was echoed by Lolo during our talk. "I know I have a good heart. I know where I come from, and I know my intentions," said Lolo. "It really doesn't matter because people are not going to change their viewpoints on people at all."
And with that in mind, maybe the issue here lies with us more than Lolo.
REAL LIFE. REAL NEWS. REAL VOICES.
Help us tell more of the stories that matter from voices that too often remain unheard.