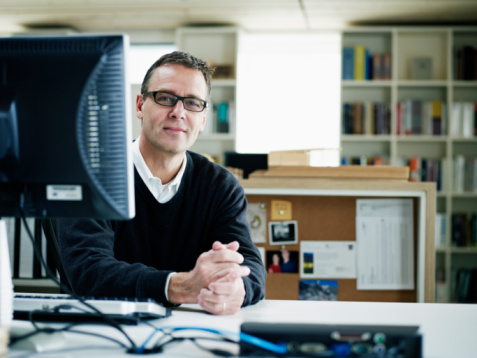 I had an eye-opening experience the other day while I was interviewing a candidate to potentially join our agency. He happened to arrive at my office right while my assistant was trying to help me solve an IT issue that we just couldn't seem to crack. He quickly volunteered to help, so I quickly got out of my seat so that he could access my laptop.
I took the seat on the other side of my desk, for the first time.
Moments later when he finished, we laughed a bit at the juxtaposition, and agreed to stay in the same spots for the interview. Why not ... we had already started talking anyway.
I had a completely different view of my office, and a new window into how people must perceive me when they meet with me.
I'm so used to looking out, and now I was suddenly looking in. I was looking right into my brand.
While I liked a lot of what I saw, there were some things that took me by surprise as I literally started taking inventory of all the elements that make up my brand. Better said, I noticed all the things that make up how people perceive me.
Multiple pictures of the family - ok so he prioritizes his family and does try to balance it all. Or, does he spend so much time in the office that this is the only way he can remember what his family looks like? I made myself laugh a little with that one!
Numerous awards from through the years - he's been around awhile and has had some success. Or, does he have a big ego?
Extra piles of papers behind the desk - while he attempts a "clean desk" policy, it sometimes catches up with him. Maybe he is overwhelmed.
A few bottles of Diet Coke, one of which is still half full - hard working, or perhaps didn't sleep well last night. Does he drink enough water throughout the day?
Matching desk accessories - a sense of style. Makes sense given his outfit.
Casual seating area on the other side - likes to have informal discussions.
Two conference phones - does a lot of work with people in other offices.
I definitely saw a few things I liked, but then again there were elements that I cringed at. I've got way too much clutter and way too many accessories floating around. It's a bit too much to take in.
I need to have more meetings in the casual chairs because I'm now realizing that people might be more comfortable there ... less distractions.
And while I've engineered my office to make my work more productive and to remind me of my family that I'm doing it all for, I also need to take into consideration the needs of those that spend time with me there. They need more space to put out their materials and they need extra pads of papers, pens, etc. to aid their discussions with me.
I need to make it more about them and less about me.
In the end, though, I am happy that my office reflects who I am as a person, what's important to me, and what my brand is built upon. Clutter and all ... well maybe a little less clutter would make for clearer communication.
Overall I liked it. I just have to clean up a few things around my brand and I will feel more comfortable.
What about you? What does your workspace say about you? Would you be happy if you sat on the other side?
It's important to take a "look in" once in awhile to make sure you like what others see.
REAL LIFE. REAL NEWS. REAL VOICES.
Help us tell more of the stories that matter from voices that too often remain unheard.