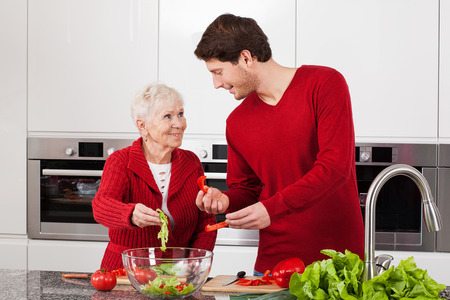 The Other Side of the Table
This weekend my older son and family came to visit for their son's first birthday celebration. Conversations covered many topics and reminiscing became part of the pattern of the days. As I thought about our moments I recalled a memory from long ago shared by my father and me.
While working in Atlanta trying to realize my dream of becoming a fashion buyer, I was experiencing a slump in my feelings. I called my dad and asked if I could come home for the weekend. We went out to dinner one evening and he sat on one side of the table and I sat across from him. He asked what was wrong with me. Always being very dramatic, I shared that I was sad and felt that I was not doing anything to change the world. I exclaimed that all I was doing as an assistant buyer was working with clothes. He then listened thoughtfully and said "What am I doing in my life to better the world? All I do is buy food products for a chain of food stores." A few years later at a hotel in Philadelphia, my dad was getting ready to walk me down the wedding aisle. Just as we were ready to take the first steps he turned to me and said " Do you remember the evening when you asked me what you were doing to change the world? I then asked you that I wondered that too. Well, now I can tell you that YOU are what I have done with my life." Tears flowing I walked down the aisle.
Many years later my phone rang. My older son asked if we could have a chat. We went out to dinner and he sat on one side of the table and I sat across from him. I asked why he was feeling so conflicted. He shared that he was searching for a new direction in life. After many years living in Japan he was back home starting a new chapter of his life. As we shared a conversation I was struck by an emotion and powerful thought. How did I get on the other side of the table so quickly? One day I was being taught by my wonderful dad and then in next space of flying by years I was the one teaching.
Looking into the beautiful face of my newest grandson that evening I knew that soon my son would be on the other side of the table. I smiled and hoped that the years would slow a bit so we all could share the beautiful gifts of love and time.
PHOTO GALLERY
5 Tips For Empty Nesters With Newly Empty Nests
REAL LIFE. REAL NEWS. REAL VOICES.
Help us tell more of the stories that matter from voices that too often remain unheard.