The Out List screening started out like a typical New York premiere event. I thanked my VIPS: HBO doc gurus Sheila Nevins and Lisa Heller, my co-producers and my subjects who included ballroom gatekeeper Twiggy Pucci Garcon, NFL star Wade Davis, Dallas Sheriff Lupe Valdez, transgender activist Janet Mock, Muslim-identified Afghan sex educator Wazina Zondon and drag legend Lady Bunny. Then, I introduced the diminutive octogenarian wearing a silver-plated pistol belt buckle and bright pink top who was seated in the back. The plaintiff in the DOMA case before the Supreme Court, United States v. Windsor, Edie Windsor, was in the house. A three-minute standing ovation ensued.
It was the other Supreme Court case, however, California Proposition 8, that pushed us to make -- perhaps angered us to make -- this doc in the first place. Generation 8 was our original working title, as we planned to examine the post Prop 8 world around the right to marry. But as filming commenced, we quickly realized that our subjects were passionate about issues beyond marriage equality.
The Out List is my sixth film for HBO about identity, struggle and achievement. It follows The Black List trilogy and the two Latino List films. This project got off the ground, by some combination of luck and fate, when I met Ellen DeGeneres backstage at a fashion show. In passing, I pitched her my thirty-second description of the film. Six months later, interviewing her in Burbank, we found a woman who was funny, of course, but also emotional, vulnerable and profound. As filmmaking progressed our subjects continued to defy expectations. Neil Patrick Harris, Cynthia Nixon, Suze Orman, Christine Quinn, Jake Shears and Wanda Sykes all stepped out of their media trained personae to offer insights and honesty. Act Up activist and Normal Heart author, Larry Kramer, reminded us of the impact of AIDS and the power of anger. Even Log Cabin Republican, R. Clarke Cooper, somewhat persuasively explained his need to work from within the party that would deny him equal rights.
The Out List airs on HBO, June 27th, the 44th anniversary of the Stonewall riots. It could also be the day that the Supreme Court rules on Prop 8 and on Edie Windsor's case against DOMA. Sometimes you are just in the right place at the right time.
All photos by Michael DellaPolla for Greenfield-Sanders studio.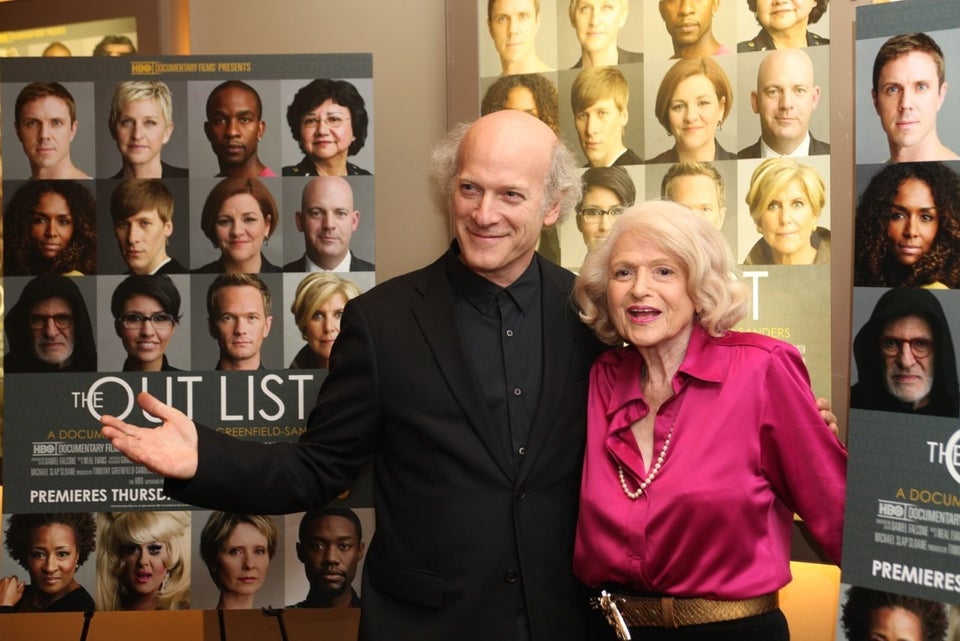 The Out List
Support HuffPost
The Stakes Have Never Been Higher
Popular in the Community