The other day I came across a frightening article on Huffington Post about a groom who chased after a thief who stole the couple's gifts at a vow renewal ceremony. While I may have chuckled at first, I was reminded of how important it is to have a plan in place to manage your wedding gifts.
Depending on your family, friends, and cultural background, you could receive large amounts of cash and valuable gifts on your wedding day. Most people would never just leave cash unattended, so why are couples so passé about leaving envelopes and gifts unattended in public places on their wedding day?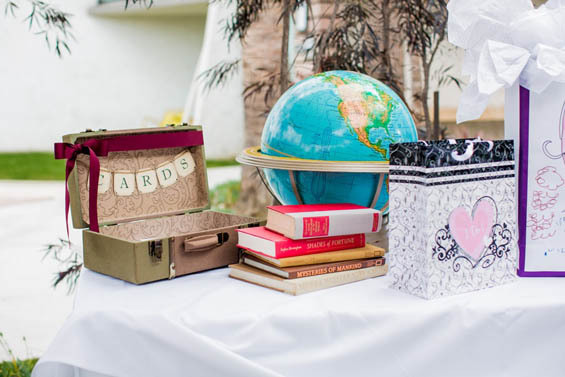 Photo by Meet the Burks via My Hotel Wedding
Based on where you are hosting your wedding, there are a few solutions. If your wedding is being held at a hotel, ask your Catering Manager about hiring a gift attendant through the hotel. The gift attendant will arrive prior to your invitation time, collect and check-in the gifts, and then take them to your guestroom while escorted by your Wedding Planner or a manager for safekeeping. If you are expecting to receive a large amount of cash or checks, work with the hotel to come up with a combination for the safe so the cards can be stored safely.
If you are not hosting your wedding at a hotel, do not fear, there are other options. For one, ask your Wedding Planner if she can hire a gift attendant on your behalf. This person will received and check-in your gifts, and will remain at the table until the end of the evening, ensuring their safekeeping. You can also ask your contact at the venue if there is a safe, locked room, or location for safekeeping once all the gifts have been collected. Know that your Wedding Planner must hire someone to do this, as your planner and his or her assistant will not have time to manage or oversee your wedding gifts on your big day.
Finally, you can have a family member or family assistant receive and check-in your gifts. They will simply follow the process below, and then work with your venue to secure the gifts once they have all been accepted. If you do decide to have a family member check your gifts, be sure to choose someone who is reliable and will not need to be in family photos. It's always easy for family members to get pulled away from the gift table during the chaos of arrivals and greeting long lost relatives, so make sure your attendant will stay focused on the task at hand.
Here are four easy-to-follow steps that will ensure that your wedding gifts are all checked-in and accounted for:
Attendant will receive the gifts and place a number on the card or package.
Attendant will have the guest sign beside the corresponding number on a sheet of paper.
Once all gifts have been collected, the attendant will copy the list of signatures and place one copy with your gifts and save one copy for his or her records.
Count and confirm all gifts are present according to the list. If you're having a hotel wedding, your attendant will escort the gifts to the guestroom of your choice, place the envelopes in your guestroom safe, and leave the gifts neatly stacked in the room.
To ensure that you're not chasing down any thieves in five-inch heels or a custom tailored suit your wedding day, please keep these tips in mind and put someone in charge of your wedding gifts.