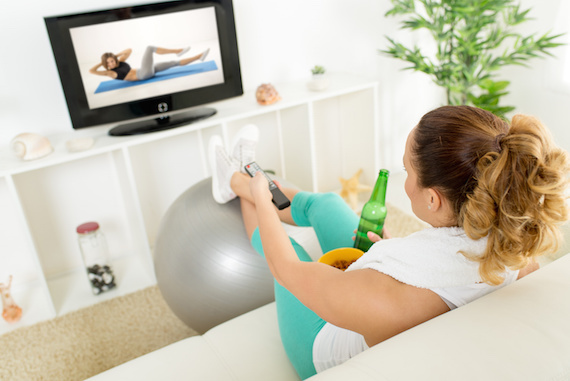 Dollarphotoclub.7993230
Choosing not to take action. Again.
All you want is to complete your goals. You want to move forward toward the right things. You want the courage to beat the impulse not to take action.
That right there is hard to beat. Right?
You know that without achieving your goals, you'll get nowhere ... you'll be stuck in the same place.
You've heard that willpower is the vehicle that drives us to take action.
Willpower is also the energy that we use for self-control; it helps human beings resist temptation, change feelings, or lose weight.
Another depressing feeling there. Right?
So, you've tried reading motivational books to gain willpower to move toward your goals. And it's failed.
Do you know that people with less willpower inflate their abilities because they lack self-discipline? Also, according to a study by the American Psychological Association, those people who lack self-discipline make less money, have more traffic accidents, and never go through with their plans. They lack willpower to curb the temptation.
Who doesn't know that eating better, smoking less, and exercising regularly is good health?
Then why do we continue to avoid the things that would better ourselves?
The Truth About Your Willpower
Willpower is limited, and it wears out as the day goes by. People exhaust their willpower by constantly using it. They have too many goals they want to achieve at once. That means they divide their willpower to work on different choices. Then, exhaustion sets in before they can take action, and they give up.
Below are the effects of having too many choices or goals:
Too many options lead to laziness.
People became lazy when they have many choices. They procrastinate on what matters and focus on what doesn't matter.
This is a constant human struggle. For example, I struggle to write without checking Facebook and Twitter updates. When I check updates first, I procrastinate on finishing up my posts on time.
Most people waste time deliberating on what they'll eat for breakfast every morning, and that exhausts them and depletes their willpower before they even start working on their goals. But, if they planned on what they'd eat the day before, they wouldn't exhaust their willpower by making food choices. Instead, they'd divert their willpower to what matters.
Research shows that keeping your options open undermines good habits. So, get rid of the options trapping you. Commit to a goal, and divert all your willpower toward it.
2. Too many options cause non-commitment.
Psychologist David Strayer did research that shows only 2% of people can multitask. Multitasking is inborn. So, you may be fooling yourself if you think you can multitask. You and I are probably not lucky to be in that group.
Do you ever wonder why people who try to lose weight and stop smoking at the same time fail to achieve either of the two? They multitask on both goals, and their willpower depletes before they can achieve any, and they end up giving up. For them to succeed, it's either start with dieting and stop smoking later, or vice versa.
By not committing to one goal, you limit yourself from achieving any goal.
Don't trick yourself that you can multitask. Choose one thing and commit to it.
3. Too many options create irrational behavior.
When you have many options, you express irrational behavior.
Dan Airely conducted a study where he set Jams for sale in a supermarket. He first set up six different types of jam for sale, and then he turned around and offered twenty-four different types. He sold more when he offered six types than when he offered twenty-four.
Why? People hate choices. It's hard to choose when you have twenty-four choices.
Having one choice allows you to give it your full attention without irrational behavior.
4. Too many options increase stress.
Do you have a problem choosing?
When you have many choices available, it overwhelms you.
Sometimes when I go clothes shopping, I end up not buying because I have too many choices, and that alone overwhelms me.
Instead of draining your willpower and getting stressed and depressed over your lack of action, you can control your feelings by choosing one goal to work on. Work on it wholeheartedly, and you will be less stressed because your willpower will be directed to just that one thing.
Take Control of Your Willpower Today.
There is no magic bullet to success other than to take action.
Focus on one option -- a skill or a talent.
Divert all your willpower to that one goal.
One goal at a time will make you a winner.
So, stop multitasking today, and get going on that one goal.