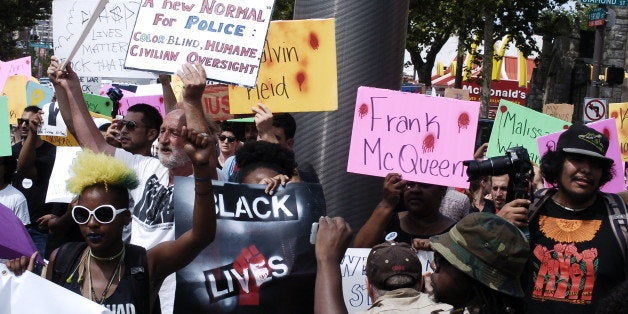 This weekend I will be in Ferguson, MO with the mother and father of Michael Brown as they mark the second anniversary of their son's gruesome death at the hands of police. Two weeks ago, I led memorial marches and calls for justice for Eric Garner, a police choke-hold victim who also died in 2014.
These two horrific cases ignited a resurgence of movements that call for police and criminal justice reform. Slogans like "I can't breathe," movements like Black Lives Matter, hashtags and chants like "hands up, don't shoot," and many more became symbolic with a national push for change. As I sat at the MSNBC booth at the Democratic National Convention giving remarks about Mothers of the Movement (who spoke at the DNC), I thought of these two tragedies sandwiched around both conventions. Having worked with many of these mothers, I was glad to see them on stage in Philadelphia, but I feel as though we as a society collectively get caught up in the pageantry and forget that the wheels of justice have been slow to move -- if it all. Two years after the deaths of Garner and Brown, we must ask, where are we now?
While many have been immersed in political coverage because of this crucial election, we cannot lose sight of the fact that there has been no accountability in many of these tragic deaths, and criminal justice reform cannot be pushed to the back-burner. The Justice Department still has not ruled in the Garner case, and there has been no justice at all in many other incidents. Cases against police officers involved in the death of Freddie Gray were dropped last week but that went largely unnoticed by delegates gathered at the convention. Our task must be to not only highlight abuses, but to also solve these issues with new legislation that lowers the jurisdictional threshold for the Justice Department to charge in these cases, as well as laws that require independent prosecutors to be brought in when there is an officer-involved death.
My organization, National Action Network (NAN), held a luncheon on the final day of the DNC where we convened over 300 faith and denomination leaders to emphasize these very issues. We welcomed New York Attorney General Eric Schneiderman who addressed the audience and who has been working with Mothers of the Movement (who were honored at the luncheon) to get Governor Cuomo to appoint special prosecutors for killings by police. This must become national law. And this must be front and center during this election because our needs, our concerns and our voices cannot be dismissed or silenced.
Another key area that NAN has been heavily involved in is raising awareness around the issue of voter suppression. Since 2011, we have been bringing attention to, educating and pushing back against new voter ID laws, an end to early voting days, elimination of same-day registration and other methods of disenfranchising voters. Last week, a federal appeals court struck down North Carolina's voter ID law, while in Wisconsin, a federal district court judge ruled that parts of Wisconsin's 2011 voter ID law were unconstitutional. Meanwhile, a state court halted an attempt in Kansas to require proof of citizenship in order to register. While it is good news that these courts have agreed with us, the rulings can still be appealed and even more troubling is the fact that there are some 14 other states that still have these kinds of laws on the books that discriminate primarily against people of color and the poor. NAN and I have been warning about these new draconian laws for years and for the first time in a Presidential election they will be in place in states all across this country with detrimental effects that we have yet to see.
Election 2016 will be here before we know it; our issues must be addressed, it is as simple as that. Now that the balloons have burst and the confetti has fallen, we must get to work to make police reform and voting rights protection a reality otherwise the pageantry will lead to impotency -- and more of the same is simply unacceptable.
REAL LIFE. REAL NEWS. REAL VOICES.
Help us tell more of the stories that matter from voices that too often remain unheard.