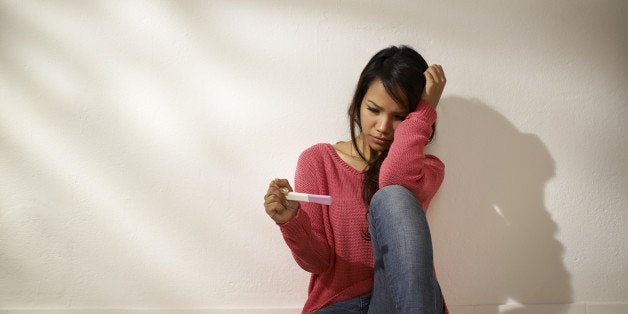 "Three minutes is already up?"
I thought as I stared impatiently at the plastic pregnancy test.
"Is that a line? YES. No. Yes? No... Nope."
The amount of times this has happened this year is too numerous to mention, let alone too embarrassing to state. After all, I had one job, one simple, easy-to-do job that most women can accomplish beautifully and abundantly. Are you that worthless, Heather? You haven't even been able to do something so simple.
These thoughts swarm my head on a daily basis. Although I have not been diagnosed as infertile, I've gotten enough negative tests this year to self proclaim it in a pitiful cry as I sit hopelessly on my bed and cram ice cream into my mouth. I feel God has promised me a child, and yet I sit hopelessly in tears every month when it doesn't happen.
I think of Sarah and Abraham, who God also promised a child. How frustrating might it have been for Sarah in that day and age, when childbearing really was a value statement; when not being able to have a child must mean that you had sinned terribly! I imagine she cried herself to sleep many nights, and without the benefit of a pint of rocky road ice cream.
She even took it into her own hands and had her husband have a baby through another woman, which ended up very badly. Because the situation seemed too hopeless not to take it into her own hands. I don't blame her because I would have probably done the same thing.
The only thing Sarah didn't have that I have is social media. Pregnancy announcements. Pregnancy photo shoots. More pregnancy announcements. I can't quite explain the feeling of being happy for someone at the same time you're getting punched in the stomach. It's an odd twist, one that results in a bit of forced smiling and nausea (not morning sickness) followed by the sheer guilt of not being happier for them.
The cruelest thing about trying and failing to get pregnant is that it's something you're ashamed of. No one is ashamed of a cancer diagnosis as far as I am aware -- they let people know and they fight it hard with prayer warriors on all sides. But infertility? You don't blast that one on Facebook. That's too embarrassing. Because you had one job and you failed. Who wants to shout that from the rooftops?
But I'm here to tell you that that is wrong. And I want to encourage any woman reading this that is completely identifying with what I'm saying. You're not alone. It's not embarrassing. It's not your fault. You are worth just as much as the pregnant lady next door. And you have just as much of a right to proclaim it and ask for prayer as if you had any other disease. Because this "disease" is a cruel one, and it infiltrates your heart and mind in an indescribably painful way.
So stop questioning your worth like I did. Be strong, because your motherly and beautiful heart does not deserve anything less.
Original post can be found here.