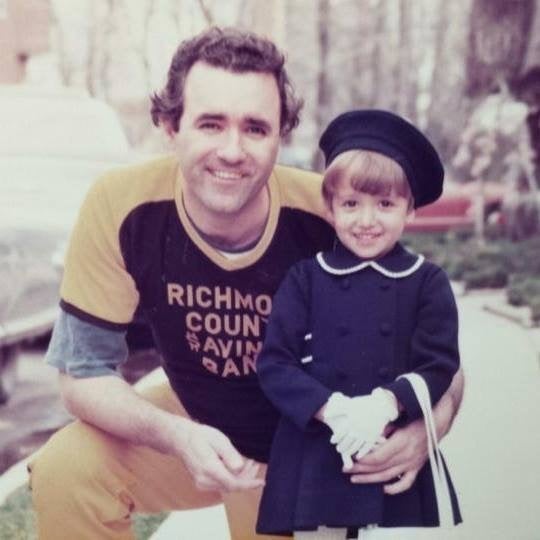 It is impossible to explain to others who haven't experienced losing a parent what it feels like. How much a parent can be missed, even if you are an adult.
I spent 40 years with my father cheering me from the sidelines, 40 years of butterfly kisses, 40 years of having my own real life super hero protecting me.
There is the very real longing for a lost parent. The pain in my heart is searing. As time goes on there are moments when my grief is so overwhelming it takes my breath away. I have had to stop everything I am doing and hold onto the nearest object for support and ride the wave of grief.
When I realize that I will never hear my father's voice again, our daily phone calls are now memories and I think of the moments he will miss the pain becomes unbearable. There have been hundreds of times when I want to pick up the phone and scream "I have awesome news!" Instead, I look up to the sky and whisper, "I love you more."
My father suffered with Stage IV base of the tongue cancer and lived with debilitating ramifications from his treatments for seven years. The last four years of his life were horrific. There were times towards the end of his life when I thought it would be better if his pain and suffering ended. I would watch him scream in pain and call Jesus begging for help. NOTHING helped him. Towards the end of his life I stood by his side feeling helpless begging God to be merciful.
I couldn't have been more wrong.
"Despite how sick my father was, and how much he suffered, I was not prepared to say goodbye."
Despite how sick my father was, and how much he suffered, I was not prepared to say goodbye. I was not prepared for the pain of missing my father. My rational mind knows my father is pain free and at peace, but my heart is shattered. I would give anything for just one more moment with my father. I miss him beyond words.
My father not just my father, he was my best friend. Our relationship was unprecedented; he treated me like his equal and respected my opinion. For 40 years, even when I was in college, we spoke daily, sometimes multiple times a day. We ended each conversation with, "I love you more."
Dad, I love you so much. You are finally pain free and at peace. When we meet again we will finally have that long overdue Sunday dinner together and we will toast to finding peace. Until then please keep guiding us and keep me strong.
This post is part of Common Grief, a Healthy Living editorial initiative. Grief is an inevitable part of life, but that doesn't make navigating it any easier. The deep sorrow that accompanies the death of a loved one, the end of a marriage or even moving far away from home, is real. But while grief is universal, we all grievedifferently. So we started Common Grief to help learn from each other. Let's talk about living with loss. If you have a story you'd like to share, email us at strongertogether@huffingtonpost.com.