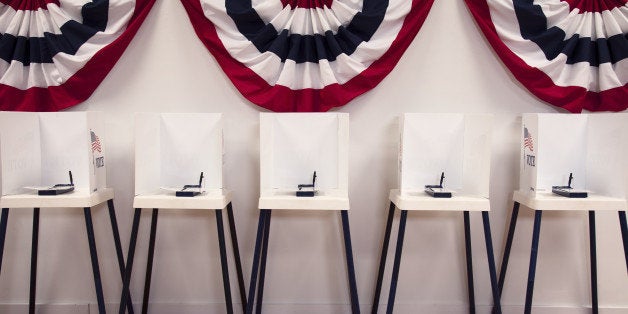 I've never joined something to feel so unimportant, so quickly. It was November 8, 2016 when I woke up with an unparalleled sense of freedom and power. It was the morning I'd be voting for the first time, the moment I'd be casting a ballot in favor of the first female president, in hopes for a liberal court, and with dedicated spirits for positive change. I walked into my University's polling site, bubbled in my ballot, and stared at the page for about three minutes- I had to be sure I colored in the right one. I left, proudly placing my "I voted today" sticker above my heart.
Throughout the day, I felt comforted to know that all of my friends were voting likewise to me, and that the majority of people I surround myself with have similar values and priorities. I still listened closely to the few peers who were voting differently, genuinely intrigued by their opinions, curious how our thought processes differed, and consistently questioning whether the differences in our mindsets were uniformed across all walks of life, or just in choosing the leader of the free world. I always concluded the two were synonymous.
In the entirety of events leading up to last night's finale, I was well aware of two things-- that more people would be voting for Trump than I would prefer, and that no matter the outcome, the election would be well noted as a turning point for our great nation. And, although these two thoughts were well-grounded in my mind, I must have never fully accepted the actual possibility of this outcome, of Donald Trump snatching the presidency from right under what felt like the majority's feet, tipping Hillary Clinton over and creating a domino effect of essential despair across the nation.
As I sat in my apartment at 1:15 A.M. my world felt silent. My friends went to sleep, my family ceased to respond, and the nation around me felt stuck in a limbo of hope and sadness. I reflected on the earlier part of my day, the power I felt in voting for the first time, and contributing to a world renowned change in power. But my power seemed hopeless, and my world, which seemed to have voted democratic, felt unimportant. How could it have not been enough? Maybe more upsetting was the overturn of my confidence in our nation, and the greatness of the people who make up our states. I thought more of them would understand. I thought we could at least agree on what is morally good, and what is morally bad. In the several hours I was a part of the voting community, of adult America, I felt stripped of my power, too individual to make a difference, and too unimportant in the scheme of our nation's future. When Pennsylvania came in, my heart sunk, generally disappointed in my nation and concerned for the progress my generation was already fighting so hard to achieve.
The paradox of what holds as one of our greatest civil liberties and its ability to make me feel so small and voiceless is a feeling that I cannot shake. However, it is my highest hope that our nation maturely reunites in nationalistic pride, and that together we continue to better America and our world simultaneously. My "I voted today sticker," which I had carefully moved and stuck on to my assignment planner in pride, now serves as a reminder. A reminder that, whether the coming years are on track with what I was expecting, or leads a very different route than what I previously thought possible, I will make it my personal mission to maintain the forward-thinking and increasingly accepting national community we were budding to foster. So, for each change I feel regressive, decision I feel unjust, or trend I find demeaning, I will strive to reverse it, to positively influence it, and to consistently work to make America great again. I hope you will all join me when you are ready.
REAL LIFE. REAL NEWS. REAL VOICES.
Help us tell more of the stories that matter from voices that too often remain unheard.