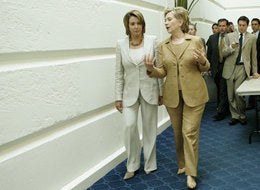 In the August issue of Harper's Bazaar, the magazine asks:
Harper's Bazaar: How many pantsuits do you have?
Nancy Pelosi: I don't have any idea. Endless.
It didn't bother me at first. Just a typical question to ask a Washington woman. And then it began to haunt me, that word: "endless." Walking down the wide streets of Capitol Hill I became acutely aware of the troops of women in men's attire gone pastel. How would Hillary have responded to that question? "I rent an airplane hangar to hold all mine. Bill understands."
When did the pantsuit become political armor for powerful women? Worn like Teflon, there seems to be a wildly held belief among these movers and shakers that the jeers and sexist jabs slide right off when you match your blazer and trouser. Wear it in beige and it's as good as camouflage. The British have their hats, the South Americans their sex appeal, the French, their je ne sais quoi; there must be another way for the American woman to convey authority besides the seldom flattering pantsuit.
First ladies don't fall prey to the pantsuit pandemic, but they don't need to. They are walking, sometimes talking, billboards for their husband's campaigns, concerned with conveying elegance not leadership. Think Reagan power red and Nancy's crimson stain. Of Cindy McCain the media generally says, she may not be cutting edge, but she's got that Republican first lady look locked down. She sure does. On any given Sunday, Cindy is trying to dress as much like the American Flag as humanly possible. I bet Betsy Ross couldn't even stand to look at her.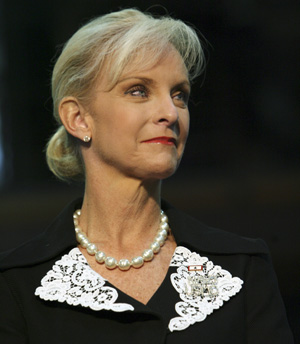 As for Michelle "Puffy Sleeve" Obama, she has decided to make the swashbuckler look her trademark. First there was the Super Tuesday red suit with the sleeves large enough to hide pounds of contraband in.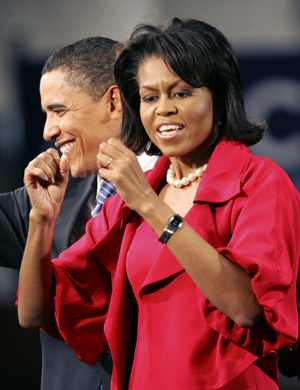 Then there was the white button-down again with the voluminous sleeves. Tall and lithe enough to carry the clothes, Michelle can somehow make the Three Musketeers fashion sensibility work for her. She might also be able to spread her wings and fly if need be. But besides the puffy shirts, she plays it safe by chasing the Camelot closet.
Pelosi, Clinton, and the rest of the Hill's power women can't just come across as elegant hand-holders--they need clothes to convey an image that they can make the infamous 3am phone call without dressing like men. These power dames are clearly petrified that a sense of style will show frivolity, and seem to regard fashion as a strange viral disease spread by Manhattanites.
Condoleezza "Have Wardrobe, Will Travel" Rice is one of the only power-wielding Washington women immune from the highly contagious pantsuit mania. Sure, she wears them but they're in rotation with Akris separates and Oscar de la Renta mismatching pieces. Ever since she donned the infamous knee-high boots made for a lot more than walking at the Wiesbaden Army Airfield in 2005, she's been slyly showing Washington that a woman in power can dress to identify herself, not as a means to hide. It's a bold statement--more like Burlosconi in his expensive double-breasted suits or Don Corleone's pinstripes than the predictable safe pantaloon of Hillary Clinton.
Couture Condi did suffer a small wardrobe malfunction recently when her flesh-toned blouse and the flashbulbs at a school in Perth, Australia didn't quite agree with each other, but most fashionistas reactions were, hurrah! she wasn't buttoned-up like a Victorian or wearing a poly-cotton blazer with an eagle on her shoulder. And yes, we now know from photographic evidence that the Secretary of State wears a bra.
If you believe what you're clad in doesn't define you, just think of Cheney's gaffe at Auschwitz when he looked as though he were about to shoot up wild boar or man the snowplow rather than represent his country.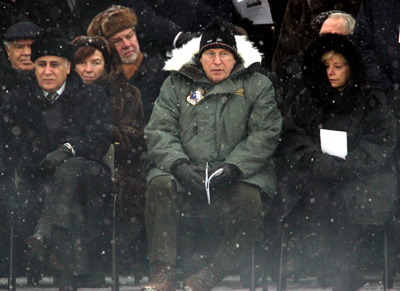 For a man or woman in power, clothes are not armor, but a reflection of the way they lead. Political men in their cowboy boots, barn jackets or tightly tailored suits have discovered that. It's time that women step ahead of them and embrace power dressing with a twist, turning the oh so predictable p---suit into a dirty word.