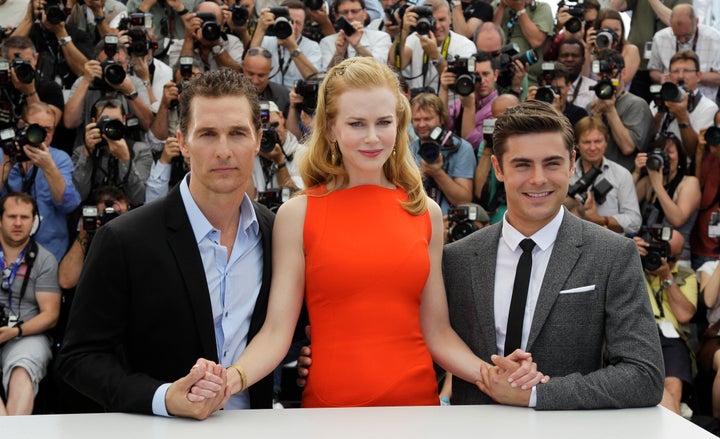 "The Paperboy" debuted at the Cannes Film Festival on Thursday, and Lee Daniels' "Precious" follow-up provided attendees with the chance to watch Nicole Kidman urinate on Zac Efron.
The "golden shower" happens in a non-sexual context: Efron's character gets stung by a jellyfish while in the ocean.
Based on Pete Dexter's 1995 novel, "The Paperboy" focuses on a reporter (Matthew McConaughey) who investigates the wrongful conviction of a sleazy inmate (John Cusack) on death row. Efron plays McConaughey's onscreen brother, with Kidman starring as Charlotte, a woman hellbent on marrying Cusack's dead man walking.
"Nicole Kidman really is terrifically good as Charlotte: funny, sexy, poignantly vulnerable," wrote The Guardian's Peter Bradshaw, while comparing Kidman's performance to her work in the severely underrated camp classic, "To Die For." "In her own way, she is a romantic, though the romanticism resides very greatly in the sheer auto-erotic potency of that sweaty, dangerous criminal who is behind bars. Charlotte is like Blanche DuBois, but with no illusions."
Other critics weren't as impressed with Daniels' crazy-sounding bit of chicken-fried pulp.
"You can go into 'The Paperboy' expecting a disaster and have fun with it, and since its stench will always linger somewhere on the filmographies of everyone involved with it, one can imagine it finding new life as a participatory of midnight experience of the 'Rocky Horror' variety. If that happens, however, the onus is on viewers to redeem the movie by adding to it," wrote Eric Kohn at Indiewire. "But such enthusiasm would give 'The Paperboy' more credit than it deserves."
"Many people will tell you that 'The Paperboy' is a trash masterpiece, an instant camp classic, so bad it's good. These people, these critics, are simply not to be trusted about any question of judgment for a long time based on that half-hearted ironic 'endorsement' of one of the worst films of the year, never mind at Cannes."
As yet, "The Paperboy" doesn't have U.S. distribution or a release date. Still, expect to see it in theaters sometime soon -- and perhaps be prepared to bring some facsimile of a jellyfish to toss at the screen?
Support HuffPost
The Stakes Have Never Been Higher
Popular in the Community