A significant fraction of Hollywood spent years ignoring or possibly covering up the chilling sexual assault allegations lodged against well-known producer Harvey Weinstein, fostering an infrastructure that discourages survivors from speaking out against men who hold positions of power. This cycle of abuse, particularly as it relates to women, is only as sturdy as those who fortify the institutions in which it occurs.
We've traveled this road before. Last year, the media retried years-old allegations surrounding two men whose movies collected awards-season momentum: Casey Affleck, the white "Manchester by the Sea" actor whose sexual harassment allegations didn't prevent him from winning an Oscar, and Nate Parker, the black "Birth of a Nation" director whose rape allegations led to a swift rebuke.
Despite the accusations against Affleck, the 42-year-old actor has several starring roles on his docket. Just last month, "Atonement" and "Pride & Prejudice" director Joe Wright chose Affleck to headline an upcoming adaptation of John Williams' novel "Stoner," which revolves around an underprivileged early-1900s farmer who becomes a literary scholar.
"Casting is the most important decision a director makes," Wright told HuffPost Wednesday during an interview outside a Manhattan restaurant. 
The Golden Globe–nominated director was promoting his next movie, "Darkest Hour," a Winston Churchill biopic that has earned sterling Oscar buzz since premiering at last month's Telluride and Toronto film festivals. (Gary Oldman looks like the guy to beat for Best Actor come February. More on that next month when "Darkest Hour" opens.) 
Because it's the topic on everyone's mind this week, I asked Wright whether he'd ever interacted with Weinstein. 
"I thought this would come up, but you're the first journalist who's asked," he said toward the end of our allotted interview time. "No. Harvey, for many years, tried to court me into a meeting with him, and I always enjoyed playing this game where I refused to meet him. I didn't like his bullying, aggressive tactics, in terms of his business, and I didn't want to be in a creative partnership with someone who's basically a bully. I'm amazingly impressed by the women who've come forward. I think that's a very brave thing to do."
Wright, who lives in London, said he was unfamiliar with the harassment and assault claims surrounding Weinstein, which were an open secret in Hollywood for years. 
"I kind of chose quite specifically not to engage with [The Weinstein Company], basically because I didn't like the sound of it," Wright continued. "That was from a business-practice perspective."
If more directors had followed Wright's lead, Weinstein may not have secured the same stature. Even though he was able to quash reports about his predatory conduct, his reputation as an all-around browbeater preceded him. He was akin to Old Hollywood studio moguls of the 1930s and '40s, famous ― celebrated, even, at times ― for displaying aggressive behavior toward some of the directors under his command and many of the underlings he employed. If filmmakers clashed with Weinstein, he'd shelve or bury their projects. In 2000, Weinstein reportedly put a journalist in a headlock at a book party. In 2009, by which point Weinstein was inarguably one of the most notorious executives in Hollywood, The Weinstein Company skirted bankruptcy, proving that its namesake's skillful Oscar campaigns didn't guarantee reliable revenue. During an acceptance speech at the Golden Globes in 2012, Meryl Streep called Weinstein "the punisher ― Old Testament, I guess." 
So, yes, Wright was wise to avoid Weinstein. But the support Wright expressed for Weinstein's victims begs an obvious interrogation: Why cast Affleck a different alleged harasser in his next movie?
Despite knowing the interview was coming to a close, I asked a version of that very query: "With 'Stoner,' don't you worry people will ask questions about the allegations surrounding Casey Affleck?"
Cigarette in hand, Wright peered at me over the top of his sunglasses. "No, I don't, really," he said. "I don't."
Wright wasn't combative, but he expressed no interest in elaborating. A few seconds of silence lingered as I waited for him to continue speaking. Then a publicist, who had been standing nearby, said it was time to wrap up. I shook Wright's hand and left. 
There's a mixed value system at play here. A robust Hollywood director, who calls casting the ultimate harbinger, is supporting Weinstein's victims, yet he doesn't give much thought to his next lead actor's alleged past.
Affleck has one known allegation against him, which was settled out of court in 2010 ― a far cry from the scores of women who have accused Weinstein of attempting to lure them into hotel rooms, exposing his genitals or grabbing their bodies without invitation, including such famous actresses as Ashley Judd, Rose McGowan and Angelina Jolie. But as more influential men turn out to be predators ― Donald Trump, Bill Cosby, Bill O'Reilly, Roger Ailes, R. Kelly, Woody Allen ― it's become clear that the media and entertainment industries have long granted free passes to abusers with cultural clout. Now that more women feel empowered to speak out, the men who hire wrongdoers must wrestle with the role they play in the larger system that bolsters systemic sexual misconduct.
In covering the Affleck scandal last year, my colleagues and I argued that studios and directors must take abuse allegations into account at preliminary stages in the development process. By the time an actor is winning awards, for example, he's already earned his paycheck and critical plaudits. However well-intentioned Wright may be, his divergent reactions regarding Weinstein and Affleck reflect the pick-and-choose mentality that many Hollywood veterans employ: It's only a problem if it's not their problem.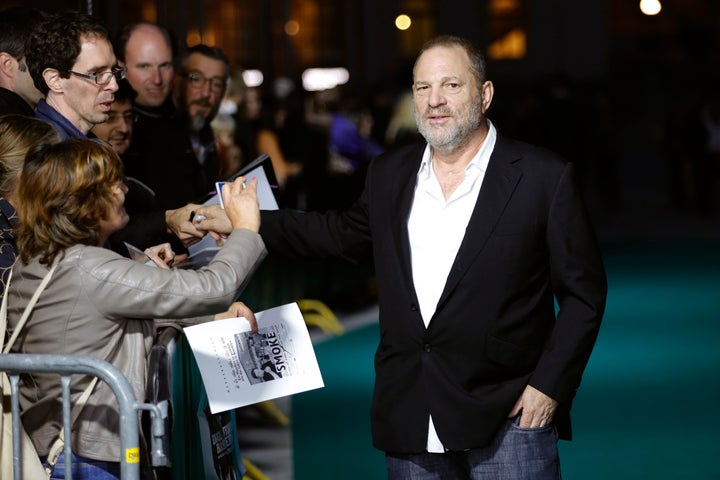 REAL LIFE. REAL NEWS. REAL VOICES.
Help us tell more of the stories that matter from voices that too often remain unheard.
BEFORE YOU GO
PHOTO GALLERY
Celebrities React To Harvey Weinstein