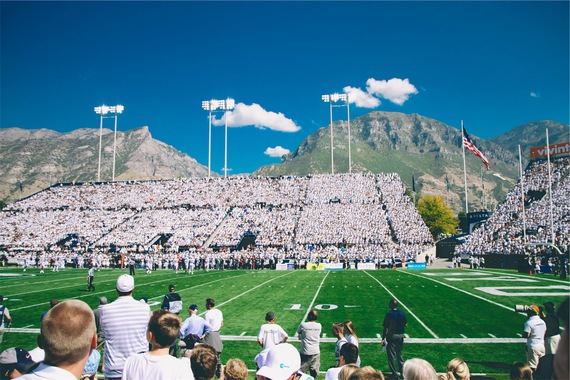 The Super Bowl, the World Series, the Final Four--sports captivate millions of rabid fans, consistently rule the ratings, and arguably keep the traditional linear TV business model afloat. To investigate why and how the sports business dominates our TV sets and to examine the sports industry's impact on the transformation of the media landscape, I sat down with Tom Richardson, a sports media veteran who is a professor of digital media and marketing at Columbia University and a longtime consultant to the sports and media industry. We tackled the end of the "TV industrial complex," the demise of the wholesale consumer relationship, and how the New York Giants are going to win the Super Bowl next year (okay, I made that part up).
Damian Bazadona (DB): I'm feeling a combination of fear and excitement in the media business. As the world shifts to on-demand, many sports properties are quickly trying to mobilize their efforts to rule the over-the-top (OTT) media ecosystem, where great content crushes the discriminating curation principles of the past. From your expert vantage point, what's happening and how did we get here?
Tom Richardson (TR): We're witnessing the decline of "the TV industrial complex," which has been at the core of the broadcast world for the last 65 years. We're seeing a big change in "the short head and the long tail" model. Look at any form of media--television, film, book publishing. In the traditional model, there were a small number of very successful products and a really long tail of stuff that was unprofitable or unsuccessful. The curators--the studios, the networks, the publishers--would tell us which books they were going to put out and which movies we should pay attention to by flexing their promotional muscle.
DB: Who do you think the winners will be in this changing ecosystem?
TR: Everybody references the power of a great live sporting or entertainment event--the Super Bowl, the Academy Awards, the Emmys. It's still true. Look at the National Football League or March Madness. All the networks are envious of those ratings. Why did CBS give up Thursdays, a key night, to buy a very expensive contract with the NFL? To create a bankable franchise: A new night for viewing football. Right now, investing in NFL games is probably a safer long-term bet than pouring money into developing comedies and dramas. The idea that sports has both perceived and real value is reflected in these mega rights deals.
The other winners will be the "attacker" brands that figure out the right OTT strategy. You can do lots of great things with lower production and distribution costs . . . and have access to a worldwide audience.
DB: Is it safe to say that the rights holders are winning in the current state of the media business?
TR: Most of the major sports properties have done quite well with their rights fees because the networks in the linear TV model pay the fees knowing that it's their best chance of getting good, predictable ratings. Remember, we're still living within the interruptive advertising structure, despite all the technology advances with DVRs, ad blocking, and ad skipping.
DB: Yet, you can't flip through any major media or advertising publication without reading a story about the "cord cutting" movement. What gives?
TR: That is the contradiction. Yes, these rights views are going up because everyone acknowledges the value of live sports. But on the front lines, paid TV subscriptions--deals between consumers and cable companies, telecommunications companies, and satellite companies--are declining.
Look at ESPN. There is a topline decline in revenue, even though they're the worldwide leader in sports. Same goes for Fox Sports and NBC. That's the massive cord-cutting trend. As this decline in the paid TV model continues, we'll see an increase in OTT, while the power brokers, the rights holders, and the producers are all desperately trying to figure out how to navigate that change.
DB: Where does this change take us?
TR: Nobody can tell you exactly how this is going to play out. It's all experimentation right now. Every television network has a limit in their addressable market in the United States. Ten years ago, if you considered putting your show on the Discovery Channel, you'd ask the Discovery Channel president, "How many households are you in?" He might have answered, "We're in 61 million households."
But National Geographic might have said, "We're in 72." As the content holder, you know 72 is better than 61.
Now, let's take that same programming and put it on the Internet for an OTT presentation, and guess what? You just got an audience of billions, literally. The addressable market is way, way bigger. That's exciting.
DB: Any examples of who's attempting to evolve through the demise of the "TV industrial complex" you mentioned earlier?
TR: WWE is one of the high-profile examples in sports and entertainment. They decided to forgo the linear TV approach of all the other major league sports. After years of discussion, they launched WWE Network as an OTT channel, which by 2015 reportedly had a subscriber base of nearly 1.5 million. WWE has a very robust content offering: Tons of programming, including lucrative pay-per-views, weekly shows, a vast archive, etc. So they built a rich OTT package. As an incentive to get subscribers to get comfortable with a $9.99 monthly subscription price, they took all the pay-per-views and put them in a package. They're the first big player to go their own way.
Is it successful financially? I speculate that they don't expect to be successful for a long time. Was ESPN successful in 1979, halfway through the year after their launch? Was Fox Sports successful after they invested a huge amount of money in the NFL as a way to build that network as a legitimate contender?
DB: Plus, WWE owns the customer at this point. That's the enormous difference, right?
TR: That's the thing. Everyone in this business is realizing that to be successful in modern media and entertainment, you can no longer rely solely on the wholesale model--you've got to build some kind of retail model. You've got to build a relationship with your customers. You've got to know who they are, what they like, etc., especially if you're trying to sell advertising around them. Also, you've got to use them to help spread the word about your "product." There's no choice--media companies have to become growth-hacking marketers, just like the good software companies.
The entire business of media and entertainment was built on a wholesale model for years--think back to that short head/long tail idea. Now if you're a brand creating content, you can achieve success on our own with knowledge of your consumer.
DB: At what point will the NFL see Yahoo, Google, or other digital properties as more valuable than the networks? They have unlimited addressable markets. And as importantly, they are built on customer data and personalization platforms, where broadcast media networks are not. I'm hard pressed to believe that the future live TV experience won't have to become even more social and customizable than it already is today to remain relevant.
TR: Right now, there's no customer relationship management (CRM) resource because it's the wholesale network model. Think about what could be achieved in the sports world. You have these tribal loyalties and passions; there's an immediate market for personalization. In five years, your customized Damian Giants' Game Day VR package will take you to the sidelines, down in the tunnel, listening to the locker room speech.
DB: That's something sports fans can look forward to.
TR: Absolutely, I think that's what it's going to become and I think we're going to laugh 10 years from now and say, "Remember when we used to watch whatever they showed us on TV, and we just sat there flipping the channels?" ■
TOM RICHARDSON is a media and marketing veteran with broad experience in management, consulting, and teaching. A former executive at the NFL, the NHL, and AOL, he is president of Convergence Sports & Media, a digital media and marketing consultancy whose clients have included NBC Sports, IMG, Bloomberg, WWE, and the U.S. Olympic Committee. Richardson is also a professor in the Sports Management master's program at Columbia University.
#AttentionParadox. This article originally appeared as part of the agency's publication, SITUATION.
REAL LIFE. REAL NEWS. REAL VOICES.
Help us tell more of the stories that matter from voices that too often remain unheard.