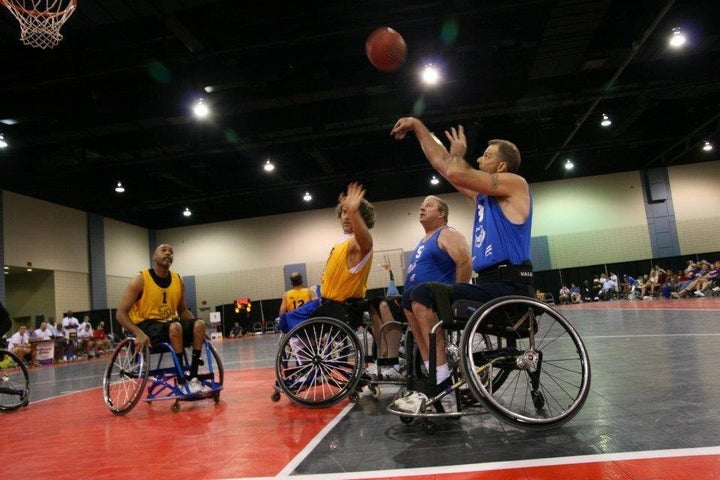 As we get ready for wall-to-wall coverage of the 2012 Olympics and Paralympics in London, I can't help but think of the words of sporting legend Wilma Rudolph when she said, "Never underestimate the power of dreams and the influence of the human spirit. We are all the same in this notion. The potential for greatness lives within each of us." She knew what she was talking about, having overcome polio as a child to win three gold Olympic medals.
As I write this blog, I have just returned from an event that brought Ms. Rudolph's words to life in an extremely personal and inspirational way, having watched 540 athletes with disabilities take part in the 32nd National Veterans Wheelchair Games in Richmond, Virginia.
This annual five-day wheelchair sports event -- copresented by Paralyzed Veterans of America and the Department of Veterans Affairs -- is the largest of its kind in the world. But the National Veterans Wheelchair Games is set apart by more than its size; every athlete who competes in these Games has served our country in the armed forces. It's an amazing experience to see veterans with disabilities from the Greatest Generation to the latest generation go for gold.
I think we all know that sports benefit us in a variety of important ways. But for people who've experienced life-changing injuries, sports do even more. In fact getting into sports for these folks plays a vitally important role in getting them back into life.
Wheelchair sports are more critically important now than they have ever been, as our service members return home from Iraq and Afghanistan. For any soldier, the transition from the military to civilian life can be a difficult one. Returning veterans have to reconnect with a life they've left behind for months, sometimes years. Some veterans, however, have more to get used to than others. Veterans who have been paralyzed or sustained other severe injuries must not only adapt to civilian life but to life using a wheelchair for mobility.
Fortunately, the care and treatment of spinal cord injuries and diseases has improved throughout the years, and with proper rehabilitation, those who have been injured can live full lives. And, for many veterans, a critical part of rehabilitation is getting active again, returning to familiar activities and exploring new ones.
Sports and recreation have incalculable benefits for injured veterans. There are the obvious benefits of exercise: physical and mental health, improved coordination, and teamwork skills. But for the newly injured, sports and recreation are also crucial reminders that their injury does not hold them back. Through wheelchair sports and recreation, athletes with disabilities can break down the barriers -- physical and psychological -- to leading a full life.

Sports and recreation activities are an invaluable resource for continued therapy and rehabilitation, and should be available to anyone and everyone who needs them.
For all these reasons, 65 years ago, Paralyzed Veterans of America created its Sports and Recreation Program -- dedicated to expanding opportunities in wheelchair sports and recreation activities, especially those that enhance lifetime health and fitness. Our program has grown into a world-class, nationally recognized showcase of adaptive sports opportunities, including bass fishing; bowling; billiards; shooting sports, such as trapshooting and air guns; handcycling/racing; and, as noted, the National Veterans Wheelchair Games.
In addition to organizing, coordinating, and promoting wheelchair sports and recreational activities, we advocate for accessible athletic facilities and the inclusion of wheelchair athletes in existing competitions and recreational programs.
So as you enjoy this year's Olympics, please also take a minute to enjoy the Paralympics. And then please start a conversation about wheelchair sports in your hometown. If you know any veterans who use wheelchairs, tell them about wheelchair sports. And tell them to check out our website at www.PVA.org/sports. Take it from this paralyzed veteran: the experience will change their lives.
Calling all HuffPost superfans!
Sign up for membership to become a founding member and help shape HuffPost's next chapter