I don't know you. And I don't know your kids.
I have no idea what they're like, how they act in public, at restaurants, in movie theaters. I don't know if they have good manners, if they curse, if they listen to you more than they don't, if they eat their dinners without argument and clean their rooms when asked.
I've never met you and probably never will. I couldn't pick you out in a line-up. (I hope you're not in any line-ups.) I don't know if you're quick to yell, or if you're lazy, or if you're neglectful.
But that doesn't matter. I know you're a good parent.
To be totally honest, I have no idea if you're a good parent. Like I said, I don't know you, I don't know your kids, I've never seen you in action. But that's not the point.
The point is: I'm giving you the benefit of the doubt. Shouldn't we all start doing that for each other?
I know, I know. It's hard. It goes against our nature.
We all judge, whether we want to or not. Even I, Mr. Anti-Parent Parenting, Mr. Don't Judge, You Don't Have the Full Story, fall victim to it, intentionally or not. It's instinctual, and it's not something you can really turn off; you have to recognize it, then roll it back. It takes practice.
Yesterday, I posted an image on my Facebook page of a woman wearing her baby on her ass. I made a crack about how she was going to crush the kid when she sat down. Posting that photo was a total dick move. I genuinely wasn't doing it to judge, I was just making a stupid joke -- pretty much my entire M.O. -- but I judged anyway.
I hate when people do that.
I hate when someone posts a photo and parents flock to criticize their baby-wearing technique, or their car-seat technique. It's insane. Even beloved (not really) movie star (not really) Ryan Reynolds got called out by legions of fans (not really) who were offended by the way he was wearing his child in a photo. If the guy from "Two Guys, a Girl, and a Pizza Place" can get crucified, what chance did the everyday woman in the photo I posted have?
I shouldn't have posted that photo. Better yet, when I posted it, instead of making a stupid joke at her expense, I should have pointed out how heavy the kid must be, and how he wasn't complaining and all, and how he was wearing a nice, warm winter coat (the image is from February), and how she was carrying him while also transporting two huge bags of luggage. On the NYC subway. While she was standing the entire time. I should have propped her up instead of tearing her down, all in the service of a cheap laugh on a Facebook page.
The constant evaluation doesn't do anyone any good, wannabe movie star or not. It's condescending and rude to the other parents, and despite the initial "I'm better than her!" rush you may feel, the exhilarating Schadenfreude, it's no good for us either. It's toxic. And contagious. We need to stop.
The kids are alive? Gold star!
They're wearing clothes? Gold star!
They look well-fed? Gold star!
They're not currently screaming? Gold star!
Parenting isn't math or science. There's no Teacher's manual with all the answers. So why not start grading it on a curve?
You snapped at your daughter after a hard day at work? No worries. At least you didn't hit her! You bought your son fast food because you don't get paid until tomorrow? Hey, he's eating; great job! You forgot to pack your kid's bathing suit for the field trip to the water park? Whatever, yesterday you actually remembered the shin guards for soccer practice. Cut yourself some slack!
We all parent under different circumstances. We all have different strengths and weaknesses. We all have moments of triumph and none of us are immune to failure. Resisting the impulse to judge is hard. It's probably impossible. We're all looking for some indication that we're doing okay, and the easiest way is to find someone else you can rate yourself against.
This isn't about turning off a part of your brain that you can hardly control, it's about counteracting the negative thoughts with positive ones. It's time to stop pinpointing each other's failures and start celebrating all of our successes.
I don't know you. I don't know your kids. Odds are, most of the time, you're probably just as bad at this parenthood thing as I usually am. But right now? You're in it. You're trying. And you're doing great.
People are always railing against giving kids participation trophies just for showing up. I agree; children probably don't need them.
We should be giving them to each other instead.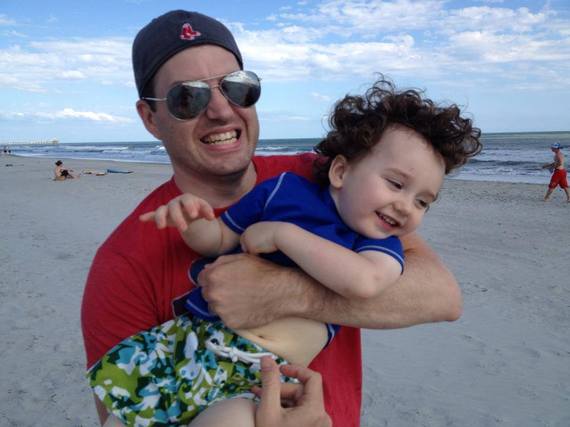 Related