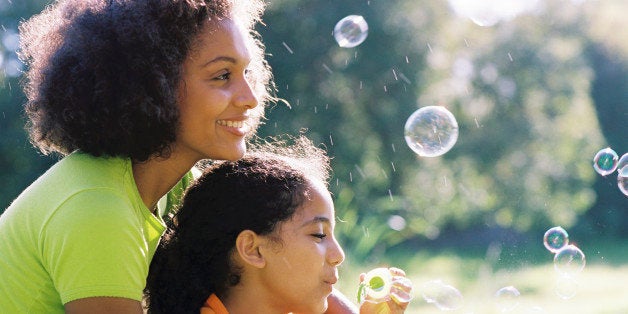 It was unseasonably warm last week when I arrived home in D.C. from the U.N. climate talks in Paris. The holiday lights seemed misplaced. The balmy 60-degree weather was a glaring symbol of the disrupted climate that led me to Paris in the first place. I rushed home to see my three children, my heart full with how much I had missed them.

It was precisely because of my children that I had gone to Paris. I was there to bring the voices of American moms and dads to the hearts of the U.N. negotiators. Because climate change is not just a threat to our planet, but a threat to our children - what we as parents cherish most in the world.

Perhaps the negotiators in Paris also felt that heartache for their children. Because, after two weeks of negotiations, more than 190 countries representing more than 98 percent of global greenhouse gas emissions have forged an historic agreement on climate change that could safeguard the health and well being of the world's children. While the work of slowing climate pollution is far from over, this pact marks a turning point in the effort to stem global warming, and it lays the foundation for greater action in years ahead.

The Paris agreement brought to the table the world's biggest polluters, including China, India, Russia, the European Union, and, perhaps most importantly, the US. As a nation, we are responsible for the most carbon pollution historically. We've benefited enormously from our energy use. But it is past time for us to use our vast ingenuity, our economic power, and, yes, our moral compass, to transition away from fossil fuels.

The U.S. has pledged to cut carbon pollution by at least 26 percent by 2025. We will achieve this through higher fuel standards, energy conservation, and smart policies like America's Clean Power Plan, an E.P.A. initiative to curb pollution from U.S. power plants. The Clean Power Plan will shrink electricity bills and accelerate the transition to clean, renewable energy. And, by cutting air pollution, the plan will also make us healthier, saving thousands of lives and preventing up to 90,000 asthma attacks in children each year.

We have set out on a path to a brighter future, but our success is in no way guaranteed. The targets set forth in Paris are not enough to keep global temperature rise within reasonable levels. We have to do more. If we don't, heat and severe weather will continue to harm the health of our children--through lung disease from air pollution, heat-related illnesses, asthma attacks, worsening allergies as the result of longer springs and summers, and more. But, by taking steps to curb climate change and limit air pollution, we can build a healthier future. According to the 2015 Lancet Commission on Health and Climate Change, "tackling climate change could be the greatest global health opportunity of the 21st century."

Now, it's our job as moms and dads to hold our leaders accountable. That means we must advocate for the successful implementation of America's Clean Power Plan. We must insist on regulations that limit methane emissions from oil and gas operations. We must call for investments in clean, renewable energy sources. Protecting our children from climate change should be a top priority of decision makers at every level of government.

As moms and dads, we have a special responsibility to talk about how climate change affects our heart. And I don't mean the flesh and blood organ: I mean our emotional heart. The source of feelings, the source of hope. The source of love.

Scientists, engineers and policymakers can offer technical expertise, but this issue also needs a parent's voice. We share a special a connection to the future, a little piece of our heart that we will leave behind after we are gone from this Earth. Because of my children, I celebrate the news from Paris, and commit to raising my voice for even stronger climate action going forward.