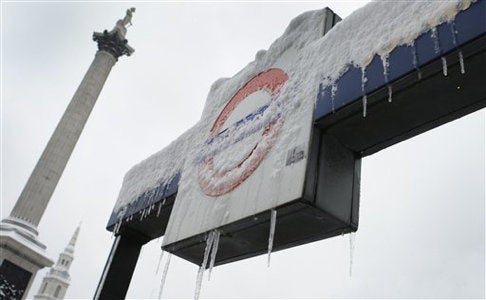 If there is a credit crunch in London, which few doubt, it's not at Cipriani, the Italian restaurant in the heart of London's exclusive Mayfair district, where Bellinis -- fresh white peach juice and Prosecco -- cost more than $20.00 each. A delicious plate of scallops with mushrooms - almost $100.00 but then it's a main dish not a starter. That's a relief then. People of course don't go to Cipriani to eat, but to be seen and to see who they will be seen by - some of those people include Mick Jagger, Sarah Ferguson, David Beckham, and the playboy-Formula One boss Flavio Briatore with his latest "super-model" (and the Rotmans). Cipriani is a recent edition to the empire founded in Venice by the father of the current owner, which started with Harry's Bar, two steps from San Marco Square, where the Bellini was invented, and where Hemingway used to drink.

The restaurant -- euro-trash central -- is a great place to sit and watch as paparazzi gather outside and the rich jostle for tables, crowding the entrance as the revolving doors keep spinning emptying people in and out. Once inside the charmed circle, you never want to leave, as if somehow, this is where life is really lived. There is a feel akin to the French revolution -- where Marie Antoinette suggested the peasants eat cake.
Which is exactly what I did as they have an amazingly delicious vanilla and meringue cake that is equal in calories to the American financial debt -- about a trillion calories a slice -- not to mention cost, but that is of no concern here.
If you ever wondered where all those beautiful, expensive, glamorous designer clothes get worn, you'll find them all trotted out here. Expensive, not always in the best of taste. Lots of blond hair, not much of it natural, corresponding to the plastic surgery that has nipped, tucked, turned out and straightened noses, cheeks, chins and much else that can be surgically enhanced.
Amidst the buzz and pandemonium there last night was one striking table of 20 young and beautiful Italians, with the right ingredients of style and class and grooming, celebrating the birthday of a young woman with a flawless, discrete yet massive emerald, and picture perfect face. Part of this group were the inheritors/descendants of the Ferragamo family, somehow reminiscent of The Great Gatsby, carefree and happy -- seemingly unaware of the world outside.
And there I was, coincidentally, in my new Ferragamo dress -- green, one of the season's hottest numbers. The old-fashioned empire has tarted up its image with a new designer from Prada. For a fleetiing moment I imagined they had turned and looked longingly at that dress -- perhaps wondering if I was related to them, but just couldn't remember how. Then they went back to celebrating, eating their chocolate cake. I can only guess it was probably the item they gave to the staff at Christmas.

Related