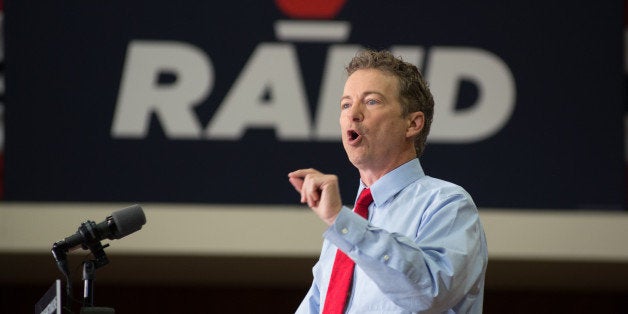 We live in the greatest, freest, richest, most humanitarian country on earth -- and I'll be damned if I sit around and watch my generation screw up the future of our nation's young people.
When I visit college campuses, I am encouraged. The students I meet are among the most passionate defenders of liberty anywhere.
I'm running for president to protect economic and personal liberty so that your generation can make the most out of your lives in a way you see fit.
I believe the path forward for our country -- and the Republican Party -- is rooted in respecting the Constitution and acknowledging the dignity of the individual. If the Republicans want to be the party of tomorrow, it needs ideas that excite young people. Only a candidate who is a socially tolerant, fiscally responsible and principled leader can reinvigorate the Republican brand.
Starting today, we are launching "Students For Rand" and will be recruiting the "300 in 30" initiative. We have the goal of starting 300 chapters in just 30 days to show how strong the youth support is for my presidential campaign.
We must stand for something so powerful and so popular that it brings people together -- whether they lean left, right or find themselves squarely in the middle. My message of liberty, opportunity, and justice is for all has resonated everywhere, especially in the places Republicans are too scared to go, such as Detroit, the South Side of Chicago, Ferguson, or even UC Berkeley.
Government has no business in your business, period.
Today, the economic outlook is bleak for too many young people. Our nation's youth unemployment rate is approaching 14 percent and more millennials are forced to live with their parents, much more than the generations that preceded them. On top of that, young Americans are starting their working life with an average student loan debt of $30,000. Things need to change.
Government should help you succeed rather than get in your way. Most people agree that high taxes and excessive regulations affect your ability to land a job. It doesn't have to be this way. I have proposed a fair and flat tax rate of 14.5 percent for all Americans, rich and poor -- everyone is treated equally and no one can trade campaign donations to corrupt politicians in exchange for tax loopholes.
I don't want the government that regulates the Internet. I don't want a government that tells you where you can hail Uber. I don't want a government that bans you from renting out your apartment or opening a food truck. How can you change the world if we hinder young entrepreneurs by picking winners and losers?
What I want is a government that tracks terrorists rather than innocent Americans.
Young people inspire me because they firmly believe that we can have freedom and security. The government has no business peering through your records, combing through emails, or monitoring your social media. President Obama maintained that the Fourth Amendment doesn't protect any of your records -- but I fought him until he ended the government's illegal spying. We don't have to trade the Bill of Rights and the Constitution to stop threats against us.
I'm inspired because the youth of America believe in justice, and I'm leading the fight to reform our criminal justice system.
Of the 1.1 million prisoners who entered America's prisons since 1990, an increasingly large percent have been held on non-violent charges. Almost half of state prisoners are incarcerated for non-violent crime. Drug offenders make up over half of those behind bars in federal penitentiaries.
There is something wrong with a system that releases hardened, violent criminals to make room in prison for someone caught smoking marijuana. We need to reform our criminal justice system so that the punishment fits the crime while keeping violent offenders behind bars. That's why I have proposed bills to make many non-violent drug offenses misdemeanors that do not permanently damage a person's work potential.
I will not rest until all Americans, white and black, rich and poor, are treated equally under the law. My record demonstrates that I will work with anybody who honestly wants to fix things: Senator Cory Booker from New Jersey and I have teamed up on criminal justice reform. I have a bill with Senator Harry Reid that allows people to get their voting rights back. I've worked with Senator Kirsten Gillibrand of New York to get justice for soldiers who've been sexually assaulted. We've also worked together to remove federal prohibitions on medical marijuana.
Your generation expects and deserves solutions, not more government directed by out of touch politicians. It's time for a new set of ideas. We need new kind of leadership, one that listens to the people rather than controlling them.
Some in the GOP ignore the youth vote because they don't think it matters. My campaign wants to recruit you so that together we can make a difference. We will have 300 new student chapters in the next 30 days, and I hope your school will be among the first. It's time for the students of America to have a voice again and that's why I'm asking you to join my movement for opportunity, liberty, and justice for all Americans.
Join me and #StandWithRand as we fight together for our liberty.
Popular in the Community