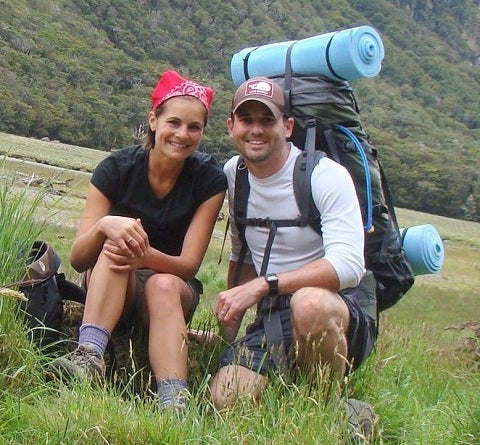 Fourth in a series of articles celebrating unexpected innovators whose passions propelled them sideways into creating products that contribute to personal and societal well-being on multiple levels.
Back in the late Sixties, when I was a fledgling hippie, I remember coming across this red and white box of brutally "healthy" breakfast cereal that was a big deal among my more earthy friends, called Muesli. They assured me it was all the rage in Europe and Australia. Raised as I had been on Kellogg's best, with the occasional foray into Quaker Oats, I have to confess I was not inspired by the rather dry confection set before me. I could readily believe it had been invented, as they reverently informed me, by a Swiss doctor for patients in his sanatorium in the Alps.
Fast forward a few decades and "healthy" food is no longer the province of ragged radicals but rather a wildly burgeoning, and lucrative, phenomenon. Seems like it's a perfect time to re-discover that vintage breakfast food with a keener eye and a more informed palate, and a greater appreciation for the environmental and social nuances of our food choices.
For any of you who've not encountered it, muesli is similar to its ubiquitous cousin granola, but with one significant difference – it is raw, not toasted, and therefore doesn't require the fats and sugars that usually hold those clusters of granola together. When done right, in its most basic form it is a clean and satisfying mélange of whole grains, nuts, and fruit, amplified by the dairy products – milk and yogurt – used to soften it. It is high in fiber and rich in antioxidants, in addition to providing plenty of protein and omega-3 fatty acids.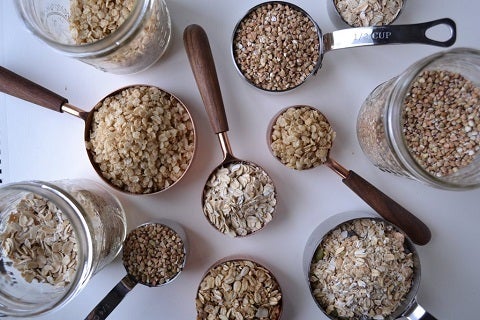 And that brings me to Seven Sundays Muesli, which made me a convert and is definitely "done right", in so many ways. From locally sourcing plant-based, nutrient-dense, non-GMO ingredients to following environmentally-sound practices to giving back to the community, Seven Sundays seeks to re-define the art and grace of American breakfast.
Hannah and Brady Barnstable were former Midwesterners living life in the fast and fashionable lane in New York City; Hannah was an investment banker, Brady was an environmental consultant. Then their honeymoon took them to New Zealand for a six-week hiking and camping adventure that eventually turned their lives upside-down. And most mornings started with an unfamiliar but increasingly desirable breakfast of a local favorite – muesli with farm-fresh milk or yogurt.
Returning to the big city, they discovered they were no longer satisfied with the pace or direction of their lives – and they just couldn't find any decent muesli either! So Hannah started making her own in their tiny cramped kitchen in New York.
And that's what led the way to the transformation of their lives. They returned to Minnesota, deciding that starting up a small company to encourage better breakfasts was a way they could find balance in their own lives and help bring it to others.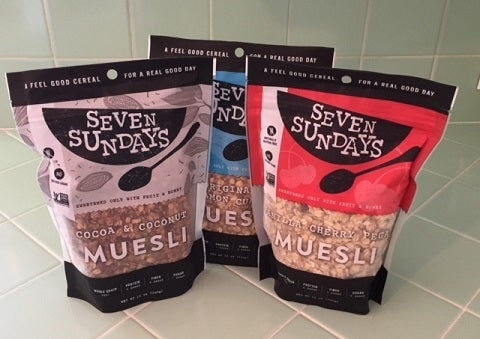 Hannah's "aha! moment" came while standing in the middle of a crowded cereal aisle in Manhattan and realizing how few of the endless boxes surrounding her were offering what she had become accustomed to – a way to start the day right. Somehow America seemed to have gone astray on its way to breakfast. Her response? "Just like that, I knew what I was going to do – leave my career in finance and build a company that flipped breakfast on its head."
As an environmental consultant, Brady was already oriented to considerations of sustainability and responsibility. So he is focused on the big picture; as he notes, "The cereal aisle, and breakfast in general, in the U.S. needs a complete overhaul. We decided to tackle it head on!" And though the obstacles are many, his optimism is unshakeable. "This is a very exciting time to be in natural food."
It started with a local farmer's market in Minneapolis, and Hannah riding around on an old Raleigh bike with a trailer, and grew slowly from there. Through it all, their mission has remained unchanged: to deliver products that have maximum nutritional value and minimum environmental impact.
For Hannah, the single most important thing is "the ingredients -- simple, unprocessed, high quality, and sustainably sourced." And Brady loves the fact that "I get to work side by side with my partner in life, doing something that does not feel like work." And for both of them, the goal is "to build a company with a focus on transparency, community, and sustainability."
Hannah has the final word: "Our products change people's mornings for the better. What could be more motivating than that?"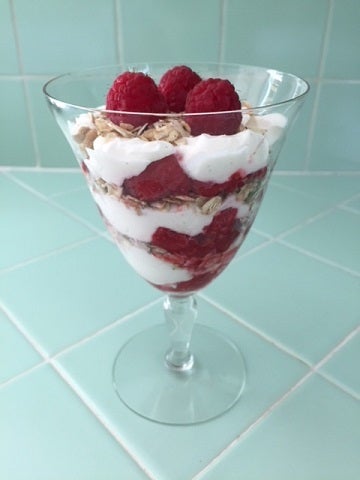 Seven Sundays Muesli Yogurt Parfait
Proving that muesli isn't only for breakfast…
1 1/4 cups Seven Sundays Vanilla Cherry Pecan Muesli
1 1/2 cups non-fat Greek yogurt
2 tablespoons honey (I use Bare Honey)
1 cup + 2 tablespoons fresh raspberries, lightly crushed
You'll need four clear parfait glasses or tall narrow tulip glasses for the full effect.
Whisk the honey into the yogurt until smooth.
In each of the glasses, start with a half-tablespoon of raspberries in the bottom, then two tablespoons of yogurt; sprinkle w/ two tablespoons of muesli. Then spread two tablespoons of raspberries, then two tablespoons of yogurt, then two tablespoons of muesli. Repeat another layer of raspberries and yoghurt, and sprinkle one tablespoon of muesli over the top.
Refrigerate for at least two hours, up to overnight.
Garnish with two raspberries each and mint. Serves four.
[A version of this post appears in the September issue of Better Nutrition Magazine.]