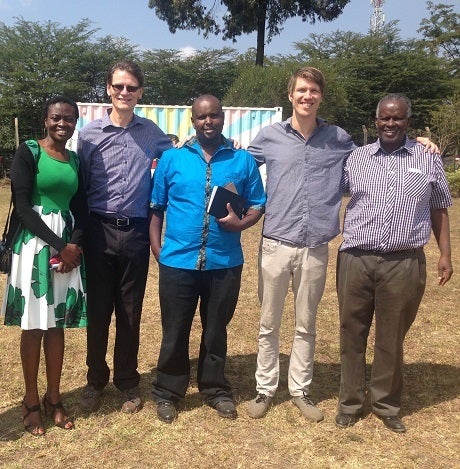 Quick: what is the second most widely consumed beverage in the world (after water)? No, it's not Coke. Hint: the Chinese started it, the Brits can hardly get through a day without it, and in America it famously triggered a Revolution.
Yes indeedy – tea. That simple aromatic liquid has been around for millennia, has played its part in shaping history in ways small and large across the globe, and is consumed by pretty much every civilization worldwide.
From China to Mali, from Burma to Bali, in India and Russia and Pakistan, tea-drinking is an essential element of the culture, from everyday interactions to elaborate entertaining. The delights of High Tea at the Ritz in London could not exist without it; and here in the U.S., what gathering in the Deep South would be complete without a vat of "sweet tea" to smooth the social whirl?
In keeping with the current explosion of fascination with all things "food", there are endless offerings in the world of tea – single origins, blends, colors, styles, presentations. And now other contemporary considerations in the marketplace come into play as well – sustainability, social ethics, environmental responsibility.
In 2011, Paul Bain had recently graduated from University and was working part time with a clean-water charity project in Uganda while managing tree planting crews in Northern British Columbia. His dad Grayson, the founder of Rocky Mountain Bicycles, was juggling various charitable and entrepreneurial projects.
They both felt that they wanted to move in the direction of socially-conscious business models, combining both sides of the equation to effect positive change through sustainable economic impact. As Paul explains it, "It's trade vs. aid. By creating a product that has direct market value, individuals can directly impact their own community without relying on charitable donations."
It was a trip to Kenya and an intimate visit with tea farmers there that pointed the Bains to their passion. Grayson and Paul learned that though there were half a million small-scale farmers, it was the large corporations that were profiting from their labors. The farmers were earning about $2 a day, not remotely enough to supply their most basic needs of food, water, sanitation, and education.
Thus was born JusTea. Their first task was to establish connections in the community; in a land where the most common admonition in Swahili is "pole, pole" ("slowly, slowly"), it took time and sensitivity to establish themselves. But eventually the project blossomed. Paul notes, "Business in Kenya is built on relationships and trust; we found success with our farmers by first developing a strong family-like bond with them and then exploring unique market opportunities together."
Today, the company is certified by the Rainforest Alliance and the Non-GMO Project, and is a member of the Fair Trade Federation. They have established Kenya's first-ever artisanal specialty tea factory, fully staffed, managed, and owned by small-scale Kenyan tea farmers. And they have created over 200 jobs for youths and women in rural Kenya.
Not to mention that they have brought to market some of the most delicious tea this side of Nepal, including their latest offering, a wildly healthful purple tea filled with unique antioxidants and anthocyanins.
But what matters most for the Bains? "The premium quality of the product wouldn't be there if it wasn't for the story of the families we partner with. Their commitment to this mission is what results in such a beautiful cup of tea and each of their wonderful stories should be told."
Paul and Grayson, and all the caring folks at JusTea, are doing just that.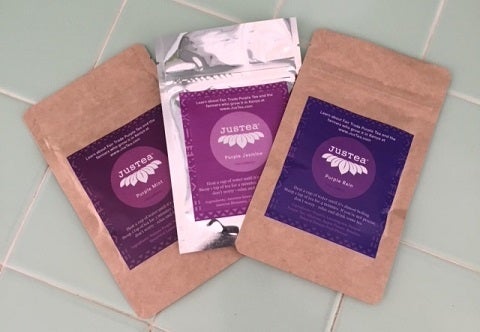 Purple Tea-Brined Chicken Salad
This light healthy salad takes some advance planning, but it's deliciously worth it…
4 small (4 oz.) boneless and skinless chicken breast halves
2 teaspoons Justea purple tea leaves*
1 teaspoon kosher Real Salt
1 tablespoon crushed Szechuan peppercorns
2 tablespoons safflower oil
2 greengage plums, pitted and sliced lengthwise into round slices
1 large Persian cucumber, cut into thin diagonal slices
Handful of daikon sprouts
1 tablespoon fresh lime juice
1 tablespoon rice wine vinegar
1/2 teaspoon fresh ginger juice
1 1/2 tablespoons peanut oil (or avocado oil)
1 teaspoon toasted sesame oil
1/2 tablespoon chopped green onion tops
*available at www.justea.com
Steep the tea leaves in 1 1/2 cups of 175 degree water for four minutes, then strain, stir in salt, and chill. Place chicken breasts in a shallow glass dish, pour cold tea over to cover, and refrigerate for 12 hours.
Make dressing: combine all ingredients in a small glass jar and shake well. Refrigerate until ready to use.
Remove chicken breasts from tea brine and pat dry; sprinkle with peppercorns. Heat safflower oil in skillet over medium heat; cook chicken breasts, turning once, about 4 minutes on a side depending on thickness, until just cooked through. Remove to a platter and cool. (You can prepare them to this point and chill if you wish, or use them right away at room temperature.)
Slice chicken breasts at an angle into 4-5 slices each. Arrange mache lettuce on four plates; top with alternating slices of chicken, plum, and cucumber. Garnish with sprouts, drizzle with dressing, and serve immediately.