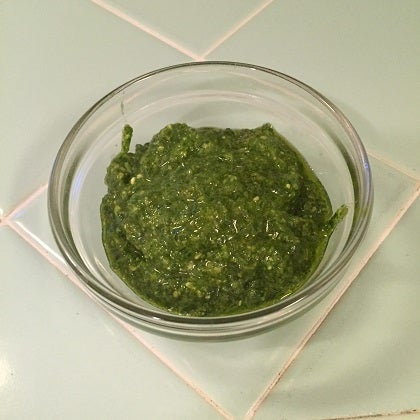 The Passion Behind The Product: A Series
Have you ever wondered exactly how your favorite products came into being? This is the first in a series celebrating unexpected innovators whose passions propelled them sideways into creating products that contribute to personal and societal well-being on multiple levels.
If you haven't encountered it yet, allow me to introduce you to moringa. Touted as a new "superfood", moringa is the leaf of a tree that flourishes in tropical regions. Reaching back to ancient times, it has been used in traditional medicine for millennia, and was reputed to prevent and cure multiple maladies. Contemporary studies have begun to validate its many benefits; moringa has high levels of protein, calcium, iron, and Vitamins C & A, as well as high concentrations of antioxidants. And it is a complete plant protein, offering all nine necessary amino acids required to metabolize a generous dose of protein.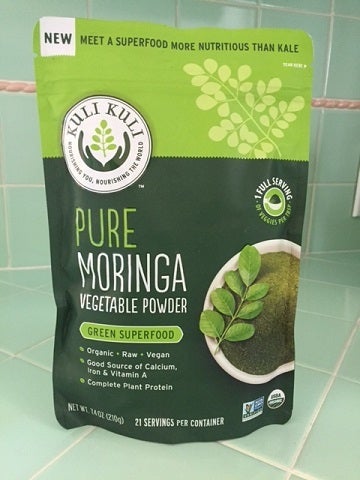 The basic form is a pure vegetable powder made from the leaves; it is organic, gluten-free, non-GMO, vegan, and raw. The powder's uses in cooking are limited only by one's creativity, encompassing anything from smoothies and shakes to soups and salads to casseroles and curries. Other available forms include energy shots and superfood bars, with minimal calories and maximum nutrition.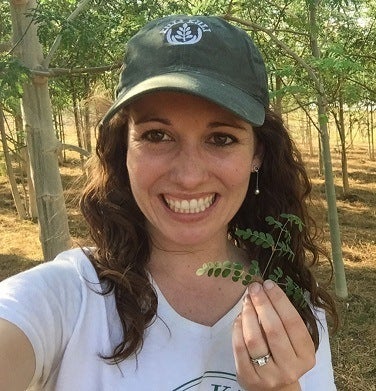 Lisa Curtis is the founder of Kuli Kuli. She attended Whitman College for a degree in Politics & Environmental Studies, during which time she interned in the Obama White House, and she planned a career in government service. Raised in reasonable affluence, she was encouraged by her parents to realize that she had been blessed and that it was her responsibility to give back. So rather than taking the traditional post-college breather of a backpacking jaunt across Europe or a tropical idyll in Cancun, she chose an old-school path and joined the Peace Corps. She was sent to Niger as a Community Development Volunteer and worked in the local health centers, where she developed a special rapport with the local women.
As a vegetarian existing on mostly rice and millet, she became intrigued by a local plant that was traditionally used for nutrition when all else failed. Moringa grew profusely and with little need for husbandry, and yet was vastly underutilized in the local cuisine and economy. Before she could explore further though, political instability in the region compelled her to return home. But she couldn't get the women and the village and the moringa out of her thoughts.
Lisa's "aha! moment" came late one evening in Niger as she was drinking tea with friends from the Peace Corps village. In her words: "A small child approached, stumbling out of the darkness and collapsing at our feet. The boy had left his family to search for food and had not eaten in three days…That morning, a care package had come from my mother, full of nutritional bars. I grabbed a few, stuffing them into the hands of the child and praying that it was enough. However, I knew that it was not…To put a new spin on the classic fisherman adage, 'Give a Nigerian woman a sack of American-grown corn, and she will eat for a day. Teach her how to grow nutritious food, and she will feed her entire community.'"
Upon her return to the United States, Lisa decided that this was her chance to integrate her studies and her passions. Believing that business can be a powerful tool to create development and that the marketplace can be used to encourage sustainability, she launched Kuli Kuli with a crowdfunding campaign. First up were the nutritional bars; later, an initiative with Whole Foods and the Clinton Foundation led to the energy shots, powered by a re-forestation project involving plantings of hundreds of new moringa trees in Haiti.
The vegetable powder and herbal tea were added to the portfolio as the company grew. Through it all, the focus of Lisa and her co-founders was always to "work with women-led farming cooperatives to drive economic growth, women's empowerment, and sustainable agricultural development". Currently, they source directly from farms in Ghana, Nicaragua, and Haiti; Lisa visits the farms herself, establishing and maintaining personal relationships with the growers. The hope, and the goal, is that by positioning moringa as a tool for nutritional security, the coming generation may be able to move closer to a world without hunger.
That dedication to creating a fair food chain and using the food economy to improve conditions in under-privileged regions embodies the caring and concern and integrity that are the hallmarks of the new spirit of "conscious capitalism" that is driving a revolution in the food industry today. Indeed, it reaches into all aspects of consumerism, from products to services to corporations, and points the way to a hopefully more enlightened and productive economy.
Because when all is said and done, this is what matters: when asked a very basic "why", Lisa Curtis replies, "Quite simply, I want to leave this world better than I found it. Kuli Kuli is my small way of doing that."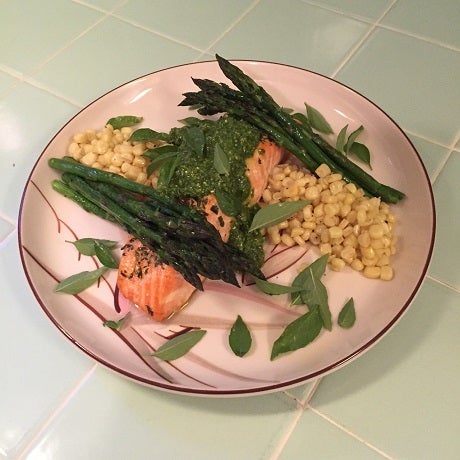 Roast Salmon w/ Moringa Watercress Pesto
Serve this Spring-bright dish w/ grilled pencil asparagus and white corn from your local farmers market…
1 1/2 lbs. skin-on wild-caught salmon filet, cut into four pieces
1 tablespoon good olive oil
2 teaspoons Aglio Olio e Peperoncino spice mix*
4 tablespoons pesto (recipe below)
Handful of lemon basil leaves (or shredded Italian basil)
Preheat oven to 450 degrees.
Cover a sheet pan with heavy duty aluminum foil. Place filets on pan, skin side down; drizzle w/ oil and sprinkle w/ spice mix. Roast until just cooked through and tender, about 10 minutes per inch of thickness.
Slide spatula between fish and skin, remove to individual plates or platter. Arrange asparagus and corn around fish, top each piece w/ a tablespoon of pesto. Scatter with basil leaves and serve immediately.
1 bunch watercress, large stems removed
1 cup Italian parsley leaves, loosely packed
3 cups basil leaves, loosely packed
1 tablespoon fresh Meyer lemon juice
1 tablespoon Kuli Kuli moringa powder
2 tablespoons grated Locatelli pecorino romano
In a food processor, pulse pine nuts a few times. Add watercress, parsley, basil, & lemon juice, pulse a few times. Add moringa powder, pecorino, & olive oil; puree until smooth. Add more oil if desired for smoother consistency, and salt & pepper to taste.
[A version of this post appears in the June issue of Better Nutrition Magazine.]
Support HuffPost
The Stakes Have Never Been Higher
Related
Popular in the Community