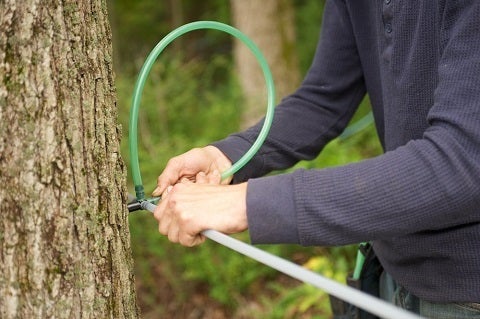 Seventh in a series of articles celebrating unexpected innovators whose passions propelled them sideways into creating products that contribute to personal and societal well-being on multiple levels.
It is a distinctly and uniquely American product, born in the forests that once covered this land, fortuitously discovered and developed by the Native American tribes that once inhabited the Northeast, and eagerly adopted by the European settlers who arrived on these shores. Collected in buckets and boiled to sweet completion, integral to an emerging economy, maple syrup was inextricably entwined with the historical and culinary development of this nation.
But much more to the point, it's sublime on a plate of flawlessly-executed French toast, it's indispensable for a holiday ham, and it's irrefutably integral to modern-day cocktail-making. And that's just the beginning of the endless ways to enjoy this most natural of sweeteners, in dishes savory and sweet, from soup to nuts and everything in between, as my Mom used to say.
We are talking, of course, about real maple syrup, not the cheaper and ubiquitous post-war wannabe's that use unnatural components to unsuccessfully mimic the ineffable complexity of the maple tree's sweet amber elixir. Alas, many people are familiar only with these pale imitators, and have yet to be properly introduced to the classic savor of 100% organic maple syrup.
Enter an unlikely matchmaker – Robb Turner. His career as co-founder of a private equity firm investing in power and energy infrastructure, and his degrees from West Point and Harvard Business School, would hardly seem to point toward an obsession with tapping sugar maple trees. But digging deeper, to his bucolic childhood growing up on a farm in a small town in Illinois, it begins to seem at least feasible. Still, the route from boardroom to bucket was far from direct.
Raising his own family in the suburbs, he wanted his kids to have a closer experience of nature – maybe not a farm, but something untrammeled by the noise and distraction of city living, a quiet retreat in nature. Four hundred acres of untouched forest upstate filled the bill; and trying to protect neighboring properties from development resulted in the acquisition of almost six hundred more. He named the property "Madava Farms" after his two daughters, and set about creating a family retreat. Syrup was the farthest thing from his mind.
Then one day, Robb was strolling the property with a neighbor, who wondered aloud exactly what Robb intended to do with all those maple trees. Do? "Well", he thought, "what could I do?" And thus he plunged into a grand adventure.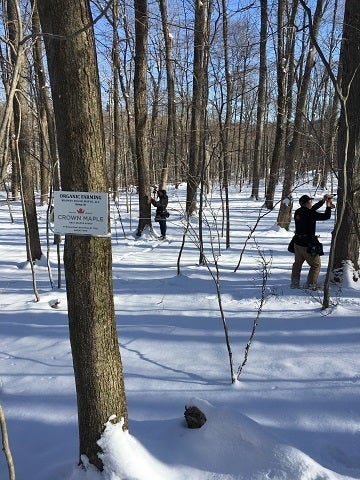 After performing his due diligence, approaching this like any other investment possibility, he determined there was indeed an opportunity to build a world-class maple operation. Only the rewards would reach beyond the financial, as he recently noted: "Introducing a premium, select quality maple syrup seemed the right fit for the land (preservation), the environment (sustainable), and the community (jobs, a place to enjoy, pride)."
So Robb traded his vision of a private family sanctuary for something much greater -- a chance for his family to give back, to create a sustainable natural enterprise that would preserve a centuries-old environment, and energize and inspire an entire community. Not to mention enabling "Quite possibly the purest maple syrup on earth".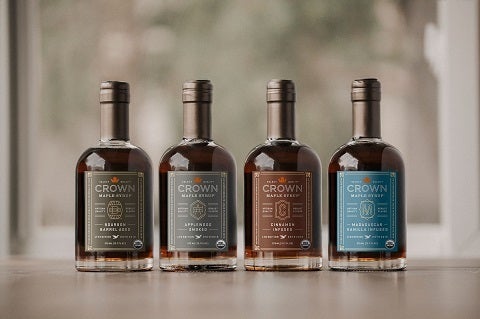 And yes, for Robb it all goes back to that farm in Illinois. "Being in nature, roaming the streams and patches of forest, ingrained in me an appreciation and respect for nature. To me, maple syrup isn't just a food; it's a natural resource, an edible bounty created in a self-sustaining environment. I am now even more passionate about preserving and sustaining our world."
And what could be sweeter than that?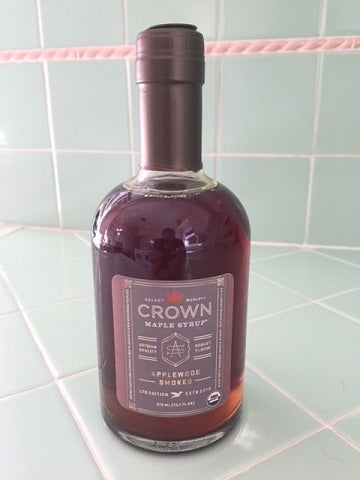 Spicy Sweet & Smoky Wings
Bowl game day – these killer wings and a cold brew and you're there!
2 teaspoons smoked paprika
2 teaspoons ground coriander
1 teaspoon Real Salt kosher salt
4 tablespoons safflower oil, divided
1/3 cup Crown Applewood Smoked Maple Syrup*
1/3 cup Frank's Hot Sauce
Preheat oven to 400 degrees. Cut tips off wings & save for stock; cut wings in two at joint.
In a large bowl, combine wings with spices & salt & two tablespoons of safflower oil, toss to coat thoroughly. To make glaze: In a small bowl, whisk together remaining two tablespoons of safflower oil, syrup, & hot sauce.
Spread wings out on parchment-lined baking pan – don't crowd them, use two pans if necessary. Brush with glaze and place in oven. Roast for 15 minutes, basting twice; turn, baste, and cook for 10 minutes more, basting once.
Remove from oven, baste one last time, and serve.