June Spiezer is the most passionate, exemplary collector of art I ever had the pleasure of working with, though working seems like entirely the wrong word.
June, and her husband Francis, who is no longer with us, have been collecting predominantly Chicago art for decades and there's an exhibition of a glorious portion of their collection that opens Sunday at the Johnson Gallery on the Carthage College campus in Kenosha.
There are certainly lots of reasons to collect art. For me, and the Spiezers, it's about the passion and vibrancy of being stimulated. Invariably it's a personal thing. Even the most loving of harmoniously married couples often disagree about what kind of art moves them. That's okay.
But for Francis and June Spiezer it was the passion that moved them both. And beyond the passion they personally experienced in every work of art they acquired, it was the passion the artist put into the work that they sought. They insisted on getting a sense of the artist's soul, knowing the artist, embracing the vision and giving back to the artist the passion they got out of the artist's effort.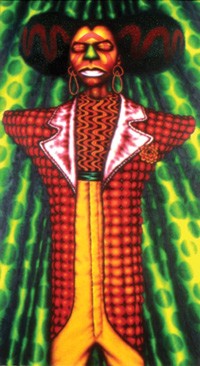 The Spiezers certainly weren't wealthy in the traditional sense of having money. They were wealthy in a more important way. They were wise, fun and young, even as they got old, even as Francis was making his exit. When I had a gallery they'd say things to me, usually after an hour or two-long conversation filled with love and a few off-color jokes, "Paul, we want to buy this painting (or drawing, or sculpture). We just love it. Only problem is we are presently paying off 4 other pieces around town and we can't even start on this one for 5 months, not even a down payment. Is that okay?" Of course it was okay, these people were the best.
I remember introducing June to the director of the Museum of Contemporary Art at the time and asked her to tell him how many works of art she and Francis owned by Chicago artists. Without missing a beat June said "287." I was amazed. I had no idea.
For June and Francis collecting was not about keeping art in crates, it was about living with the passion and the joy and hanging it on the walls of their not very large 3 bedroom apartment.
As the time came 15 years ago or so to consider what to do with the collection for perpetuity, it was clear that neither of Chicago's major museums had the alacrity, wisdom or foresight to show interest in the collection that reads like a who's who of Chicago art. But the Rockford Art Museum did, so the best collection of Chicago art resides out of town. That's a shame for us and a shame for our institutions.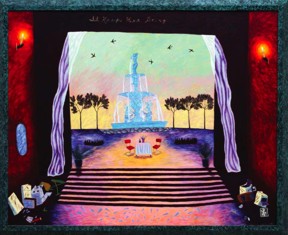 Too often our laudable museums follow the money and not the art, pursue the glitz and the bling and not quality or substance. Too often their perspective is skewed by the myopia of confusing genuine with hyperbole.
Take for example the relatively new phenomena of museum guided collecting, which is alluded to in the literature and title of the Collecting for Chicago exhibition of drawings at the Art Institute. It is suggested that major donors were told what the museum wanted to ultimately receive as a donation. Think about it. The collector is encouraged to become the emotionally disengaged custodian of something they really never wanted. Yes, the museum gets the art they want. Yes, it makes for a handsome exhibition. And yes, it is wrongheaded.
The Spiezers collected for themselves and for love. And love is about reciprocity. Their love helped, inspired, and propelled artists who knew for once that their effort to communicate was appreciated, received and returned.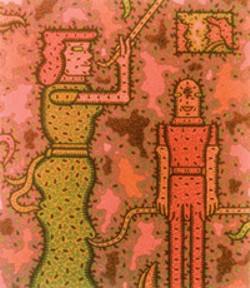 There's an unusual condition the Spiezers placed on their collection when they gave it to the Rockford Art Museum. They mandated that the collection be shown publicly every 10 years. It can't lay in hiding like most donations. And it's beautiful to see a fabulous selection of the highlights at Carthage College.
The works on exhibit at Carthage are often seminal works by significant Chicago artists. And a lot of the reason they're seminal is that the Spiezers couldn't afford, or wouldn't pay exorbitant prices to acquire art with bloated prices. They'd acquire art that excited them by artists on the way up - not necessarily young, new, in, or de rigueur, just affordable.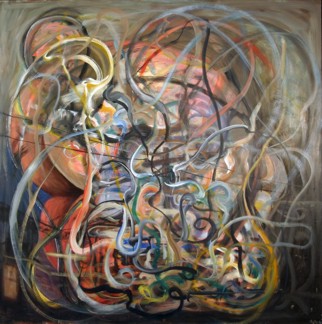 Here's a sampling of the artists in the show: Phyllis Bramson, Roger Brown, Antonia Contro, Tom Czarnopys, Susanne Doremus, Julia Fish, Josh Garber, Michelle Grabner, Steven Heyman, Richard Hull, Gary Justis, Terry Karpowicz, Jackie Kazarian, Mike Lash, Jim Lutes, Gladys Nilsson, Jim Nutt, Ed Paschke, Dan Ramirez, Joe Siegenthaler, Hollis Sigler, Tony Tasset, Chuck Walker, Margaret Wharton, Ann Weins, Karl Wirsum and Ray Yoshida.
The Spiezer's collection is about love and the passion, power and joy of art. This is a wonderful exhibit to see, to share and appreciate.
A lot of people love June. She's a very special lady.
Related
Popular in the Community