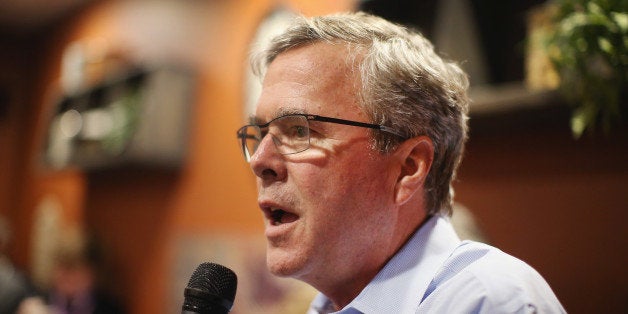 "Just yesterday, a leader from yesterday began a campaign for President by promising to take us back to yesterday.'' Marco Rubio (age 43) said that when he announced he was running for President this month, one day after Hillary Clinton (age 67) announced she was running.
Scott Walker (age 47) hasn't actually announced yet. But at a February event in New York, Walker called for a new generation and "fresh faces'' to turn America in the right direction. He may have been drawing a contrast with Clinton. Or with a likely competitor for the Republican nomination, Jeb Bush (age 62).
The Beatles once sang, "Oh, I believe in yesterday.'' Do American voters? You'd be surprised.
"In running for President, do you think being related to previous Presidents is an advantage or a disadvantage for Jeb Bush?'' It's a disadvantage, the public said, by a decisive 58 to 34 percent.
O.K., so "Do you think being related to a previous President is an advantage or a disadvantage for Hillary Clinton?'' In her case, it's an advantage, 52 to 39 percent.
For Hillary Clinton, "yesterday'' means her husband's presidency. Last month, the ABC News-Washington Post poll asked voters their assessment of Bill Clinton's job as President. "We approve,'' Americans said loud and clear -- 73 percent. George W. Bush's job as President? "Eh'' was the answer (47 percent approved). Disapproval of Bush (51 percent) was more than twice as high as disapproval of Bill Clinton (23 percent).
What the public remembers about the Clinton presidency is good times (in every sense of the word). George W. Bush? The Iraq war, the financial crisis, Hurricane Katrina. "What about Monica?'' you might ask. The voters seem to respond, "Well, what about Monica?''
Hillary Clinton does share one negative quality with her husband. Voters have doubts whether she is honest and trustworthy. Two different polls this month (Fox News and Quinnipiac) show a majority of Americans saying she's not. Well guess what? In both 1992 and 1996, most voters did not think Bill Clinton was honest and trustworthy. He still got elected and re-elected.
When Americans vote for President, they see it like hiring a plumber. Back in 1992, the basement was full of water and the house was in danger of collapsing. George H.W. Bush, the plumber they hired in 1988, had been in the basement for four years, but nothing seemed to get fixed.
When you hire a plumber, you want to know one thing: can he get the job done? You don't ask too many questions about the plumber's draft record or his love life. Character does count for something, of course. You want to be sure the plumber's not going to cheat you or rob the house.
Did voters feel they could trust Bill Clinton? Not entirely. They went to the polls with their eyes wide open and their fingers crossed, hoping that Clinton could get the job done without creating what Ross Perot warned would be "a second Watergate.'' Clinton did get the job done. Voters called the late 1990s the best economy of their lifetime. He did cause something of a crisis when the revelations about his personal behavior came out. But it did not amount to a second Watergate.
The past is a heavy burden for Jeb Bush. He draws the highest negative rating of any actual or potential contender -- an astonishing 53 percent unfavorable in the ABC-Post poll. In the Fox News poll, voters call Bush a leader of the past rather than the future by a 17-point margin. For Hillary Clinton the numbers are about equal.
Hillary Clinton has been a public figure for nearly 40 years. Do voters value experience? There are signs they do, after electing an inexperienced President who never seemed to understand the ways of Washington. In the ABC-Post poll, voters said "experience'' is more important than "a new direction'' in a candidate for President.
O.K., but does the public believe Hillary Clinton has "new ideas for the country's future''? Here's a surprise: they do, by 55 to 39 percent. After all, she would be the first woman elected President of the United States. Rubio would be the first Latino. People aren't counting on seeing many "new ideas'' in the third Bush.
Calling all HuffPost superfans!
Sign up for membership to become a founding member and help shape HuffPost's next chapter