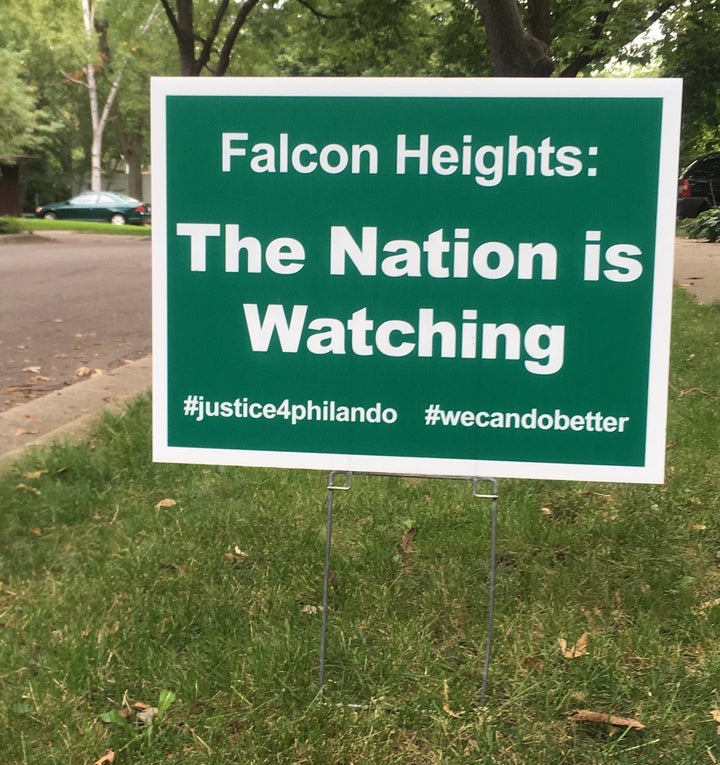 Out for a walk, I am trying to clear my head, the news about killing of Black citizens by the police tearing at my heart. I pass signs in neighbors' lawns raising a silent, and it seems to me, mute protest: "Falcon Heights: The Nation Is Watching. #justice4philandro #wecandobetter." Rage fills my mind as I think: the nation is watching it happen again. Terence Crutcher in Tulsa. Keith Scott in Charlotte. Tyre King in Columbus. We are not doing better.
Back at home, I flip on some music. Telefone, a brilliant hip hop album by the 25-year-old Chicago artist Noname, starts to play. Sinking into a chair, I listen as she raps on Casket Pretty, "All of my niggas is casket pretty/Ain't no one safe in this happy city/I hope you make it home/I hope to God that my tele' don't ring."
It was just a couple months ago that I was in the Cathedral of St. Paul, offering my heartfelt sympathy to the family of Philando Castile as he lay in his suit in the open casket. Many said quiet, simple words to the family. Some shouted "Black Lives Matter!" One woman, tears flowing, leaned into the casket and said: "Philando, your life mattered." My tears fell as well. Later, as the Rev. Dr. Steve Daniels, Jr., Philando's pastor, took the pulpit, he spoke words that echoed off the soaring granite walls, hitting the thousands gathered, with no response. "Why are we still here? Fifty years later, why are we still here?" Turning to Fr. John Ubel, Rector of the Cathedral, he continued, "Excuse me, Father, but I came here to preach."
Our nation needs pastors, preachers, and prophets now. Pastors to console those in despair. Preachers to confront the vicious cycle of state-perpetuated violence against Black brothers and sisters. Prophets to call forth another, more just world, where "weeping is no more," as the Scriptures promise.
Even in the midst of these troubled days, marked by outrage and grief, I also see hope because everyday I see where these pastors, preachers, and prophets are being trained. The future of justice work in our society will be different because of prophetic teachers at work in institutions training faith leaders of the future. Here are a few examples, offered in gratitude for their courage in the face of injustice, and their vision for another world, healed and restored.
President Mark Labberton's prophetic voice and support for faculty and student engagement has led Fuller Seminary, the largest seminary in the world, to focus squarely on issues of racial justice. His public confession regarding racial injustice was in itself a powerful act of leadership. He encouraged the Seminary's major conference in 2015 on racial justice, which in turn led to a theme issue of their magazine on Reconciling Race. Fuller faculty like Dr. Love Sechrest, Associate Professor of New Testament, regularly teach courses on critical race theory, equipping students in part through very frank discussion of her own experiences of institutionalized racism at Fuller.
Dr. Valerie Bridgeman, Associate Professor of Homiletics and Hebrew Bible, is one in a long history of faculty and administrators committed to intersectional justice at Methodist Theological School in Ohio. The school's culture of commitment to justice welcomed and partnered with Bridgeman as she engaged in the #BlackLivesMatter movement. Just this week, her powerful public lecture "A Long Way from Home: Displacement, Lament, and Singing Sorrow in Psalm 137" began with saying the names of those killed in the past days, under a screen which simply said #BlackLivesMatter. With her colleagues, past and present, Bridgeman has helped Methodist interweave its commitments to ecology and racial justice leading to the appointment of Brazilian scholar Dr. Elaine Nogueira-Godsey in a new faculty position in theology, ecology, and race.
The remarkable thing is these few examples are only the tip of the iceberg. At Auburn, I've been working on a study of how faith leaders are prepared to help communities take on the most difficult challenges of our time, including racial justice. This gutsy, crucial work is highlighted in a report called "Bright Spots in Theological Education." We highlight many institutions—and there are many more—equipping leaders who can take on challenges like racial justice.
It is hard not to experience this moment in America with a deep, heart-broken sigh. And at the same time, exactly because of seminary teachers like Bridgeman, Sechrest, Labberton, Givens, and many more, students are being formed and prepared as movement leaders, as moral guides for these troubled times. With their leadership as a north star, I do think - as the sign in my neighborhood puts it, #WeCanDoBetter in this nation. With God as our witness, we must.
REAL LIFE. REAL NEWS. REAL VOICES.
Help us tell more of the stories that matter from voices that too often remain unheard.