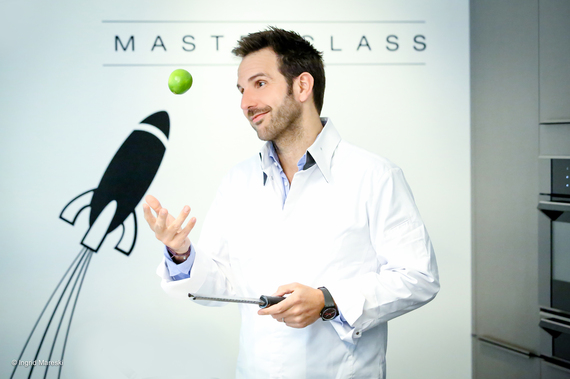 If you ever invite Christophe Michalak to dinner, you should know that he's going to rummage around in your fridge. It's how he finds his inspiration.
Michalak is the pastry chef of the prestigious three-Michelin-starred Plaza Athénée in Paris. He has worked in some of the most iconic French establishments, including Ladurée and Pierre Hermé. His favorite experience was working at Fauchon with Pierre Hermé and other great pastry chefs like Christophe Adam.
But don't let his culinary pedigree fool you.
He's obsessed with comic books and super heroes and strives to be the "super hero of pastry." He wants to make pastries, cakes and desserts that are more accessible, less fattening and less sweet than the classic French "haute patisserie" that he used to make. He sees it as his role to "create new trends in pastry, not to copy [his] colleagues and make the same cakes as they do. "
Instead of calling himself a pastry chef, he defines his job as "creating emotions." For him, "pastry is connected to emotions because, just like when you're in love, it's what we experience when we eat something amazing. However, sometimes we can make a cake that is good but that doesn't elicit an emotional response." And if that kind of emotion isn't present, then he's not interested.
His mission statement is to "demystify pastry." Why? Because he wants to make French pastries less complicated and more fun.
I spent a lot of time creating 'haute couture' pastries that were very complex and difficult. So now I systematically cut out 20 to 30 percent of the sugar and butter that a recipe calls for, in order to make it more approachable and more modern.
If you want to try one of his desserts, you can either take his Masterclass and learn how to make them yourself, or buy one of his cakes from his takeaway. The Fantastik cake changes daily; every night, Michalak and his team get together and decide on what flavors inspire them, what's in season or what they're in the mood for, and then they create the next day's cake. So if you're looking for a cake, look no further than Michalak's superhero abilities to make pastries that promise to fulfill your childhood dreams.
Twelve things you should know about Christophe Michalak:
He goes on a diet twice a year, when he'll just have a yogurt with stevia for breakfast. The rest of the time, he "systematically eats two of his Hysterik chocolate mousses with a praline confit and a gluten-free crisp. Hence the need for the occasional diet."
They used to call him "fatso" when he was a kid, because he could eat almost an entire flan by himself.
If he could be a superhero, his superpower would be the ability to predict the favorite pastry of every potential client.
Dessert is without a doubt his "favorite course. That and breakfast, and snack time." He could live without lunch or dinner, but not those.
His favorite dessert is Paris-Brest, especially the one made by Philippe Conticini at La Patisserie des Reves. He could eat it every day. When he first tasted it a few years ago, he thought it was so amazing that he pulled an all-nighter reworking his own Paris-Brest to make it more like Conticini's.
He hates "everything that is very creamy, mousse-y or gelatinous. I love crunchy and crispy, things that have bite, so all of my cakes always have a lot of crunch and crisp to them."
The only thing he wouldn't eat is insects or anything alive.
He would not be able to live or work without chocolate, praline and a whisk.
His advice to amateur pastry chefs would be to "always read the recipe carefully, and take your time. If you do, things generally turn out quite well. "
"When I was creating my Fantastik cake, I wanted people to be able to eat it easily. So I measured the opening of my mouth and decided that my cake shouldn't be any higher than 3cm, otherwise I wouldn't be able to eat it in one bite."
He's extremely impatient and "a total glutton. I just love eating."
When food is brought to the table at a dinner party, he always serves himself first and then lets his fellow diners fend for themselves. At a fancy restaurant, by the time the waiter is finished explaining what's on his plate, he's already eaten everything.
When he's traveling, he likes to get himself a Tupperware of his favorite local dish and eat it on the plane. When in Thailand, he always makes sure that he has a serving of mango sticky rice to snack on after going through customs.
This is the third installment of the 'Getting to know French chefs' series from Gourmandize.
Photos courtesy of Christophe Michalak.