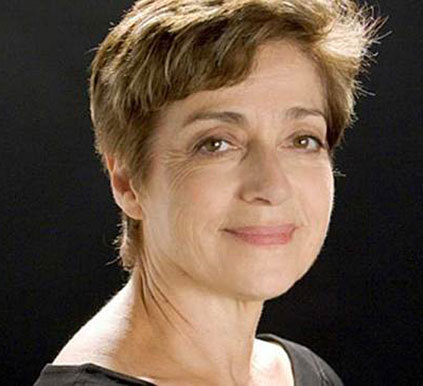 Miriam Fried has been recognized for many years as one of the world's preeminent violinists. A consummate musician - equally accomplished as recitalist, concerto soloist or chamber musician--she has been heralded by Musical America for her "fiery intensity and emotional depth," as well as for her technical mastery. Her supreme blend of artistry and musicianship continues to inspire audiences worldwide. Fried recently recorded a series of lectures about Bach which will be available on iclassical-academy.com.
"The Path through Science to Bach's Emotions"
By Miriam Fried
Some years ago I bought Phyllis Rose's book "The Year of Reading Proust: A Memoir in Real Time." It is the memoir of a writer, essayist and literary critic, inspired by the careful reading of a masterpiece she did not find her way to until midlife. As I was reading it, I became increasingly intrigued by the idea of a year of immersion in a project of serious study and contemplation. It seemed obvious that, in addition to the thrill of learning, such an endeavor would lead to self-discovery, and I remember lamenting the fact that I would probably never have the chance to do anything like it.
Happily, last year's sabbatical-leave from teaching at New England Conservatory became my "year of exploring the sonatas and partitas for violin solo by J.S. Bach." To be sure, the similarities between our two projects are few. I can no longer legitimately label myself in mid-life, as I am about to celebrate my 70th birthday. And since I have been playing and thinking about Bach for sixty years, it is hard to pretend this was my year of discovering Bach.
Twice in my life I had devoted time to performing and recording these works; I felt the itch to do it one more time. This, I knew, might be the last time, and I wanted it to be special. I also thought it might be an opportunity to write about this music. In order to do it well, I wanted to do some research.
So I practiced and read, trying to refine my interpretations while finding out what others had discovered about the man, his times and his music. From the beginning I knew that I would want to address some of the obvious questions: should one use period instruments or stick with the modern day ones? What would be the appropriate stylistic choices regarding tempo, dynamics, and vibrato among others? But another, quite different question interested me no less: I had been keenly aware that many students don't share my enthusiasm for the solo Bach works, and I was determined to discover why.
I knew that the endless debates about the "correct" way of playing this music--and especially some of the more dogmatic pronouncements made by some "specialists"--were scaring many away from even trying. Also, since these works are compulsory repertoire for auditions and competitions, they often leave students with negative memories of these experiences. But this did not quite explain it fully.
To be sure, my research led me to many discoveries. I learned that in addition to being first and foremost a supreme musician and a religious man, Bach was also ambitious, hard working, tenacious, a caring husband and father, a devoted teacher and a less than ideal employee. (He got into trouble with a number of his employers, once landing in jail for insubordination.)
I also found out that the reluctance to play solo Bach works dates back to the 19th century, and Ferdinand David, perhaps the most famous violinist of the age, would not be "caught dead" with a violin alone on stage, and insisted that Mendelssohn write an accompaniment for the Chaconne before agreeing to play it.
Interesting information, at times amusing, but hardly illuminating. The breakthrough happened when I came across a quote from 1690 in Christoph Wolff's wonderful biography of Bach, which read:
"Music is a mixed mathematical science that concerns the origins, attributes, and distinctions of sound, out of which a cultivated and lovely melody and harmony are made, so that God is honored and praised but mankind is moved to devotion, virtue, joy, and sorrow."
Here was my answer. Bach's music is the perfect combination of the cerebral and emotional. It does encompass the whole gamut of human emotions, but in order to unlock the gate that allows access to them, one must be intellectually curious and thoroughly acquainted with the "scientific" (Bach's own word) way in which this music is constructed. Differently put, it is knowledge of harmony and structure that empowers us to uncover the emotional content. Once that is accomplished, the music is as exhilarating and emotionally satisfying as any I know.
Deciphering the content of this music and figuring out how to communicate it with passion and conviction requires knowledge, hard work, discipline and endless imagination. The fact that there is flexibility in the assembly of this musical puzzle, and more than one right way to do it, is endlessly fascinating, challenging and a joy.
I am not sure that I discovered anything new about myself during this year, but I know that I emerge from it even more passionate about these works, and very excited to share my discoveries with my audiences and students.
About Miriam Fried
Miriam Fried has played with virtually every major orchestra in the United States and Europe and has been a frequent guest with the principal orchestras of Boston, Chicago, Cleveland, New York, Philadelphia and Pittsburgh, as well as with the Israel Philharmonic, the London Symphony, the Royal Philharmonic and the Vienna Symphony. Since 1993, she has been Artistic Director of the Ravinia Institute, one of the country's leading summer programs for young musicians. Her involvement there has included regular performances at the Ravinia Festival, including recitals and concerts with the Chicago Symphony.
Fried's highly praised New York recitals of the complete Bach Sonatas and Partitas for solo violin were the culmination of three years of international performances. She returned to this music, recording the complete Sonatas and Partitas in France, which were released in the spring of 1999 on the Lyrinx label. She has also made a prize-winning recording of the Sibelius Concerto with the Helsinki Philharmonic under the direction of Okko Kamu, available on the Finlandia label, which has become a best-seller. Chamber music plays an important role in Fried's musical life. She was the first violinist of the Mendelssohn String Quartet and collaborates regularly with her son, pianist Jonathan Biss.
Miriam Fried plays a particularly noteworthy violin, a 1718 Stradivarius that is said to have been the favorite of its 18th-century owner, the composer-conductor Louis Spohr. It was also owned by Regina Strinasacchi who, it is thought, used the instrument to play with Mozart the Sonata in B-flat, K. 454, which had been written for her.

A noted pedagogue, Miriam Fried is on the faculty of New England Conservatory and is invited to give masterclasses throughout the world. During her sabbatical leave during this past school year, Ms. Fried returned again to the Bach solo Sonatas and partitas. This time she did some research on the subject and wrote a series of lectures which will be available on iclassical-academy.com. She will also perform all of the sonatas and partitas in several venues including the Ravinia Festival, Jordan Hall in Boston and in Jerusalem and also re-record them in December of 2016.
REAL LIFE. REAL NEWS. REAL VOICES.
Help us tell more of the stories that matter from voices that too often remain unheard.