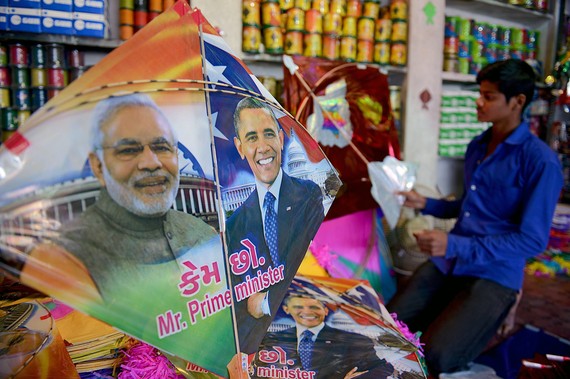 By Durwood Zaelke and Veerabhadran Ramanathan
It seems fitting that NASA scientists announced that 2014 was the hottest year on record immediately before Prime Minister Modi and President Obama meet in India next week. Because these two leaders have a unique opportunity to set the world on a path to address more than half of the projected global warming through mid-century, a critical period for avoiding irreversible impacts.
To do this, the leaders need to extend the climate and energy agreement they reached last September, and add a program to reduce black carbon soot, methane, and ground-level ozone, the main component of urban smog. Their earlier agreement included using the Montreal Protocol to cut hydrofluorocarbons (HFCs), used as refrigerants and for insulating foams. During next week's meeting they can agree on a fast timetable for doing this ahead of the UN climate meeting in December in Paris, providing new momentum for those climate negotiations as well.
When combined with China's new rules to reduce air pollution and associated investment of $277 billion, and the earlier agreement between President Xi and President Obama to cut HFCs under the Montreal Protocol, these actions can set the pace to immediately slow climate change through mid-century. Globally, cutting these short-lived non-carbon dioxide climate pollutants can avoid up to 0.6°C of warming by 2050, and cut projected warming in half. By the end of the century, cutting these short-lived pollutants can avoid up to 1.5°C of warming, which is half the mitigation carbon dioxide is likely to provide. This will reduce projected sea level rise by as much as 30 percent.
Because air pollution is now the largest source of premature death in the world, making these cuts globally also would save about 100 million lives from now to 2050 who will otherwise die from both indoor and outdoor air pollution. In addition, reducing these pollutants would improve India's annual crop yields enough to feed more than 90 million people living below the poverty line.
The benefits of cutting the short-lived climate pollutants accrue primarily in the region making the cuts, which is one of the reasons California cut its black carbon emissions from transport by 90 percent. Technologies are available to achieve similar reductions worldwide, and California and India have started the India-California Air Pollution Mitigation Program to replicate the California success. This pragmatic collaboration ensures a fast start for cutting black carbon and ozone pollution and improving the air quality for hundreds of millions of Indians living in and around major cities, as well as those still cooking with biomass.
The upcoming leaders' meeting will undoubtedly include expanded cooperation to cut carbon dioxide, the number one global warming pollutant. This likely will include accelerating India's already ambitious expansion of solar power, and improving energy efficiency, which can produce big and fast climate mitigation. For example, Lawrence Berkeley Energy Lab in California calculates that by making its room air conditioners super efficient India can save enough energy to avoid building 120 medium-sized power plants by 2030. President Obama and Prime Minister Modi agreed during their last meeting to work together to capture the energy efficiency gains from appliances. Because India uses half or more of its peak electricity for room air conditioning during the hot season, these efficiency gains will not only reduce India's carbon dioxide emissions, they also will reduce pressure on India's electricity grid and make it easier for the Prime Minister to expand access to energy for the 400 million underserved in India.
But cutting the short-lived climate pollutants is the fastest way to deliver climate protection in the coming decades, and appears to be the only strategy for slowing near-term impacts including sea level rise and the loss of Himalayan-Tibetan glaciers and Arctic sea ice. This single fact -- that the only way to slow near-term climate impacts is by cutting the short-lived climate pollutants -- must become a global rallying cry. The United Nations Environment Program understands this, and helped launch the Climate and Clean Air Coalition to Reduce Short-Lived Climate Pollutants two years ago. The Coalition now has nearly 50 countries participating.
Cutting carbon dioxide emissions, starting today, also is essential for limiting the projected warming for the end of the century and beyond. Efforts at climate governance have focused largely on carbon dioxide because it presently causes more than half of the nearly 1°C of warming the world has experienced since the Industrial age began. It is a long-lived gas, with 25 percent lasting for 500 years or more. And it is causing the oceans to acidify, threatening irreversible destruction. Yet efforts to reduce carbon dioxide are still struggling and emissions are continuing to grow.
President Obama's U.S. climate action targets both the short-lived pollutants and carbon dioxide. China's plans also target both. By joining these efforts, Prime Minister Modi will show the rest of the world the path for cutting the rate of climate change in half through mid-century and beyond, while providing immediate benefits for the health and prosperity of the citizens of India. Climate safety lies with the world's leaders, starting with the leaders of India, China, and the United States.
Durwood J. Zaelke is founder and president of the Institute for Governance & Sustainable Development, and co-directs a related program at UC Santa Barbara.
Veerabhadran Ramanathan is a distinguished professor of atmospheric and climate sciences at Scripps Institution of Oceanography, University of California, San Diego.
Related