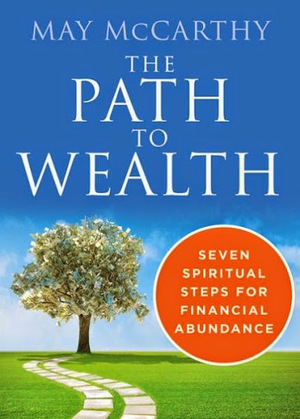 I write this filled with gratitude after re-reading The Path To Wealth by May Mccarthy for the 3rd or 4th time. It's gratitude I can't even put into words. Before reading this blessed book, I have read every book you could think of -- The Magic by Rhoda Burns, Creating Affluence by Deepak Chopra, Excuse Me Your Life Is Waiting by Lynn Grabbhorn, and the list, the courses, and the lessons go on. Each book has taught me something but left me with wanting more. Sometimes, some of the books left me with wanting to leave learning alone. Around my low time of wanting to give up, I went to the Center of Spiritual Living in Seattle for service. May McCarthy was there. She spoke, shared her story, shared her book, and announced a free workshop afterwards.
I was reluctant to buy her book, but the workshop was free, so I made a deal with myself. If I liked the workshop and if she introduced something new, something I had not heard before, I would buy the book. Well she did. She shared things I believe even you haven't heard before.
Make God, Infinite Intelligence, The Universe, Spirit (whatever you call it) your partner in business -- She calls this higher power the CSO (Chief Spiritual Officer). In her book, she encourages you to not only partner with your CSO, but create an actual name for your partner too.
Meet With Your CSO -- She shares seven specific things you can do daily to connect with your CSO and manifest your dreams and affirmations (which I am sure you have). Among the seven daily habits, you actually have a meeting with your CSO to develop the relationship you need to get things moving in your life now. "Seven is a divine number. So divine, it's the name for my personal CSO and my self-publishing company. Without these seven steps, I would not have gotten my business off the ground."
Throwing A Fleece -- She covers the hunches, flashes, gut feelings, and even examples of how and when to follow a lead your CSO might be sending you to receive the good you want. Her saying, "throwing a fleece," means when you're second-guessing a hunch, ask your CSO again until you receive a clear enough message to direct you to the good you want. "Throwing a fleece" is term she took from the Bible; it's in the story of Gideon.
Forgiveness Is A Daily Practice, And Celebrating Is Mandatory -- She shares a specific prayer of forgiveness that you say aloud at night to release any negative energy that may be in your way. She also explains the power of celebrating, though not in that order. With a month of consistent practice, you will have something to celebrate. Celebrating is a way of saying, "YES, MORE OF THIS, THANK YOU!"
I can't give the entire book away, but there is so much more wisdom in it that I know you haven't encountered before (or not quite like this). It is much more than a book about money and a way to make a living. The Path To Wealth is a way of life.
REAL LIFE. REAL NEWS. REAL VOICES.
Help us tell more of the stories that matter from voices that too often remain unheard.