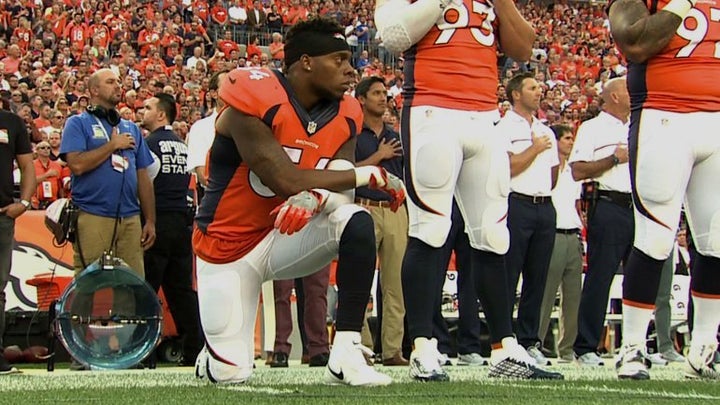 Broncos season officially kicked off in Denver with the NFL season opener this past week. In a fight to the finish, our Broncos defeated the Carolina Panthers 21-20 for a Mile High Victory!
As the players lined up on the field, awaiting the national anthem, one player stood out. Instead of standing at attention during the national anthem, Bronco's linebacker Brandon Marshall took to his knee. Brandon Marshall joined the growing protest against the many social injustices plaguing our nation. Joining Kaepernick's protest, many other athletes including LGBT activist and soccer player Megan Rapinoe, took a stand to support Kaepernick and his message.
As a daughter of a veteran and the sister of two brothers who serve our country in the military, I too support these athletes for exercising their constitutional freedoms—freedoms that my family members have risked their lives to protect. As a woman of color, I also know that we must do more to fight against the injustices in communities across the country.
While some have bashed the athletes for their protest, calling them un-American and flooding their social media with hate-filled posts, others have signaled their support, including our President Barack Obama.
Emotions are raw. But we must acknowledge our fundamental right to protest. This is the very thing that separates our great country from other countries who wish to silence their detractors. Protest is, essentially, the most American action that can be exercised by an individual. From the Boston Tea Party, to black fists raised on a '68 Olympic podium, to Stonewall—protest is woven through the fabric of American society.
We must all join in the fight against the social inequalities that many people face—even right here in Colorado. Racial discrimination, sexism and homophobia have no place in our society. I personally will join forces with those already doing work to rebuild the relationship between law enforcement and the community, to ensure that our children receive a good quality education, and to protect the safety of our neighborhoods.
REAL LIFE. REAL NEWS. REAL VOICES.
Help us tell more of the stories that matter from voices that too often remain unheard.
BEFORE YOU GO