"Take pride in what you do. The kind of pride I'm talking about is not the arrogant puffed-up kind; it's just the whole idea of caring - fiercely caring." — Red Auerbach
Boston is the city of champions. The Patriots (5), Red Sox (8), Celtics (17) and Cannons (1) combined have won 31 world championships. What is less known about these storied Boston sports franchises is that they are also champions of leaning into technology to improve the fan experience. The Patriots and Red Sox have a reputation of being technology trailblazer and digital transformation pioneers in sports.
To learn more about how the Boston teams approach use of technology to improve the customer experience, the Boston Cannons and Salesforce partnered to host a digital business transformation summit. We started our digital summit with a keynote fireside chat with Boston's most generous CEO, Rob Hale of Granite Telecommunications, owner of the Boston Cannons, and co-owner of the Boston Celtics. Hale is all about developing a company culture of giving, while placing the customer at the center of it all. One of the benefits of hosting a sports leadership panel at our summit was wearing the Patriots 5th Super Bowl championship ring - Thank you Fred Kirsch!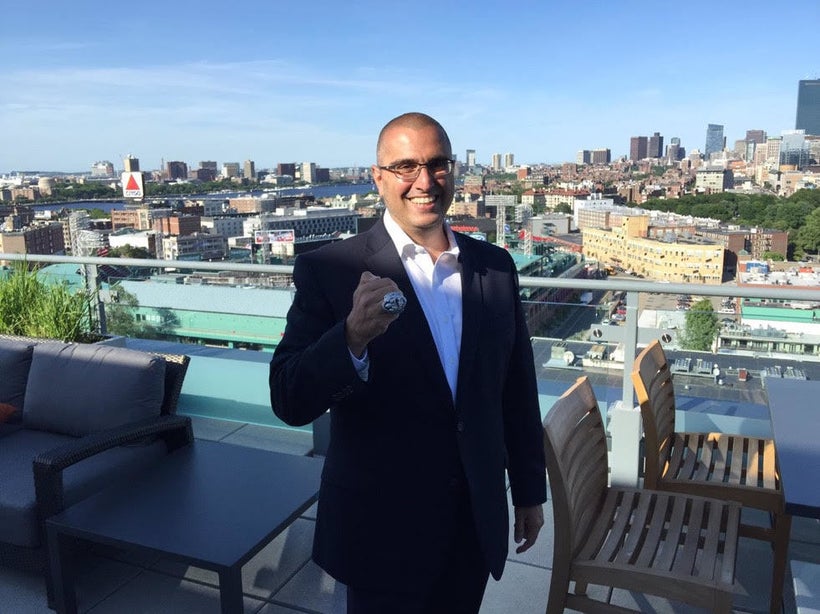 Salesforce's chief value officer Robert Desisto was asked to moderate a City of Champions sports panel. Desisto is a Patriots season ticket holder, a lacrosse coach, played football at Penn, and regularly attends home games for all Boston teams.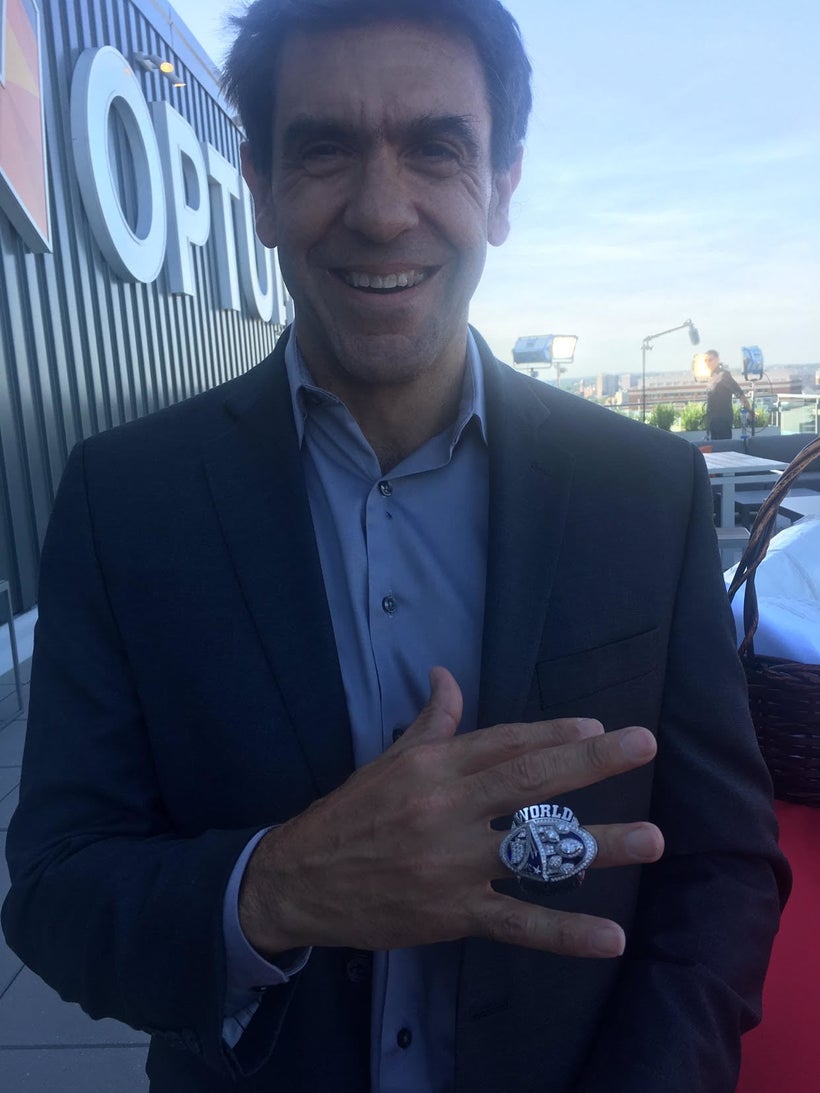 Members of our City of Champions sports panel included: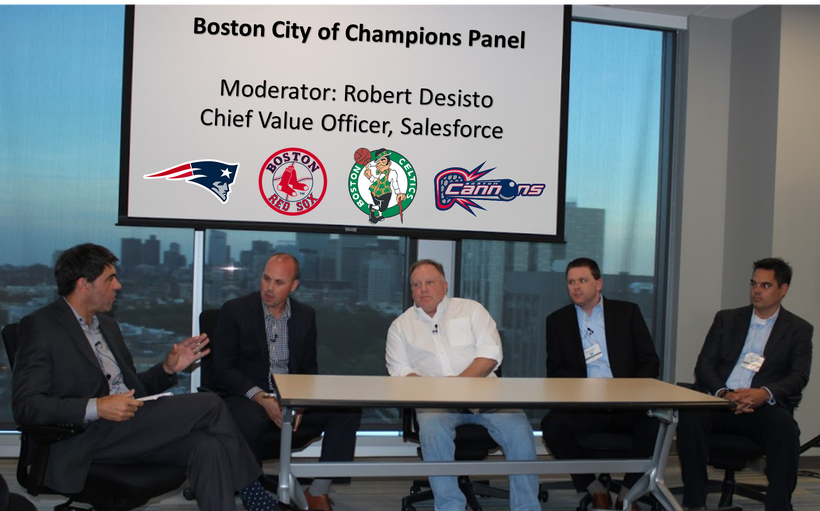 Here are some of the highlights of the Boston City of Champions sports panel, moderated by Robert Desisto on Periscope with over 11,000 views:
How are you using technology to improve the fan experience?
Fred Kirsch, Patriots: Ever since the Kraft family bought the team in 1994, we've been sold out. That's something that we're very fortunate.  Right now it's adding value to the people who buy tickets. That started when we experimented with Wi-Fi in 2010 for our 6,000 club members, and then in 2012 when we wired up the entire bowl with Wi-Fi for everybody (nearly 70,000 in-stadium users). We realized that the phone is part of your life. If you go to an event like a football game, that's a life event. That's a life experience, and if your phone is not working it's valueless.
Andrew Sherwin, Celtics: We offer seat upgrades from your phone while you are in the arena. There are always some seats that are available for fans. We also hold back house inventory for VIPs and seats for our visiting team. These are often times higher price seats, and not available to the general public. For a minimum cost, our fans can experience a better view with seat upgrades. Our fans call also invite the Celtics mascot to visit them at their seats for photos.
Ian Frenette, Cannons: We use the Harvard Stadium and there is only one video board, and that's the extent of the technology in the building.  We have developed a strategy where we can broadcast team and league related lacrosse content to our fans on their mobile devices.
Jason Lumsden, Red Sox: We want to complement the fan experience. We offer experiences where parents can take their children to a concourse. The children can play, watch TV and enjoy the game in a friendly atmosphere. In our suites, we use a self-service model while maintaining the one-to-one relationship with a suite attendant. We are different more options for fans to choose from, tailoring their experience in a personalized manner.
What role does Artificial Intelligence play in improving the fan experience?
Ian Frenette, Cannons: We are using analytics to help define a 'model customer'. We can differentiate the types of customers by how often they attend our home games and over time their in-stadium purchase behaviors. We then create custom offers that are unique based on customer profiles.
Fred Kirsch, Patriots:  We have created a huge database and glossary of questions and answers. The fan coming into our venue can either talk into phone or type  a text message. We can intelligently answer questions through text messaging or voice activated conversations on our mobile app. We can also route you to a live person based on the complexity of the conversation. We can capture this data and use backend systems to analyze customer sentiment. We can determine popular questions, topics often ignored and areas of customer service improvement based on this data.
Andrew Sherwin, Celtics: Celtics are about making everything simpler for everybody. One example is minimizing the number of clicks on the website or app for purchasing tickets. In the very near future, our customers can speak to Apple Siri or Amazon Alexa and purchase tickets using voice commands.
Jason Lumsden, Red Sox:  We don't want to assume what a fan knows. Knowing what the fans needs is the most important piece. We do have live chat features and we do capture customer data at our Park. Fenway Park is the oldest park in the league and it is a little hard to get around. We use data and analytics to be able to help our fans get to where they want to go in a guided and highly responsive manner.
The Patriots have led most teams, across all leagues, in terms of adoption of new technologies - why is that?
Fred Krisch, Patriots: It's because of the Kraft family. They are forward thinkers. We were the first pro-team on the web in 1995. I remember in 1997 from Jonathan Kraft (Patriots owner and the President of Kraft Group) asking us to deliver live video on the web, not just audio. I called this company called, AudioNet and a guy named Mark Cuban answered the phone. Seriously. He said, "Well, we don't do video. We do audio." I ended up finding a company in Cambridge called TVision that was dabbling with it, and we became the first company in the world to have a nightly made for the internet video show in 1997. We've been doing video every since. It's because of the Krafts; they get it and they are forward thinking.
Fred Kirsch, Patriots: The woman who started MIT Sloan Sports Analytic Conference is Jess Gelman and she works for the Patriots. About 10 years ago she asked the Krafts to co-create this conference and the Kraft family agreed. Today, the conference is the biggest and best analytics conference in sports. Because we had Jess -- we started our own data department and today we have a new company called KAGR, Kraft Analytics Group. Now we're doing work for other teams.
What is the role of leadership, specifically the CEO, in terms of driving digital transformation?
Fred Kirsch, Patriots: You got to have it. There's a lot of teams that will win, but consistently you look at those teams and you look at the top, and the leadership at the top is strong. Rarely can a team consistently sustain that without strong ownership.
Andrew Sherwin, Celtics: Its about proactive service delivery using customer data. Who is at risk? Who have you been in contact recently? Is there an opportunity to improve the in-game experience? We use customer data to empower our sales teams to delight customers.
Jason Lumsden, Red Sox: We have so much data. It is about finding actionable insights. We cannot afford to waste time with noise. It is about using data to improve the customer relationship.
The role of social media and messaging apps in sports?
Ian Frenette, Cannons: For a small business like us, the cost of social media is attractive, making it an important and valuable marketing channel for us. We leverage video and social media to quickly create and share content with our fans for games and practices - giving our fans behind the scenes access to our player and coaching staff.
Fred Kirsch, Patriots:  The best example social media disruption is to talk about our two weekly TV shows during the season. One is Patriots All Access, which is our coaching show. The other show is called Totally Patriots. This year we are getting rid of Totally Patriots from TV and breaking the show into smaller segments that we will stream across various social channels: YouTube, Snapchat and Facebook. We are sharing content where most of our fans are spending time engaging with our community and our brand. The TV sponsors told us that they would continue sponsoring our segments and that they would prefer social channels versus traditional TV.
Andrew Sherwin, Celtics: Like Fred said, it's all about content. An Insider's access to the locker room, is not something that ESPN or CSN can offer. For the Celtics, we have invested heavily in Snapchat. We are now sending staff to games to cover, create and share real-time social content. A five game NBA finals lasted two weeks. What content can you derive outside of game film? What player and team content can you share during a series on Snapchat, Instagram, Facebook and Twitter? It's all about fan engagement before, during and after the game.
Jason Lumsden, Red Sox: We want to provide engagement options for everyone, regardless of age. We want to make sure that our fans can engage on channels of their choice. We have even experimented with virtual reality.
Describe the fan experience in 3-5 years?
Ian Frenette, Cannons: Our fan's appetite for continuous access to our players and coaches will grow in the next five years - on and off the field. Digital, mobile and social.
Fred Kirsch, Patriots:  I'm bullish on augmented reality a lot more than virtual reality. I think you're going to see a return of the eye-wear, and it may not be Google Glass, but there will be something where you'll be able to put it on and get augmented reality at sporting events. AR/VR is coming back. I'm also very bullish on voice. Apps powered by AI will deliver a better customer experience. Podcasts have been around for awhile, but they're really hot now with the young kids. My kid is in college, and he's searching and finding podcasts with great interest. It was news to me. I didn't think that kids his age were into podcasts, but they are. The blend of that audio content with voice command will grow. Once the carriers figure out all their data and phone optimal pricing models, and deliver the content to your car's dashboard, the combined value of voice and audio content will explode.
Andrew Sherwin, Celtics: We will see a complete customization of your game night. The traditional standard season ticket package goes away over time. You will not sit in the same seat for all the games. You can order games on demand. The rigid model of buying an entire season in advance will be replaced by a personalized game night where experiences will vary from game-to-game.
Jason Lumsden, Red Sox:  Our fans will see service oriented programs where people buy a license and come and go as they please. Some of these teams that struggled for tickets sales will have to find new ways, and invent sales models for people to consume their products on demand. Access to tickets will come from home voice driven assistance and the entire experience will be seamless and personalized.
What advice would you give for companies dealing with digital disruption? 
Ian Frenette, Cannons: Invest in digital technologies and discover new methods of acquiring and keeping customers. Define your "model customer" profile and deliver pesonalized content and matters most to them.
Fred Kirsch, Patriots: You can't be afraid to fail. You have to try things and realize even if they succeed they probably won't be on the shelf for more than a few years. You'll have to change -- but don't be afraid to fail. If you are the person in charge of the company, encourage people to try new things and be understanding when they don't always work out. If you are afraid to fail, forget it, you are going to get passed by.
Andrew Sherwin, Celtics: There's always opportunity to change the game. There's a foundation set in place, but you can build off that foundation by trying different things. Not being afraid to fail and being less rigid is path to innovation and growth. Don't worry about breaking things. Learn to bend to a better outcome.
Jason Lumsden, Red Sox: You have to embrace Digital Disruption. You must develop a good approach to what you want and how to get there. Keep battling because it's not easy. You lose a battle, try again. Learn from your mistakes and try a different approach. Measure your results. Each project is an opportunity to learn and grow.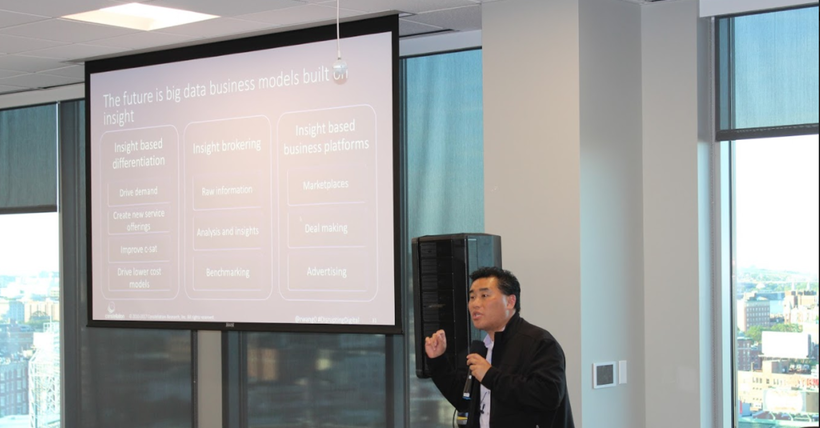 We also invited Ray Wang, CEO and founder of Constellation Research and bestselling author of Disrupting Digital Business to give us advice on digital business transformation and the importance of responsive and responsible leadership. Here's my Periscope stream of Wang's brilliant keynote with over 10,000 views. Wang explores emerging technologies and the importance of business model innovation in the 4th industrial revolution. The segment on Artificial Intelligence is a must watch.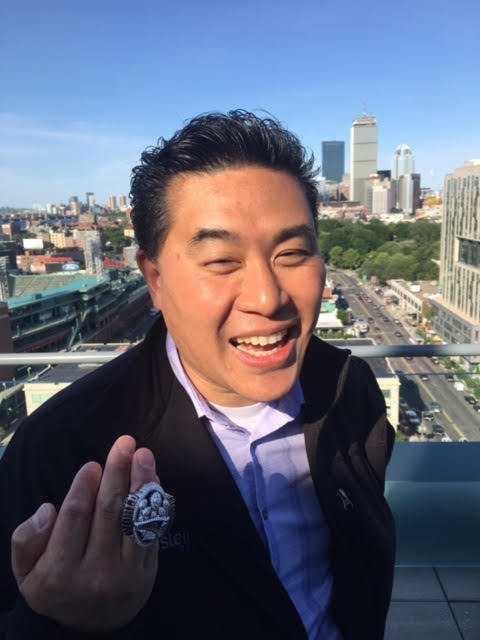 What we learned from our sports panel and Wang is that today's digital savvy business leaders are using analytics, artificial intelligence, social, mobile and cloud computing applications to improve the customer experience. It starts with developing a culture of learning and experimentation, with a rigorous focus on improving the stakeholder experience, led by senior leadership. You cannot be afraid to experiment. Your company's future will depend on your ability to capture and analyze data, aimed at delivering real-time mass personalization of services at scale.
This article was co-authored by Robert Desisto (Twitter: @RobDesisto), Chief Value Office at Salesforce.
REAL LIFE. REAL NEWS. REAL VOICES.
Help us tell more of the stories that matter from voices that too often remain unheard.
This post was published on the now-closed HuffPost Contributor platform. Contributors control their own work and posted freely to our site. If you need to flag this entry as abusive,
send us an email
.